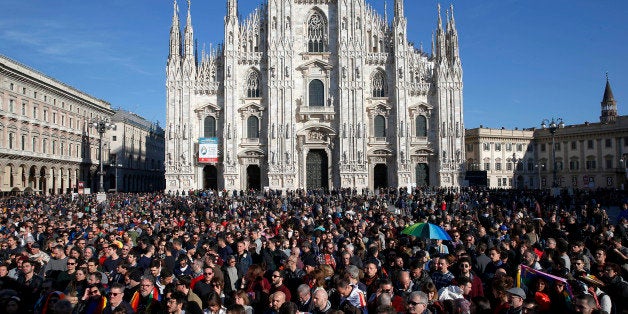 Tony Spence, director and editor-in-chief of Catholic News Service, a news organization he worked at for 12 years, was recently forced to resign. His resignation appears to have come about due to personal tweets he made regarding gender identity legislation in North Carolina and religious liberty measures in Mississippi, along with other issues related to LGBT rights.
Spence's tweets, which can be viewed here, are mildly controversial at best. In my view, the only tweet which may have upset anti-LGBT rights groups is when Spence states "Stupid evidently contagious": a reference to a link included in his tweet about a Tennessee bill denying counselor services to patients based on religious grounds.

Outside pressure from Catholic blogs appear to have influenced the decision by the United States Conference of Catholic Bishops in demanding the resignation of Spence. If this is true, LGBT Catholics and their allies have a credible reason for being upset over this and other cases of discrimination.
This wasn't the first time a Catholic employee was forced to resign or was fired over the LGBT issue. Last year, Margie Winters, the religious director at Waldron Mercy Academy for eight years, was fired from her job after parents at the school complained Winters was in a same-sex civil marriage.
Rick Estridge, vice president of overseas finances at Catholic Relief Services and employee for 16 years, was pressured into resigning last year after a self-described Catholic defense group publicly outed him as a civilly married gay man.
Why didn't Cardinal Archbishop Nicolas de Jesus Lopez Rodriguez of the archdioceses of Santo Domingo get reprimanded after calling U.S. ambassador James 'Wally' Brewster, not once but twice, a 'maricón'(slang for 'faggot' or 'sissy')?
Archbishop Rodriguez isn't the only church official using the term 'maricón' to insult and belittle LGBT people. In Peru, Monsignor Luis Bambarén, Bishop emeritus of Chimbote, said this about one of their elected officials: "Congressman Carlos Bruce is making a fool of himself with all of this, appearing -- excuse me for the term -- like a faggot in the middle of everything." Bambarén later apologized for using such language.
Unfortunately, this discrimination goes beyond name calling. To understand the double standard on the LGBT issue, one has to look at the mindset of some leaders within the Catholic Church in relation to the sex abuse scandal.
Still, even though Burke and Tomasi have been proven wrong, how many others within Catholic leadership hold these discriminatory views towards LGBT people and women? Why is the hateful and destructive language by Burke, Tomasi, Rodriguez, and Bambarén allowed to continue virtually unopposed while the voices of Spence, Winters, Hall, and Estridge; voices advocating peace, love, and compassion, are silenced?
Many on both sides of the LGBT issue are rightly asking: where does Pope Francis stand?

Few may have noticed it at the time, but Pope Francis opened the door to a softening of relations towards LGBT people when he acknowledged during his visit to Philadelphia the definition of sacramental and civil marriages has separated. "Until recently," Francis said to bishop and clergy gathered at St. Charles Borromeo Seminary at the Chapel of St. Martin of Tours, "we lived in a social context where the similarities between the civil institution of marriage and the Christian sacrament were considerable and shared. The two were interrelated and mutually supportive. This is no longer the case."
While at the Vatican embassy in Washington D.C., Pope Francis met privately with a longtime Argentinean friend and former student Yayo Grassi, a gay man who brought his partner, Iwan Bagus, to the meeting. This private meeting was largely overshadowed by Pope Francis supposedly meeting with Kentucky county clerk Kim Davis. Despite claims by Davis supports, the Vatican later confirmed "the only real audience granted by the Pope at the nunciature was with one of his former students and his family."
It should be noted that while a Cardinal in Argentina in 2010, Pope Francis privately signaled openness to civil unions for LGBT couples as a compromise to legalizing same-sex marriage. It was said that Francis held this stance because he thought Argentina wasn't ready for a same-sex marriage law.
In Amoris Laetitia, Pope Francis states, "It can no longer simply be said that all those in any "irregular" situation are living in a state of mortal sin and are deprived of sanctifying grace."
If Pope Francis continues on this path of encounter and dialogue, can Catholics continue to be punished and marginalized for speaking in favor of civil same-sex marriage or civil nondiscrimination legislation? Perhaps not today, tomorrow or next year, but Pope Francis's 'quiet revolution' on this and other issues concerning the family certainly leave the door open to such possibilities.
Calling all HuffPost superfans!
Sign up for membership to become a founding member and help shape HuffPost's next chapter