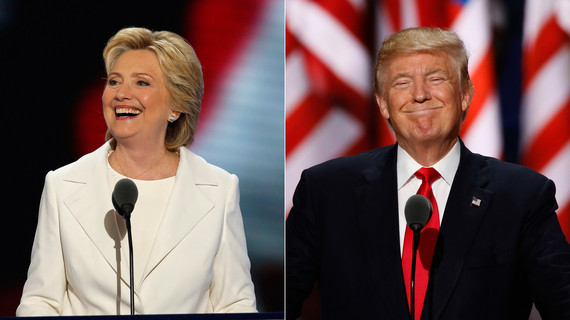 Wherever I have been in the world, the last few months, nearly everyone has asked me about the upcoming elections in the United States. And, I had the interesting experience, for an American, of watching both the Republican and Democratic nominating conventions from Europe and reaped the benefit of hearing morning-after commentary from people who related to both events in a far different way than I did.
KNEE-JERK ALERT...this is not a political commentary, although, no doubt, there will be a number of comments made as if it were. And although I do follow elections all over the world, I realize that many don't and find anything beyond their own borders to be irrelevant...so again, this has nothing to do with politics...at all.
The race I am referring to is the Digibabble competition to see who can make the biggest claims regarding this election - or any, for that matter - that suggest that the winner will win/won because of digital technology.
Now, let's be clear...digital technology plays a key role in everything...even TV...but we have in front of us an incredible laboratory of 100 days or so duration to actually study and learn from an unfolding and live case history...and with your permission, this will be my first post of a few where I will try and share as much information as I can regarding the topic.
My goal is to provide enough information for all of us to begin making our own predictions by using "small" data to create insights, and when it's all over, let's share our predictions, how we came to them and how we fared...
Now what's really interesting is the Twitter war so critical to all of us...so core to our own Confirmation Bias:
As of July 29, Trump has 10.4 million followers and Hillary only 7.93 million, and in the clash of hashtags, Hillary edged out the Donald by a nose, but more importantly had a more engaged base with a higher percentage of her followers tweeting.
Why do I find this of interest -- because many commenters, pundits and others had assumed that Trump would take all the ratings and full confession, I amongst others was sure that he was shredding the Twitter numbers because the news reported on his Tweets more than on hers...and therein is the learning - the amplification factor works both ways. Major media outlets, of any kind, that can aggregate 25 million at time are obvious platforms for social media amplification. Yet, by the same token, Twitter or other postings with, by comparison, meager audience accumulation can be amplified by major media.
In summary, the Democrats "won" Twitter and TV Ratings, even though Trump was expected to. Yet their numbers were less than they were four years ago in the previous election. They also had more positive conversations on Twitter than the Republicans. On the other hand, the Republicans beat out their own ratings for 2008, and as previously mentioned they did not beat out the Democrats this year.
To develop real insight we need to look at sentiment as well as sheer volume:
According Spredfast's analysis of Twitter data, sentiment during Clinton's speech was far more positive than during Republican nominee Donald Trump's acceptance of the Republican Party's nomination a week earlier. According to the tech company, online conversation during the last night of the Democratic National Convention was 22 percent less negative and 44 percent more positive than it was a week earlier when Trump spoke.

Overall, sentiment during the speech was 13 percent positive, 70 percent neutral and 17 percent negative. During Trump's remarks, sentiment was just 9 percent positive, 69 percent neutral and 22 percent negative.

1.3 million tweets on Thursday night used the hashtag #DemsInPhilly, compared with a little less than 1.2 million for #RNCinCLE on the same night a week prior.

20% more women were tweeting on the final night of the DNC than they were on the RNC's last night.
Websites are too much work and e-mail is like direct mail...I know you want money...so, according to PEW Research Center, 24% of US adults turn to social media for information on their candidates vs 15% for web and e-mail combined.
And despite Hillary winning the head to head numbers war of the conventions...Mr. Trump's overall followers on social media are way higher than hers and more engaged:
The article published by the PEW Research Center is based on research from the candidates' social media activity in May 2016:
As of July, 24% of US Adults say they have turned to the social media posts of Donald Trump or Hillary Clinton for news and information about the election - more than those who turn to either of the candidates' websites or emails combined (15%)....

On Facebook, Clinton and Sanders mostly use links to highlight official campaign communications while Trump links frequently to the news media.

On Twitter, Trump stands out for retweeting ordinary people more often than Clinton or Sanders (though retweets are rare).

The public responded to Donald Trump's social media updates more frequently on average than to either of the other candidates' posts. Trump's posts on Twitter, for example, were retweeted almost 6,000 times on average compared with just over 1,500 for Clinton. This may be due in part to Trump's higher number of followers.

Facebook: 9 million followed Trump's official page, about double the number who followed Clinton's

Trump's tweet attacking Clinton on gun control had received about 16,000 retweets, while his Facebook post supporting police was shared over 72,000 times.

Her most highly shared Facebook post was a video attacking Donald Trump that was shared 15,000 times.

And finally, the last bit of debunking:
What can we learn from the way of each of the candidates use social media? According to the US News & World Report:
Republicans Less Likely to Talk Issues...

Clinton often produced almost three times as many messages as Trump about the issues, such as education, the economy and women's issues.

Trump's posts on the issues is distinct when compared with Clinton. Where she routinely provided reasons, facts and statistics in support of her positions, Trump offered broad generalizations or generic claims with little evidence to back them up.

Political pundits and campaign watchers have declared Trump to be profoundly negative. The New York Times even documented all of the people he has insulted on Twitter. Some have predicted this might be one of the most negative campaigns in history.

Trump advocates for himself more frequently than does Clinton on Twitter, and he attacks more, but not disproportionately so.

When you look at the primaries, though, a noteworthy change occurs. Clinton attacks more than Trump on Twitter, especially during February, March and April, when she attacks at nearly twice the rate. It's not until May that Trump goes on the attack - primarily against Clinton.

When Trump goes on the attack, his attacks are often personal.

Clinton's attacks in February and March are subtler. She doesn't name Sanders explicitly in her attacks but instead calls out weaknesses with issues he is advocating.

Trump provides only thin policy claims, he is not constantly on the attack, unlike the public perception of his Twitter stream. Indeed, Clinton tends to be more negative than Trump on social media.
So all is not what it seems...
Confirmation Bias definitely pushes us in key directions and numbers are no doubt important, but I'd argue that more important is to get under them...look at engagement - not Tweets but Retweets...look at positive and negative sentiment...and work out the amplification effect but don't fall prey to Bias and assume you know what's amplifying what.
So join me on this journey...share insights as you see them...and a small hint...it's all People First....
REAL LIFE. REAL NEWS. REAL VOICES.
Help us tell more of the stories that matter from voices that too often remain unheard.