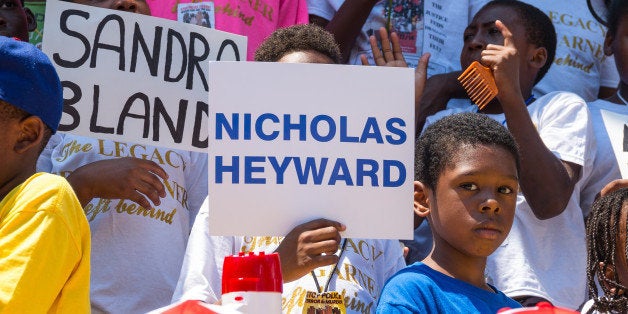 Like so many of you, I'm outraged by the killing of two black men in Baton Rouge and St. Paul. I'm also grieving the five officers killed while protecting protestors in Dallas.
These deaths leave me feeling a complex mix of outrage and urgency coupled with the painful knowledge that ending violence and racial bias will be a long, slow process.
I don't have easy answers. But I believe as a first step, I can acknowledge the reality within which so many of our children live. And how the toxic mix of racism and violence affects them.
Violence is not new in the lives of the District's children. The youth we work with at Children's Law Center are overwhelmingly African American and living in poverty. They grow up as witnesses to and sometimes victims themselves of violence at home and in our streets. Often, these children have loving and caring parents who struggle to protect them from the dangers that come with extreme poverty, homelessness and crime. Many grow up believing adults can't keep them safe.
These same children have witnessed the recent events unfolding around the country and the many similar tragedies before that. When they see violence by police against adults who they may identify with -- or learn the courts don't always provide justice to families -- they are learning the lesson that as black children, no one can keep them safe.
To speak about the impact of racism on a child's life can feel very abstract. Maybe it will help to share the words of a 10-year-old boy who is one of our clients. The day after Trayvon Martin's killer was acquitted in Florida several years ago, he asked: "Does this mean they can shoot me too?"
But children don't have to watch TV to feel the effects of racism. Young people of color -- especially African American children -- are lagging behind in DC schools and get suspended at disproportionately higher rates than their peers, even as young as 5 years old. They are swept up into the school-to-prison pipeline. They experience more violence and are more likely to die at a younger age.
The truth is the tragic deaths of Alton Sterling and Philando Castile have been felt by more than their families. Their deaths touched a nerve that is already raw for so many of our young clients -- and for many other Americans, including me.
It is making too many of us question whether it is true that the arc of the moral universe is long, but bends toward justice.
Children's Law Center's staff are young men and women who spend each and every day helping children find their own power. They work to ameliorate the impact of violence on young lives. They witness the daily impact of America's long history of racism on children and families who are struggling to survive here in DC.
Despite being on the front lines of violence every day, so many of my colleagues were rocked to their core by these recent shootings. It is for them and our children that I feel the need to speak.
What needs to be said is this: black lives matter. Every death is a tragedy but the numbers of black men and women who are shot in our country is an outrage. An injustice that resonates backward to Jim Crow, to lynchings and to slavery. And it reverberates into the future in the lives of children who are trying to decide whether their lives matter and whether they have a place in our community.
I do believe that although the moral arc of the universe is long, speaking up and saying that black lives matter helps it bend toward justice.
REAL LIFE. REAL NEWS. REAL VOICES.
Help us tell more of the stories that matter from voices that too often remain unheard.