A new political climate demands a newly aggressive approach to sustainable design.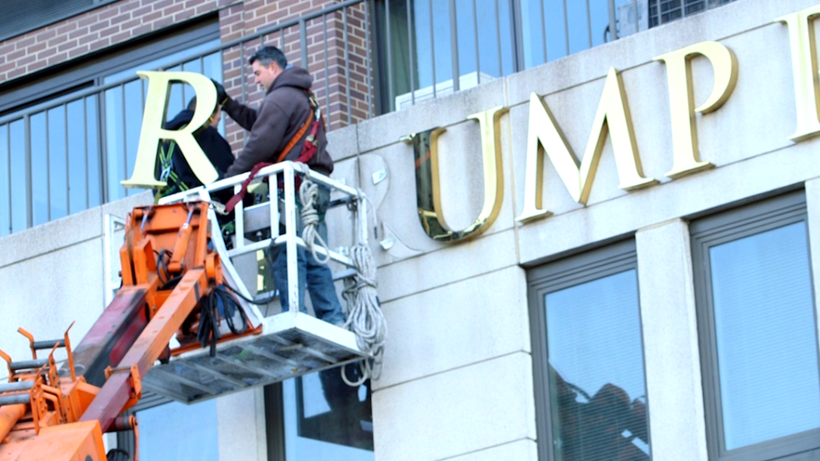 Inauguration Day has arrived. Last month in Dezeen, reportedly "the world's most popular online design magazine," architecture critic Mimi Zeiger declared, "Design strategies robust enough to resist this new political climate have yet to emerge." The truth is that the most effective strategy emerged decades, if not generations, ago, but it has yet to be taken up by architects en masse. What the profession needs, now more than ever, is a dramatically more aggressive approach to sustainable design.
What prompted Zeiger's article was an ongoing controversy over the CEO of the American Institute of Architects (AIA) publishing a post-election memo that offered the institute's support to the new administration: "The AIA and its 89,000 members are committed to working with President-elect Trump to address the issues our country faces, particularly strengthening the nation's aging infrastructure… We stand ready to work with him…." The backlash on social media was immediate, and within a couple days the editorial board of The Architects Newspaper proclaimed that it "stands in opposition" to the language in the memo: "To ignore the role design and designers could play in instituting and perpetuating the inequality inherent in the racist patriarchy of Trump's ideology embodies is irresponsible and reprehensible." The AIA CEO issued a mea culpa, but many, including Zeiger, considered it "weak-kneed."
The outrage over pledging to support a president whose social politics have been divisive, to say the least, is understandable, especially at a time when the profession itself struggles to build more diversity. According to the 2016 AIA Firm Survey, women currently make up only 31% of the profession, and ethnic minorities account for only 21%. The profession of architecture "must be a mirror of the rich human tapestry we serve," wrote 2015 AIA president Elizabeth Chu Richter last March. Eight months later, the CEO of the same organization committed all 89,000 of the rest of us to supporting an administration that seeks to "elevate and enshrine the primacy of white men" (New York Times).
Yet, a glaring omission in most of the early outcries against the AIA was any mention of sustainability. The Architects Newspaper editorial decried Trump's prejudice but ignored his frightening stance on climate change. President Obama's environmental legacy has been called "the most consequential of any president in our history," and in his 2015 State of the Union address he insisted, "No challenge poses a greater threat to future generations than climate change." By contrast, Donald Trump routinely dismisses climate change as a "hoax," and his Chief of Staff confirms that this will be the official policy of the administration. As of today, all references to the topic have been deleted from the White House website.
This week, the AIA Committee on the Environment (COTE) Advisory Group, on which I serve, sponsored a petition urging the Senate to ensure that the new directors of the Department of Energy and the Environmental Protection Agency will honor the science and consensus on climate change: "[O]ur nation will need to make substantial changes in how we utilize our natural and energy resources if we are going to be able to compete in the 21st century and maintain livable environments for future generations…." The petition was authored by Boston architect Mike Davis, and to date over 700 architects have signed it.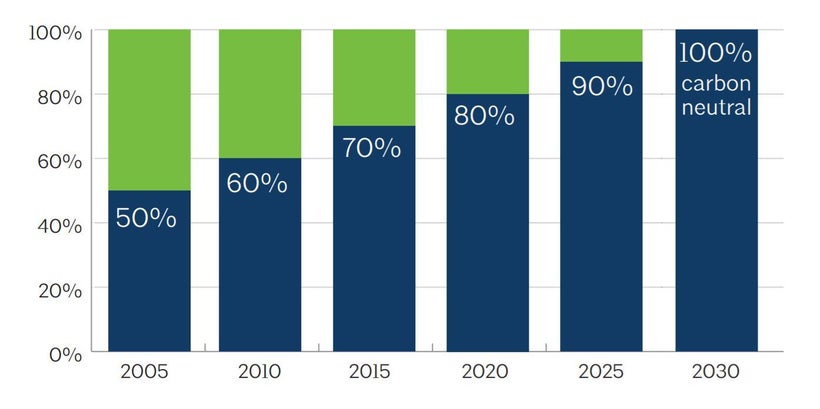 Yet, this and similar pleas could very well fall on deaf ears. While 97% of scientists and 76% of the American public agree on climate change and want action, only 30-40% of the controlling party in Congress does, so nearly two-thirds of Americans' elected representatives do not support their views. Now the executive branch is in denial, and the judicial branch could upend any progress made over the past eight years.
If ever there were a time for architects to lead the fight against climate change, it's now. While many might believe that transportation and industry are responsible for the lion's share of greenhouse gas emissions, in fact the building sector accounts for half of annual energy and emissions in the US and three quarters of electricity use. Buildings are the key.
Zeiger is right to condemn "'let's make the world a better place' platitudes" that characterize the too-common "self-satisfied green agenda," but she fails to acknowledge the untapped power of sustainable design. In fact, it remains the most effective, if still unrealized, means for architects to create an agenda of "radical hope," which Zeiger, citing author Juno Díaz, describes as "a practice to fight off despair" and "a weapon of resistance." She condemns "the AIA's retrograde position," but, despite all the recent and justified criticism, the institute in fact has been a leading voice for sustainability.
In 1990, three years before the US Green Building Council (USGBC) appeared, the AIA created COTE, now the longest-running US program dedicated to promoting sustainable design. In 1993, years before the rest of the profession paid much attention, Susan Maxman, the first female president of the AIA, also was the first to champion sustainability: "What is called for is a profound shift in the way we regard this planet and everything on it. Exploitation must be replaced by stewardship. And for stewardship to extend its healing hand, we must act responsibly." In 1997, a year before the USGBC piloted its Leadership in Energy and Environmental Design (LEED) rating system, COTE began the annual Top Ten Awards to highlight environmentally intelligent buildings as exemplars of better design. In 2006, the AIA was the first to adopt the 2030 Challenge, a progressive strategy to achieve carbon neutrality by that year. In 2013, the AIA published the Sustainable Leadership Opportunity Scan to outline how the institute could "strengthen our role in driving leadership opportunities," and several important initiatives have evolved out of this.
Even in the wake of November's misguided memo, the 2016, 2017, and 2018 presidents of the AIA all came out in support of efforts to combat climate change. Carl Elefante, the 2018 president-elect, promises perhaps the most aggressive sustainability agenda of any AIA president ever: "Improving building performance must become a core competency for all architects."
All of this signals great progress. But it's not nearly enough.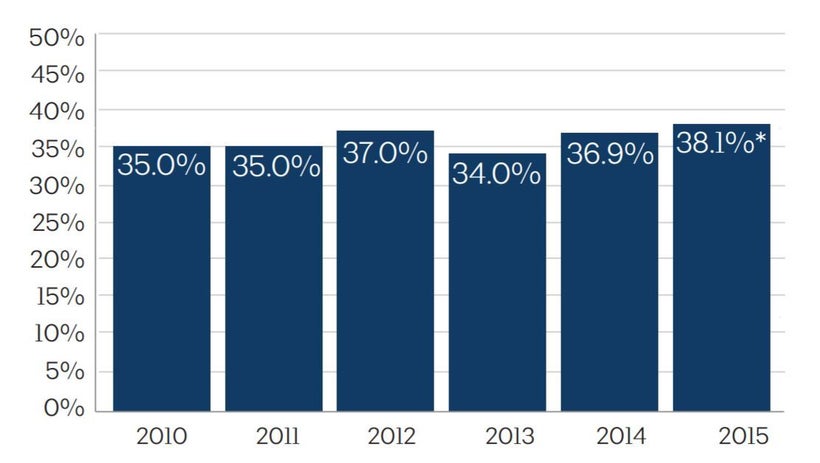 Since 2010, the 2030 Commitment, the AIA's framework for adopting the 2030 Challenge, has tracked and reported architects' progress toward current goals, which included a 60% energy reduction from a baseline standard until 2015, when the target increased to 70%. In 2020, it will shift to 80%. For six years in a row, according to the data submitted annually by architects, the average reduction has hovered between 35% and 38%—about half the current target and about average for all "green buildings." Furthermore, while the volume of projects being tracked has grown exponentially, currently only 366 firms have signed the 2030 Commitment, and of those only 152 are submitting data. In other words, out of some 20,000 architecture firms in the US, only 1% have committed to seeking carbon neutrality, and even fewer are actually doing much about it. Is the AIA more progressive than most of its members?
Progress should be easier. In a 2008 survey of over 700 construction professionals, 80% cited "higher first costs" as the biggest obstacle to green building. Yet, the National Renewable Energy Laboratory calculates that adopting current best practices can reach a 50-60% reduction in energy consumption—without any additional costs. Applying that to every building could cut the total annual US emissions by a quarter, half the amount needed to stabilize the climate by 2020, according to estimates. The industry is stuck, but there's no reason it should be. All the classic rationalizations for avoiding smarter design are myths, and architects have run out of excuses not to stand up.
Nearly four years ago, I issued a "call to action" for architects everywhere to transform the profession. None of this has happened yet, but now these actions are more urgent than ever. "Radical hope," writes Díaz, "is not so much something you have but something you practice."
Six Steps to Transforming the Architecture Profession
1. Immediately, every organization that gives design awards to architects can begin rewarding only structures that meet at least a minimum standard of sustainable performance.
2. Within six months, every design magazine can begin featuring only buildings that meet at least a minimum standard of sustainable performance.
3. Within one year, every public agency, including federal, state and local governments, can require every project beginning development in that year to meet current targets for the 2030 Commitment.
4. Within two years, every American architecture firm can adopt the 2030 Commitment and meet current targets for all projects begun that year.
5. Within three years, every American licensing agency can require that every architect demonstrate a minimum level of competency around sustainable design in order to maintain a license to practice.
6. Within four years, every school of architecture can transform its curriculum to ensure that every graduating student is fully trained in the principles and practice of sustainable design.
Calling all HuffPost superfans!
Sign up for membership to become a founding member and help shape HuffPost's next chapter
This post was published on the now-closed HuffPost Contributor platform. Contributors control their own work and posted freely to our site. If you need to flag this entry as abusive,
send us an email
.