On Sunday night, during the second season premiere of "Insecure" on HBO, we watched 30 hilarious minutes in the life of a deeply melanated, kinky-haired, black woman named Issa. We did not watch her blackness played out as some sort of gimmick. Instead, we watched her in agonize over a bad breakup, have a bad day at work, be petty despite her better judgment, and have an awkward and confusing run-in with her ex.
We watched her, in other words, be a regular, flawed, human being.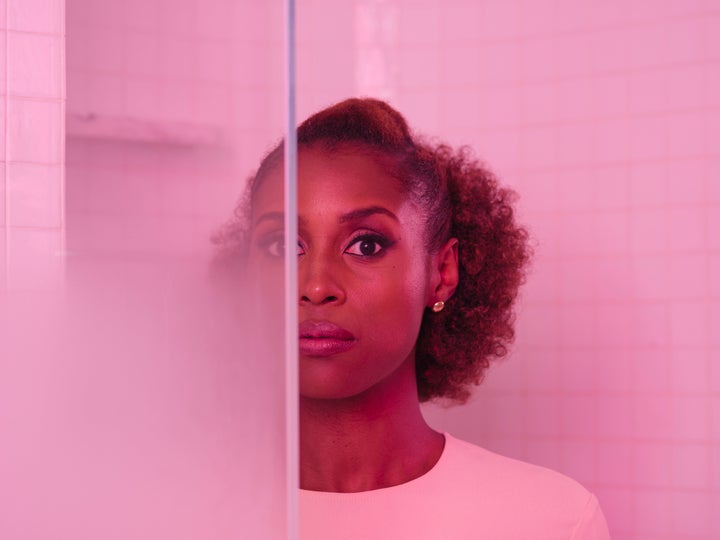 It's hard to believe that, five years ago, Olivia Pope was the most exciting black female lead on TV. There is, of course, a place for the Olivia Popes and Annaliese Keatings of the television world. These characters are important. But before "Insecure," there were no prime time shows that so vividly depicted the black, female, millennial experience. At least, not ones that mattered.
The fact that "Insecure" follows not one but two dark-skinned black female leads (the second, Molly, played by Yvonne Orji) with real storylines is doubly exciting. Perhaps not since sitcoms like "Living Single," or "Girlfriends" has a half-hour comedy offered up these kinds of shades and textures of black womanhood.
In a perfect world, none of this would be cause for so much celebration, or provide so much fodder for think pieces. But the fact that "Insecure" is the first time that a character like Issa has stood at the center of a narrative on primetime TV makes her rarity and her brilliance worth pointing out.
It's an idea that isn't lost on Rae, who created and executive produces the show. As she told HuffPost Black Voices senior editor Lilly Workneh last year: "Black people don't really get a chance to be regular, boring, and go through everyday things. But this is very much a slice of life show."
As much as a catalyst in the ever continuing Hollywood diversity conversation as Olivia Pope was, her emergence at just around the same time as the debut of HBO's "Girls" and Comedy Central's "Broad City" highlighted a deep television void: When was the last time we got to see a young black woman on television come of age, be messy, make mistakes, kick back with her other black girlfriends, have unapologetic drunken sex, fight, and make up?
The problem wasn't that television was missing a "black version of Girls," or that to rectify the situation there needed to be a direct equivalent to the dozens of shows that explored the free, white and 20-something female experience, but that featured black women.
The real issue was that, like always, the industry was incredibly slow to realize, to even consider, that representations of black women on television can also span age and socio-economic status, that the genre doesn't always have to be a hard-hitting work drama, that black women do in fact have coming-of-age stories worth telling. Web series like "An African City" and "roomieloverfriends" got that, but the lack of a smart and funny black millennial perspective on primetime cable or network TV was glaring.
There's a moment in episode one of the new season of "Insecure" that crystalizes what makes the series, and Issa, so special. It's a scene that echoes a similar montage in season one where Issa, getting ready for a night out where she'll potentially run into an old flame, practices what to say, going from seductive to aggressive to coy.
In "Hella Great," she stands before another mirror trying on different identities, figuring out how she'll react when the ex-boyfriend she cheated on last season, Lawrence, arrives at her place for the first time in weeks. Will she be humble, apologetic? Will she be stand-offish in a bid to make him think she's moved on?
"I'm so glad you made it...I really missed you...you haven't changed a bit...but I have, I'm not a cheater anymore!" Issa tries, before shifting to nonchalance ―
"Oh, hey. I forgot you were coming."
There's something so incredibly human, so relatable about this moment of candid vulnerability. Here, alone with her thoughts, Issa gets to act out all the sides of herself, even the sides she'll never show, with a humor and honesty that plays on the stereotypes thrust on black women, and the stereotypes that we unconsciously thrust upon ourselves. The show is chock full of these candid, honest, real moments of young black womanhood that have been missing from our screens for some time.
Half a decade after the debut of "Scandal," Issa is vital to the ongoing progression of black and brown stories on television. She isn't a "boss," like Mary Jane Paul or Olivia Pope, her messy drama is more petty than epic, and thus relatable as hell to a whole generation of 20-something black women who have been craving for a show that speaks to them on a deeper, more visceral level.
Popular in the Community