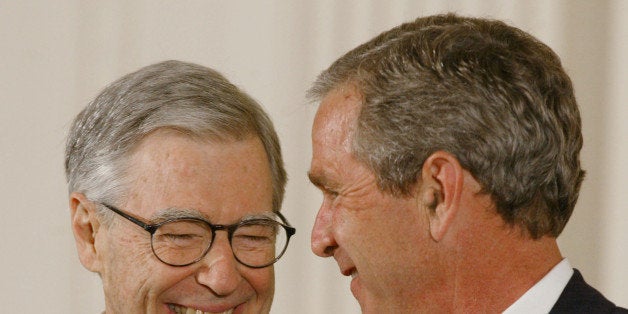 Yes, Fred Rogers was a gentle soul who liked us just as we are. But if we place him in historical context, we can see that he was also politically progressive and fiercely dedicated to sharing his values of radical nonviolence and justice. Here are 10 little-known facts about Rogers's radical politics:
1. Rogers was an uncompromising pacifist, and when Mister Rogers' Neighborhood debuted nationally in 1968, during the height of the Vietnam War, he used his first week of programming to share his antiwar beliefs.
2. Rogers was committed to racial diversity, and not long after inner-city riots erupted following the assassination of Martin Luther King, Jr., Rogers introduced the character of a black police officer keeping everyone safe in the Neighborhood. Francois Clemmons debuted as Office Clemmons on August 1, 1968.
3. In 1975, 14 years before an African American woman would become mayor of a major U.S. city, Rogers created the character of Mayor Maggie of Southwood, played by African American actor Maggie Stewart.
4. Rogers embraced feminist values, and in 1972, more than 10 years before Sally Ride became the first U.S. woman in space, Rogers arranged for his arguably most colorful puppet, Lady Elaine Fairchilde, to fly to Jupiter and discover Planet Purple along the way. In 1974, two years before Barbara Walters became the first woman anchor of a major evening news program, Lady Elaine also began anchoring the news at the neighborhood's television station.
5. Rogers became a vegetarian in the early 1970s, saying he could not eat anything that had a mother, and in the mid-1980s he became co-owner of Vegetarian Times, a popular magazine filled with recipes and features. "I love tofu burgers and beets!" Rogers told the magazine in 1983. In 1985, Rogers also signed his name to a statement protesting the wearing of animal furs.
6. Rogers opposed the nuclear arms race, and in 1983 he developed Neighborhood of Make-Believe episodes in which King Friday appears confused and downright silly for calling for an arms race with a neighboring community. When Friday orders "one million and one parts" that he imagines to be weapons -- they are not -- he uses funds designed to support music in the neighborhood school. The neighborhood is appalled by this crass act.
7. At the beginning of 1984, the Presidential Task Force on Food Assistance, appointed by President Ronald Reagan, reported that it could not find evidence of rampant hunger in the United States. Rogers did not appreciate the report, and by the end of the year, he broadcast episodes highlighting the presence of hunger and addressing the need to combat it.
8. Rogers was no Cold Warrior, and in 1987, as relations between the U.S and the Soviet Union were beginning to thaw, he traveled to Moscow and appeared on a Soviet children's television show called Spokoinoi Nochi (Good Night, Little Ones).
9. Rogers dissented from the Persian Gulf War and praised U.S. Senator John Heinz (R-PA) for introducing a bill designed to exempt from combat one parent of military couples or single parents who were their children's sole provider. Rogers wrote: "We must not perpetuate abuse from one generation to the next -- and separation from a young child's security (their loves ones) is a gross form of abuse."
10. An ordained Presbyterian minister, Rogers was spiritually progressive, and in 1983 he arranged for Lady Aberlin, played by Betty Aberlin, to sing a quiet song ("Creation") in which she refers to God as "She." It was Rogers's progressive spirituality that served as the ultimate foundation of his radical politics.
Popular in the Community