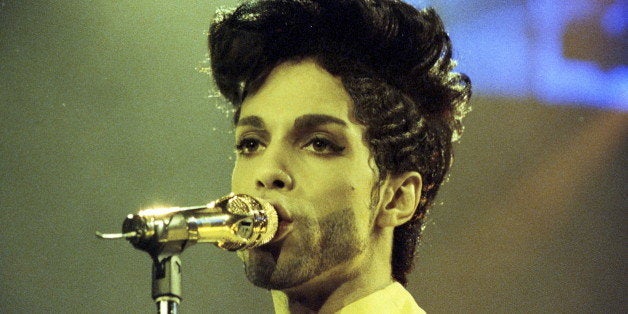 I was on a conference call for a media project when one of my colleagues gasped. "I think Prince just died," she said. I couldn't find the words to respond. I felt the lump in my throat that signals tears are about to begin streaming. When the confirmation came through that we'd lost him, it was all I could do to remain on the line and carry on with our work.
My favorite living artist, a rare glimmer of joy and subversion in a childhood where my queer self invited shame, wasn't here anymore. I hadn't gotten to see him live yet. I was supposed to do so a few months ago, but, Prince being Prince, he'd backed out of the event for unknown reasons. I hadn't gotten to interview him. I never got to thank a man who'd meant so much more to me than some great songs.
Not knowing where to place my grief, I saw Spike Lee was hosting a dance party at his film studio's headquarters after work. I put on a pair of purple pants, which I've refused to wear since buying them, and headed to Brooklyn. We sang song after song, a family in grief and celebration. Spike stood on the stairwell, occasionally dancing and singing, but also overcome with the emotions of sudden loss. While we sang mega-hits, like "When Doves Cry" and "Little Red Corvette," we also got funky with "Housequake" and oh-ee-oh-ee-oh'd to The Time's "Jungle Love." The audience roared with applause for Sheila E.'s "The Glamorous Life."
The diversity of the crowd was immediately apparent, especially around gender performance. Prince taught mainstream America that there were other ways to be a man. The feminine wasn't an element to be dominated by rock stars. It was a beautiful part of human nature to be embodied with humility. Prince was a proud Black male who found joy in exploring and highlighting feminine subjectivities, criticizing the misogyny of his rock peers with a daring wink.
Prince operated from this unusual position, that of a straight feminine male, from the earliest days of his career. In the 1979 music video, "I Wanna Be Your Lover," Prince flicks his hand and shimmies around his microphone stand as he informs the listener in a sly turn of phrase, "I wanna be the only one you come for."
There was wide speculation Prince was gay by 1980. Rather than responding with the defensiveness of Michael Jackson ("Bad," then the even more overt "In the Closet"), Prince toyed with gayness openly. Never was it more playful than on "Uptown," a track from his can-you-believe-he-just-said-that 1980 album "Dirty Mind." It's worth noting that the album cover features Prince in a bikini bottom.
"Baby didn't say too much
She said, 'Are you gay?'
Kinda took me by surprise, I didn't know what to do
I just looked her in her eyes and I said, 'No, are you?'" - Prince, "Uptown"
In 1981, Prince was pushing the boundary even further. He referenced gay identity again on "Controversy." The song asks, "Am I black or white? Am I straight or gay?" Prince's response: nothing. He stopped answering the question. And he tossed a mercurial Lord's prayer at the end of the song to boot.
The femininity of Prince's art extended beyond his own body. He featured women in a way other mainstream male artists didn't. They played integral, public roles on his tours. The imagery was empowered, with Prince seeming more the object of male gaze than the women were. Two of his musicians, the famed duo Wendy & Lisa, were lesbian lovers.
Prince acknowledged female pleasure in ways that were unprecedented in popular American culture, if not always completely unproblematic. He spoke of orally stimulating a woman in "Head," rather than being the object of oral stimulation. His "Darling Nikki" referenced female masturbation, famously sending Tipper Gore into a tizzy and helping launch the groan-inducing Parental Advisory label. Imagine what she'd have to say about Prince's pansexual MTV orgy in 1991 with "Get Off."
While he was severely tamed by a religious conversion in his later years, Prince continued to acknowledge female pleasure in his work. In this decade, Prince was still singing about the value of partner-pleasing for the sake of the other, rather than a form of male dominance. From 2014's "Clouds": "You should never underestimate the power of a kiss on the neck [...] It's in my power to love you." Notice his subversion of the word "power."
Prince's his most genuinely provocative interrogation of gender actually arose in the 1990s, although it was overshadowed by a public corporate dispute that ended with him sacrificing his name for a symbol. It was during this time that the hyper-sexuality of his career found its meaning. He began to wonder if gender had passed its point of utility altogether.
In 1996's "New World," he posits a question we're trying to negotiate right now: "When the melting pot stirs, how you gonna take it? When you can't tell him from her, how you gonna fake it?" Unlike "Controversy," Prince answered the question this time: "Love for one another."
The message was there all along. Even when the mainstream took his sexual art at face value, rather than asking what the point of his carefully-crafted provocations may be. Prince existed to tell the world one basic truth.
Love flows through Prince's art, the thread that strings itself through his melding of genres and personas. His femininity and masculinity. His rock and his soul. His Blackness (a subject The Daily Beast's Stereo Williams explores).
Prince's performance centered upon one theme: we had an obligation to find deeper, purer ways to love each other and ourselves. "Am I the weaker man, because I understand, love must be the master plan?" he asks in 1991's "Diamonds and Pearls." "Always cry for love," he sings in the same-sex romance of "Sometimes It Snows in April," a track from 1986's "Parade."
This love wasn't just a passive, feel-good kind of love. For Prince, love was a duty. In 2015, he honored the lives of Michael Brown and Freddie Gray in "Baltimore," a song that protested police violence. "Peace is more than the absence of war," he sang. "Enough is enough, it's time for love." Love was embrace of racial equality. It was the rejection of all violence. It was the blurring of the lines that divide us in search of commonalities in identity.
He extended his love beyond the bounds of humanity as a reported lifestyle vegan who openly decried the exploitation of animals in public. "Compassion is an action word with no boundaries," People for the Ethical Treatment of Animals quotes Prince as saying. "We're all members of the animal kingdom."
"Please do not kill a cow so I can wear a coat!" he exclaimed to a fan who tried to give him one made of leather. On another occasion, Prince posited, "We need an Animal Rights Day when all slaughterhouses shut down."
Prince wasn't a celebrity trying to capitalize on the issues of the moment. His work always focused on expanding the bounds of our love and acceptance. And he allowed singer Rosie Gaines to offer the concise encapsulation of his entire worldview on "Diamonds and Pearls," when she sings out: "Love is the master plan!"
For a queer vegan teenager wondering how he was going to find his path into a world that thought he didn't belong, that's the only sentence I needed to hear. Even now, that song brings a tear to my eye. I look forward to sharing it with the next generation of my family. It's a lullaby that speaks to the peace that comes with knowing we've embraced all that matters.
Despite the conflicting reports about Prince's personal attitudes around queerness and political opinions, his art maintained a thematic continuity that transcends them. We may never know if Prince came to endorse marriage equality as a Jehovah's Witness, but we know he helped pave the way for its acceptance. We might not be able to deduce his voting record, but we know he was proud of his Blackness and used his voice to highlight racial oppression.
To the world, Prince was his work. That work helped open our eyes and lead us forward in a way that far surpasses what we expect from the people who provide the soundtrack to our lives. Let us hope that, if the era of the superstar continues, we'll be lucky enough to see it animated with a spirit so fearlessly devoted to the better angels of our nature.
I'll always love you, Prince Rogers Nelson. Thank you for inviting us all to bathe inside your purple rain.
Support HuffPost
Every Voice Matters
Popular in the Community