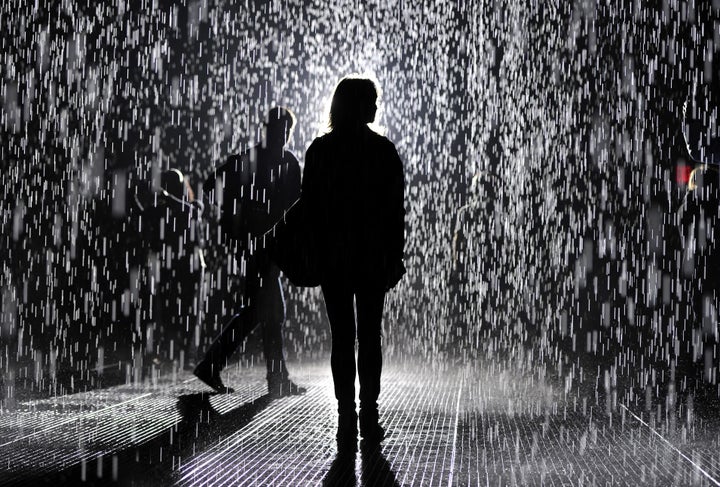 As if to taunt the Southern California wasteland and its lack of natural precipitation, the wildly popular "Rain Room" is coming to the Los Angeles County Museum of Art. As experienced by those willing to stand in line outside MoMA for eight hours in 2013, the installation promises all the staggering visuals of standing amidst an eternally torrential downpour, without ever getting wet. 
The "Rain Room," conceived of by London-based art collective rAndom International, hits that money-making sweet spot at the nexus of cultural outing, enchanting entertainment and unmissable Instagram opportunity. During its 11-week run in New York City, an average of 1,000 people a day visited the installation, according to The LA Times.
The artwork takes the shape of a 2,500 square-foot room, equipped with body-mapping cameras and nine controllable spouts. Around 2,500 liters of water fall from the ceiling at 1,000 liters per minute, and are then filtered and cycled back for another journey. The sensors allow visitors -- five to seven at a time, to be exact -- to move freely through the space unsoaked, like Moses, or the opposite of Jim Carrey in "The Truman Show."
Regarding the decision to simulate a never-ending rainstorm amidst California's three-year dry spell, we're a little stumped. However, a museum spokeswoman ensured The LA Times that the installation was environmentally sensitive, recycling its water through a closed-loop system with minimal evaporation and replenishment, and all water is sourced from the museum's clean water supply.
Another surprising detail: the exhibition will be co-presented by RH Contemporary Art, a division of furniture company Restoration Hardware, who also commissioned the original MoMA piece.
If you've got eight hours and $15 to spare (on top of the price of standard LACMA admission price) head on over to the museum between November 1, 2015 and March 3, 2016 for what's sure to be an enchanting experience ... and potential new profile picture. Bring snacks for the line.
Calling all HuffPost superfans!
Sign up for membership to become a founding member and help shape HuffPost's next chapter