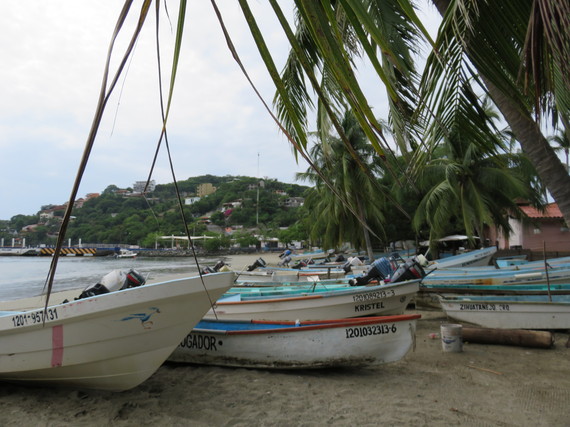 Unique among Mexico's alluring tropical beach destinations, Ixtapa-Zihuatanejo offers the best of two paradise worlds: the sparkling modern luxury resort of Ixtapa and the charming historic fishing "pueblo" of Zihuatanejo.
Rose-hued sunsets meet azure waters in this sensory extravaganza...a rainbow tapestry of experiences and accommodations. For those with "champagne taste and beer money", there are lovely, quaint resorts with all the amenities for less than $50 a night. For those travelers who can afford it, there are elegant accommodations where the sky's the limit. But for everyone who visits this still-underdeveloped gem on Mexico's western coast, it is a double paradise in other ways as well. The colorful fishing village of Zihuatanejo ("Place of Women") oozes with tradition, heritage and déjà vu culture of the past, while Ixtapa sports the image of a young, new and contemporary tourist mecca. Old and new are blended like a fine tapestry offering something for every tourist in what's termed the Costa Grande of Mexico.
The dissimilarity of this Pacific Coast duo adds up to a doubly appealing vacation choice. Some visitors seek luxury, glamour and pampering service; others yearn for a tranquil rustic retreat. Here you can have it all! The promotional slogans sum it up as "The one place that's two places at once", and therefore resulting in a vacation destination "twice as pleasing".
Life in Zihuatanejo still centers around the town's main beach (Playa Principal) and pier, where fishermen return every morning with their catch, and in the pleasant little streets paved with decorative brick. There are cozy hotels in town, and modestly priced bungalows and inns, as well as deluxe small hotels nestled along beaches and hillsides overlooking panoramic Zihuatanejo Bay. Two favorite beaches on the sheltered bay are Las Gatas, accessible by water taxi from the town pier; and idyllic Playa la Ropa ("clothes beach") named for a Spanish galleon's cargo of silks and fabrics brought from the Orient and scattered here from a shipwreck. On both beaches, delightfully simple palapa-topped eateries serve the freshest seafood.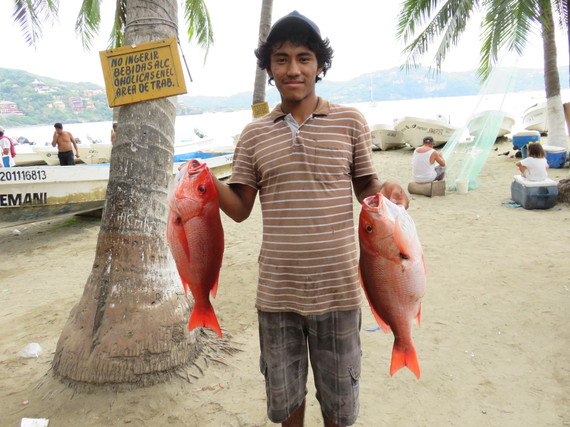 Ixtapa's fabulous world-class courses make this tropical destination a utopia for golfers of all levels. The Marina Ixtapa Club de Golf was designed by Robert von Hagge, completing the multi-million dollar Marina Ixtapa project. The Campo de Golf Palma Real was designed by Robert Trent Jones, Jr., in 1977. This course was a key element in the master plan of FONATUR (the National Fund for Tourism Development), which originally developed Ixtapa as a resort destination. The courses are located at opposite ends of Ixtapa's hotel strip and are either within walking distance of the hotels, or at most a 5 minute taxi ride. And for golfers staying in neighboring Zihuatanejo, Ixtapa is only 10 minutes away.
In addition to fabulous golf and tennis, sport fishing is a big attraction - trophy size sailfish, blue and black marlin, yellow fin tuna, and dorado are likely catches. In fact, Ixtapa-Zihuatanejo has been designated as the second most important sport fishing destination in the world, and first in Mexico.
Over 30 fabulous scuba diving sites (some right inside Zihuatanejo Bay) include spectacular underwater canyons, shallow coral formations and even sunken ships. The Zihuatanejo and Ixtapa Scuba Centers offer dive excursions and NAUI certification courses. You can also enjoy yachting, water skiing, parachute gliding, windsurfing, horseback riding (along beaches and through coconut, mango and papaya plantations), birdwatching, and excursions to nearby mountain and coastal villages. There is even more adventure with mountain biking tours, cave explorations and kayaking through the mangrove lagoons at Barre de Potosi and river rafting near the town of Petatlan, just down the coast. The ciclopista (bicycle path) that runs through Ixtapa, around the golf courses and all the way to Zihuatanejo, is enjoyed by bicyclers and joggers and you'll always see plenty of energetic locals, as well as visitors, running several pleasant kilometers.
The tranquility of Zihuatanejo is accentuated with the stunning treasures of Mother Nature. But that's not all. The welcoming smiles and warm hospitality tell you immediately you have discovered your home away from home. Zihuatanejo joined an exclusive "club" of one of one hundred international cities of peace in the world, as designated by a nonprofit consultancy of the United Nations.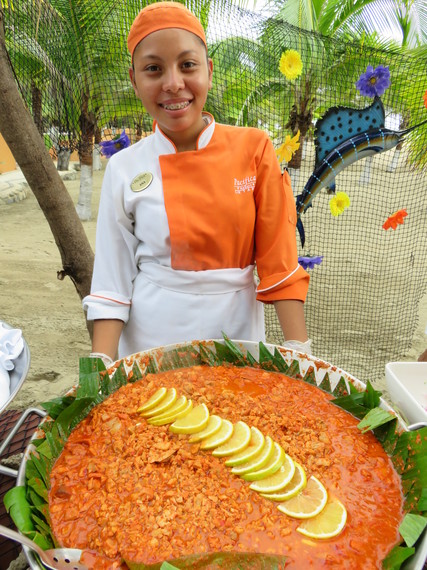 Just a short bit of my itinerary follows:
Day 1: Stop at a fruit plantation and tour the charming puebla of Petatlan. Top off this day with a sunset cruise on the Picante Catamaran or the Dancer, for stunning panoramic views of the Bay.
Day 2: Try a canopy tour or go deep sea fishing for cutting edge ecotourism. Bonita, yellow fin tuna and snapper abound. Go to the Dolphinarium for a unique encounter.
Day 3: Following your divine biking and kayaking adventure, check out Mother Nature's finest with some snorkeling you will long treasure. In the evening, hop an ATV tour for a rose-hued sunset.
Day 4: Just down the road is another sizzling adventure! Be a pseudo-archeologist for a day with the excavation ("Digs") at La Chole, a newly discovered massive pyramid complex nearby.