When I was a junior in high school, one of my friends and classmates committed suicide. This tragedy devastated me. I had never known anyone who'd taken their own life, and I was shocked to learn that suicide is the third leading cause of death for 15- to 24-year-olds. So it was in a state of grief that I learned shortly thereafter of the death of Tyler Clementi who, like me, was a gay teenager from New Jersey who had been bullied. His death opened my eyes to the growing problem of youth suicide, specifically in the LGBTQ community. I learned that LGB youth are four times more likely than their straight peers to attempt suicide. Underlying these tragedies were my own personal experiences -- being teased and called names, getting shunned in the locker room -- but I was fortunate to have the loving support of my family and friends, unlike so many others.
Confronted by the tragic deaths of my friend and Tyler and witnessing daily the trials and tribulations facing LGBTQ youth, I felt compelled to work to make things better for these youth. I discovered the Trevor Project and knew that this was an organization that I wanted to support. At that time I was too young to be a Trevor Counselor, so I wanted to find a way to help in my own way. I thought about my family's advice -- to follow my passion -- and about how I could combine my passion for mountain climbing with my desire to help LGBTQ teens like me.
I remembered my experience climbing Mt. Kilimanjaro, the highest mountain in Africa, at age 15. The route was long and hard. There were times that I thought I wouldn't be able to keep going. I had to ask for help from my teammates to get the support I needed to continue. And, eventually, we reached the summit and reveled in the beauty of the moment and the achievement of surmounting this challenge.
That experience was so personally empowering for me and a powerful analogy that I thought describes what many LGBTQ youth experience: the challenges, the obstacles, the need for external support, but, ultimately, the pay-off -- the high of being true to themselves and to those who care about them... the "It Gets Better" moment. I also knew there were very few openly gay mountaineers, and none had managed to successfully climb all seven of the highest peaks on each continent (called the Seven Summits). So I decided I would attempt to climb those summits to raise awareness and funds for the Trevor Project, to help more LGBTQ youth get the help they need and to call attention to this important issue.
I decided to call my quest The Rainbow Summits Project, and if I am successful, I will become the first openly gay person (and the fifth youngest person ever) to successfully climb to the top of the highest mountain on each continent. I thought this would help me to find a silver lining in the tragic deaths of my friend, Tyler and the other LGBTQ youth who had taken their own lives -- and also help save those who feel like all hope is lost.
In the year since I started Rainbow Summits, I have managed to successfully climb five of the Seven Summits, and have plans to complete the final two in the next four months. This March I leave to climb Mt. Everest, the tallest mountain in the world, and I'm busy getting ready for what I think will be the biggest challenge of all. As part of this climb, I will be carrying prayer flags to the summit of Mt. Everest, with dedications on them to people who have committed suicide or been the victim of harassment, bullying, homophobia or intolerance. I welcome anyone who would like to dedicate a prayer flag to go to rainbowsummits.org/get-involved and let me know how you would like the dedication to read. I will transcribe it onto a traditional Tibetan prayer flag and take it to the top of the world with me.
I hope my adventure will serve as an inspiration to young people like me to be true to who they are and to know that they are not alone. It's also my hope that calling attention to this rampant problem will help kids' parents, families and friends be there for the young people in their lives as they discover and embrace who they are. I look forward to sharing my journey to the top of Mt. Everest with you all.
See a slideshow of some of Cason's climbs: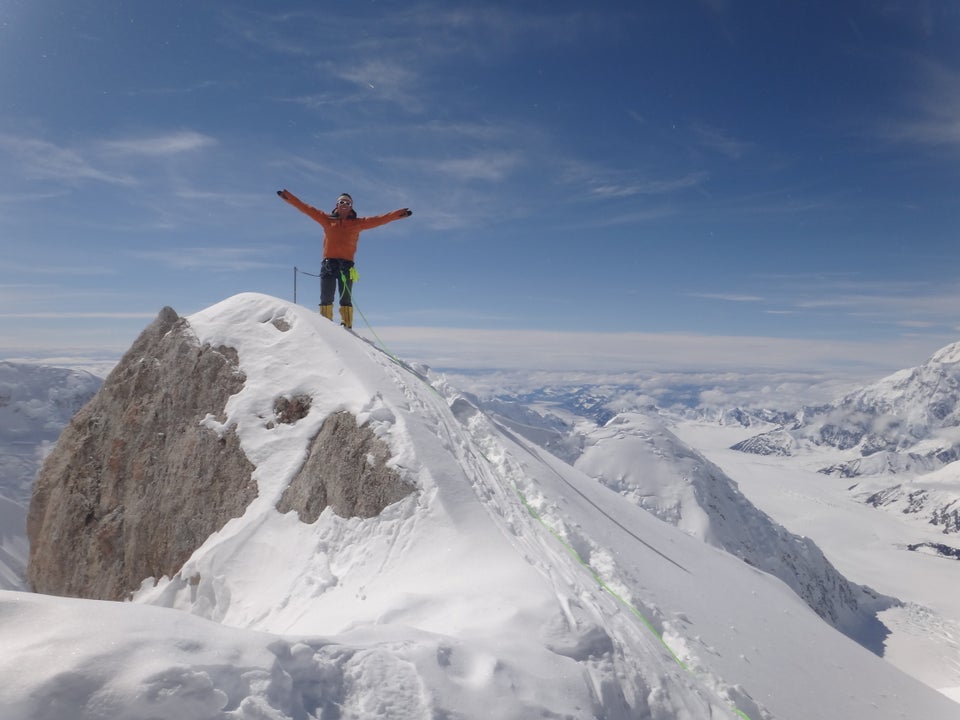 Cason Crane's Travels
Popular in the Community