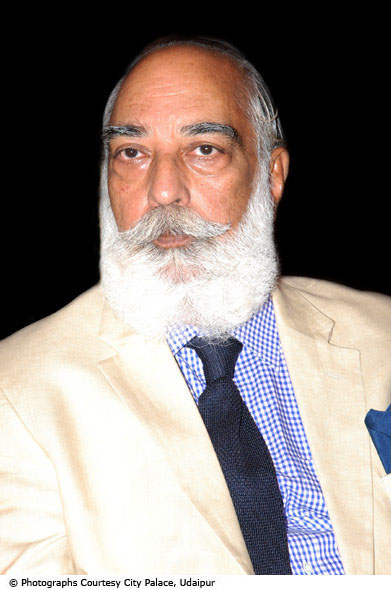 Photo courtesy Eternal Mewar, City Palace Complex, Udaipur
Two of the world's most distinguished professors of family business last week gave a periscope view of an ongoing study examining the Mewars of Udaipur, Rajasthan.
What, you never heard of the House of Mewar? Never heard of their product? If you're not from India or an Indo-phile, you're probably not alone. Neither have Tom Peters, Stephen Covey, Peter Drucker or Ken Blanchard. In fact, had Blanchard heard of the Mewars, he might have recast his book "The One-Minute Manager" as the "The One-and-a-Half-Millennium Manager." Doing so, he probably would have sold more than the measly 13 million copies he did peddle.
Even Professor John Ward, co-director for the Center for Family Enterprises at Northwestern University's Kellogg School of Management, was impressed when Professor K. Ramachandran, colleague on the other side of the globe specializing in Family Business and Wealth Management at the Indian School of Business (ISB) in Hyderabad, suggested studying the Mewars. After all, Dr. Ward had already looked at family businesses he thought were very old - businesses that went back only to 1526 and 1299!
As I blogged last summer, the House of Mewar, now operating under the umbrella of Eternal Mewar, was founded in 734 A.D. The Mewars were one of 565 princely (or rajput) states headed by maharanas, maharajas, nawabs and others for a few thousand years up until India achieved independence in 1947. They are the world's oldest family business, unbroken for 76 generations. And counting.
This is the first-ever serious academic exercise examining the management styles of India's erstwhile royals, which in itself is surprising considering the longevity of many rajput family rules. It's additionally enlightening in view of the just released Forbes list of the 10 richest men in the world. Two of them are Indians (only the U.S. had more representation, with three); both Indians are heads of family businesses. Something is going on inside the Indian family business from which their Western counterparts should steal a page or two for their own employee manual.
The Mewars' simple mission statement, as it might be called now, was issued by the founding chief executive's guru: serve your community, your guru and your God; protect and grow your community; then pass on the same responsibility to the next generation. Never own anything; serve only as custodians, holding whatever you accumulate in trust, as a treasured heirloom is passed down from generation to generation.
One cannot argue with 1,400 years of success, when success is measured by continuous years in business, accumulated customer loyalty and respect, and future prospects for growth. The Mewars have successfully held off more mergers and acquisitions, put down more (at times bloody) hostile takeover attempts, outlasted more competitors, withstood more economic downturns, overcome more less-than-brilliant leadership regimes and orchestrated more complicated succession strategies than all the Fortune 500 companies combined.
Their product, one could argue, is identical with their goals and objectives. By giving to, defending and supporting their community, their community gave to and supported them. It may have been the first win-win corporate model in the world.
What they sell now, aside from heritage travel experiences at their dozen HRH Hotels throughout Rajasthan, is not so much brick and mortar. But it is tangible and it's one of the most desired commodities in the business world today: a step-by-step instructional manual for corporate continuity, based on an ethical code beyond reproach. That manual is easily readable to anyone who tours their City Palace Museum, Udaipur, a living monument down a long courtyard from the current Mewar family residence.
Their product line has changed in step with the times, but not much. Once upon a time, it was protection from enemy encroachment. Later it became protecting their assets from the new laws of the land in post-independence India. Now it is protection and preservation of a piece of history, and the promulgation of a steadfast, savvy and (in these days perhaps most importantly) sustainable business wisdom tradition. Eternal Mewar recently launched an initiative that offers those inspired by the Mewar value-based ethos an opportunity to become a Joint Custodian - whether it's supporting a Getty Foundation matching-grant restoration of the Mewars' 17th century City Palace as a world-class museum, or a variety of human needs under the umbrella of the Maharana of Mewar Charitable Foundation. In effect, it's an invitation to become a Mewar in the most significant sense; that is, by aligning and identifying with the Mewar model of sustainable business, you, your company, your organization or foundation demonstrates a spirit of selflessness that itself permeates your personal and corporate culture. For, if the axiom "guilt by association" has validity, then its corollary is equally true: greatness by affiliation.
Professor Ramachandran gave only a tip of the very large iceberg in his presentation last week to a group of 200 gathered in Durbar Hall, where maharanas and maharajas once met for major pow-wows and which is now part of HRH's century-old Fateh Prakash Palace Hotel beside Lake Pichola in Udaipur.
These were but three of the lessons I myself found most relevant to today's business environment, whether yours is a millennium-old family business in India or a month-old start-up in a Palo Alto garage:
• Nurture Contextual Leaders
Each period of Mewar history has brought its own set of problems, each its own opportunity for creative solutions. Each regime has required its leader to exhibit different qualities, abilities and skill sets. Each father, if successful in preparing for succession, recognized his son's strengths and weaknesses, built on the former, offset latter. A long view of Mewar history and a short view of immediate needs taught Bhagwat Singh Mewar, the 75th maharana, to prepare the next generation for the tumultuous times he foresaw when the Republic of India abolished raj privileges and titles.
When Arvind Singh Mewar stepped up in 1984, the scenario was especially complicated. This was the era of a young democracy fraught with growing pains, not yet the India of Thomas Friedman's The World is Flat. Arvind, who many call Shriji, was not fully prepared for the role, as he was the second son. But early on, his father had seen and nurtured his talents and skills, namely natural leadership qualities, a quick and focused mind that saw both the microcosm and the macrocosm simultaneously, and the ability to absorb, assess, assimilate and act decisively. To enhance his global vision, his father sent Shriji to London for practical work training, then to work in the hotel industry in Chicago as a trainee. There he had to work his way up, without the advantage of royal trappings, as he later would have to do in his own country.
• Find Your Niche, Staunchly Guard It, Patiently Grow It
The Mewars quite possibly may be the first entrepreneurs to understand niche marketing. While the operating paradigm throughout history has been expansionist (from Alexander the Great to Wal-Mart's Sam Walton), the Mewars stayed close to home. They moved once, in 1559 from the city of Chittor to their current headquarters in Udaipur, and have remained there since. Over the next 450 years, the radius of the Mewar marketplace never exceeded 150 kilometers (about 90 miles). Unlike most other princely states, the Mewars never initiated an attack for the sake of adding territory; they only defended what was historically theirs. And unlike many other erstwhile rajes, today the Mewars remain a vibrant force, connected to the world economically, politically and socially.
Likewise, while HRH Hotels perennially has won awards in the heritage category since its launch in 1989, it could have easily expanded its brand architecture to embrace the burgeoning five-star and domestic business hotel niches in India. It also could have spread geographically outside Rajasthan. It has done neither, and as a result is the most successful heritage hotel chain in India. Shriji, who earned a coveted Lifetime Achievement Award from Indian tourism professionals last year, is credited with turning Udaipur into a tourism magnet, culminating in its being named "best city" by Travel & Leisure readers in 2009.
• Gift Your Enemy
Jesus said, "Love your enemy," in Matthew 5:44 of the New Testament. Sun Tzu, in the Art of War, wrote, "Know your enemy." In 1437, in the illustrious rein of Maharana Kumbha, the Muslim King of Malwa attacked the Mewar fortress but was defeated and taken prisoner. Rather than punish, torture or kill him, Kumbha treated the Muslim as a guest and sent him home six months later laden with gifts. There followed nearly a century of peace.
In his time, Shriji's new enemy might have been hotel chains developing around Lake Pichola - had he thought in such terms. But he had the audacious and ultimately more productive viewpoint that he had no competition, not out of arrogance but out of the recognition that new products entering the marketplace bring only more interest to that place and all those products therein. Most recently when the Leela Kempinski group of hotels announced they were building along the lake shore, Shriji gave his blessing and welcomed them with open arms, his form of a gift. He well knew no one owns a 100 percent share of any market. In fact, he noticed the would-be enemies actually foot the bill of added destination marketing and promotion, which benefited Shriji's museums, hotels, restaurants and other tourism-related profit-making ventures. "Your competition is your best ally," he now says. And the Leela Udaipur, in turn, now showcases an almost life size portrait of Shriji that greets guests as they enter the hotel lobby.

REAL LIFE. REAL NEWS. REAL VOICES.
Help us tell more of the stories that matter from voices that too often remain unheard.