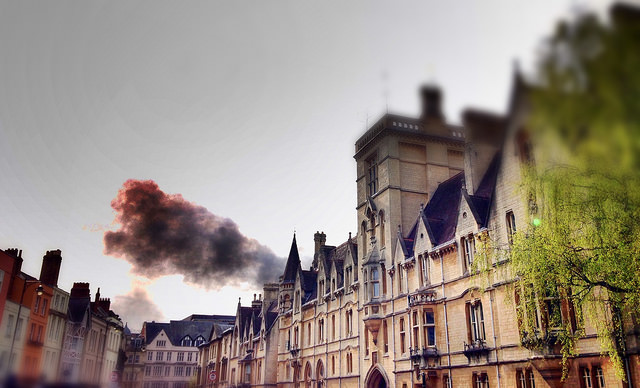 Fire breaks out at the historic Randolph Hotel on Friday, April 17th and within minutes spread up four stories to the hotel's rooftop (Photo: Flickr)
I can now add to my travel experiences "fire survivor." Thankfully, this title was earned from afar. While a guest at Oxford's historic Randolph Hotel last week, I was well out of harm's way when the fire began (I was onstage at Oxford's New Theatre as part of the Skoll World Forum, to be precise), so I didn't have to endure the trauma of an escape -- only the shock of realizing that a disaster had broken out that could have devastated people's lives.
Blessedly, every person who was in the hotel made it out safely. The hotel suffered severe damages, but there were no injuries.
I have been in state of ecstatic gratitude ever since.
I don't know about you, but when something goes horribly wrong in my orbit and I somehow manage to escape it, my mind can't help but go to various "what if" scenarios. On this occasion, my mind began turning somersaults. What if the fire had started in the middle of the night? What if one of the many hotel guests or staff had been injured, or worse? What if Oxford's emergency responders had not been so adept, or if the winds had been stronger that afternoon in this perfect jewel of an ancient downtown?
Instead of tragedy, it was an opportunity for reflection.
Last week, the Skoll World Forum on Social Entrepreneurship convened at Oxford University's Saïd Business School, as it has done for the past twelve years. The annual gathering is a meet-up of the world's leading social entrepreneurs, defined as people who address society's most intractable problems with creativity and resourcefulness, and advance social progress by transforming systems in need of change. For three days and nights, nearly 1,000 distinguished delegates from 60 countries shared debate and discussion, work sessions and meals, fellowship and inspiration. To paraphrase Skoll Foundation President and CEO Sally Osberg, the forum allows an international group of "tough-minded optimists" to drill down on the critical issues facing our world, and to focus on innovating, accelerating, and scaling solutions to the social challenges of our day.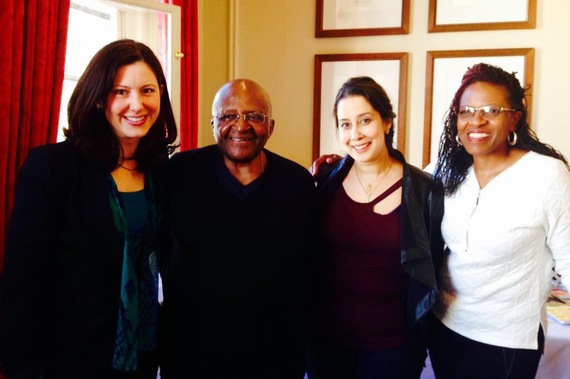 Before the fire, some heady Skoll highlights: my fellow soprano and Sing for Hope Co-Founder Camille Zamora and I share breakfast and spirited conversation with Archbishop Emeritus Desmond Tutu and Reverend Mpho A. Tutu...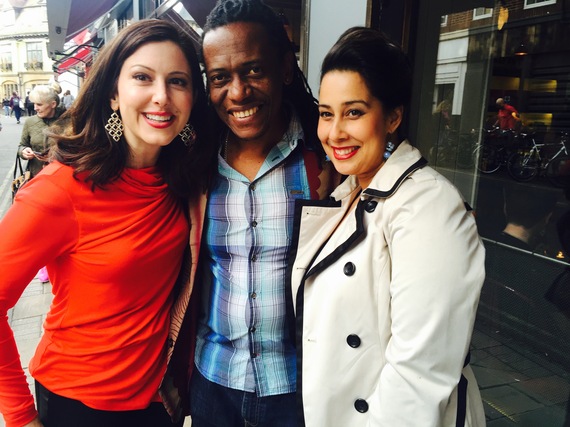 ... reconnecting with dear friend, fellow arts activist, and ESTAMOS Director Feliciano dos Santos...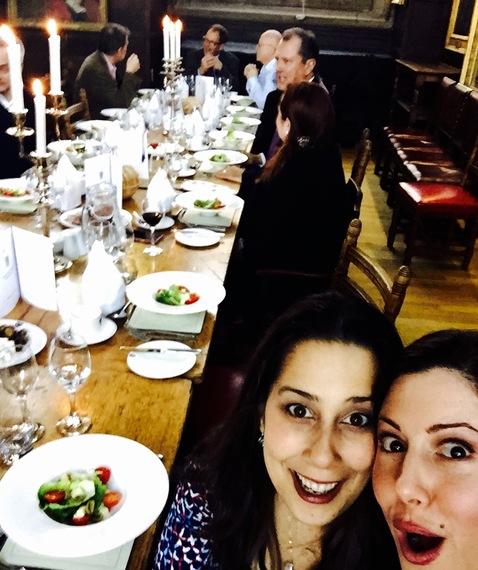 ... and reveling in dinner at Oxford's Balliol College, which was co-founded by a strong woman with a vision a few years ago, in 1263...
Yesterday, as the forum's Closing Plenary was coming to its end, the audience in the theater was told that the Randolph Hotel, which hosts so many of the forum's speakers and high-profile guests, had caught fire. No one was hurt, but we would not be allowed back inside the hotel until further notice. Since people were scheduled to leave that evening, you can imagine the dismay that permeated the air.
Then, in an Exhibit A illustration of his creative activist talk minutes before, which had addressed the power of humor to fight fear, Bassem piped up from the first row, "Is my underwear safe?"
Without missing a beat, our Master of Ceremonies and Skoll Centre Chairman Stephan Chambers replied, "Actually, it's worse than that, because I'm told that your underwear might have been the problem in the first place."
The uproarious laughter that pealed through the theater at that moment allowed us a much-needed collective breath, reconnecting us with our individual and communal voices -- something that Camille and I had just addressed in our words from the stage. From that second on, everyone switched into high gear. A booth was set up and Team Skoll set about figuring out how we would get home: the young African woman whose sister was to marry the next day, delegates eager to unite with families, etc. Almost everyone I spoke to had left their passports in their rooms, and of course, no passport, no international travel. As that started to sink in, each one of us had a choice: we could be cranky and unpleasant, or we could choose ecstatic gratitude.
I am not writing this to pat myself on the back. In fact, being someone who loves smooth sailing, I would have imagined myself in the cranky camp. But here's the deal: organizational culture is an amazing thing. It's the reason they tell flight attendants to keep a calm and positive demeanor during turbulence, for if passengers see that the attendants are calm, then they stay calm, too (a flight attendant nonchalantly flipping through the pages of a magazine during a bumpy ride is always a good sign). And the culture of Skoll, the Randolph Hotel staff, the firefighters, and the entire town of Oxford all kept calm and carried on. Information was disseminated via Skoll's emails, a base camp set up at Saïd, and a special post-forum dinner (usually the forum's staff time to regroup privately) became an open dinner party for anyone who was stranded. Hotel rooms were found, taxis were hailed, and before midnight, everyone was fed and cared for, new toothbrushes in hand.

I had a particular situation. Eight weeks ago, I gave birth to my first child. I had made the decision to go to this year's forum knowing it would be hard to be away. It was not an easy decision, but I made it knowing my little boy Cyrus was in wonderful hands with my husband and mother-in-law. For the past month, I have been carefully stockpiling my pumped breast milk at home so that I would be able make the trip and ensure that Cyrus had plenty to eat while I was away. I packed my pump, milk storage bags, consulted the hotel in advance for a fridge in my room so I could bring my pumped milk back home with me, and spoke at length with a lactation consultant as to how I would best travel with it.
Now, all of my pumping equipment was in my room, along with my passport. Luckily, I was able to get to a local pharmacy before it closed to buy a new breast pump for the evening, and was even able to help out another new mom in the same situation (incidentally, I will never hear the term bosom buddy in quite the same way again).
In the end, the evening could not have been more wonderful, considering the situation. Conversations continued with friends new and old -- hilarious Bassem and soulful Santos and brilliant Olivia and ebullient Larry and kindred spirit Sarah and ever-insightful Ned and vibrant Judy. And I don't think I have ever laughed so hard in my life. There was one moment when Camille and I dissolved in giggles after I expressed concern for my stockpiled breast milk in my Randolph Hotel fridge, and she suggested serving creme brûlée. I don't know if we were just punchy, or if we knew on some subconscious level how lucky we all were, and were just reveling in our sense of wholeness at that moment.
The dinner was joyous because everyone worked so hard to make it so. By the next morning, as Skoll's travel team scrambled to rebook scores of flights, the Randolph Hotel staff and firefighters were allowed back in the building, still hot from the fire, to retrieve not only our passports, but also our clothing and suitcases with efficiency and calm. We stood together at our staging area at the Oxford Playhouse while the patient, bleary-eyed hotel staff lined us up and organized the retrieval of our luggage from the hollowed-out structure.
Looking out at the blocked-off street and fire trucks, I saw a fireman coming out of the building for his break. I reached out to thank him, and somehow could not resist showing him a picture of Cyrus. Without my asking, he stepped back across the yellow line and headed back into the building. Fifteen minutes later, he came back out with my luggage, breast pump and all. Involuntary tears streamed down my face and I gave him a hug. It wasn't the stuff that mattered, of course, as that was all replaceable. It's just that he was a hero, among so many that day.
Was the experience stressful? Yes, of course. Did I want to be with my firstborn child, who turned two months old while I was away? Yes, rather desperately, I'll admit. But I was also filled with the realization that life is just not in our control, no matter how much we cherish the illusion that it is.
One of our Sing for Hope board members, Damian Woetzel, speaks about the importance of cultivating "artistic habits of mind" -- flexibility, focus, perseverance, imagination, expressivity. This past week has reinvigorated my sense of this, and of the importance, as Camille said yesterday, of leveraging art's power to as a change agent, creative placemaker, and delivery system for our most vulnerable communities. This reframed artistic value proposition needs our attention and advocacy, and it's not a moment too soon. The arts teach us to connect with our best selves in our toughest moments. No power cord required.
On Friday evening, the Skoll World Forum team -- Jeff, Sally, Sarah, Jill, Lindsey, Heather, and the countless others -- and the staff of the hotel, and the firefighters... they all were heroes. What a joy to be connected with them this week. And how profound to share our various harmonies this week in ways carefully curated and well-rehearsed -- and in ways we never could have planned on.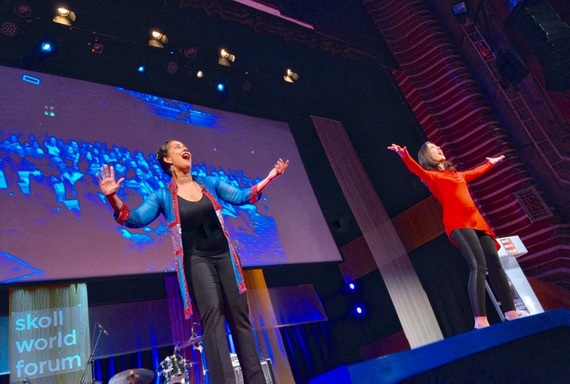 After performing vocalises by Ravel and Delage, Camille and I "tune" the audience at Oxford's New Theatre in an exercise illustrative of Sing for Hope's "art for all" message. (Unbeknownst to us at this moment, the fire had just broken out at the Randolph Hotel one block away.)
********************
Sing for Hope is a New York City-based non-profit that transforms and uplifts individuals and communities by bringing the power of the arts to under-resourced schools, healthcare facilities, and community-based organizations. Our flagship public art initiative, The Sing for Hope Pianos, is New York City's largest annual public art project: vibrantly colored, artist-designed pianos placed in parks and public spaces for anyone and everyone to play, then donated to live on in schools and hospitals. The Sing for Hope Pianos are a symbol and a celebration of our belief that the arts improve lives and transform communities, and that access to the arts is a right, not a privilege. Learn more at www.singforhope.org.
Calling all HuffPost superfans!
Sign up for membership to become a founding member and help shape HuffPost's next chapter