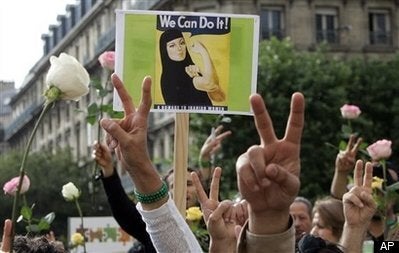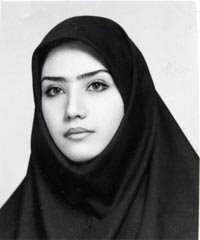 The names and stories of the Iranians who have been brutalized or killed in the aftermath of the post-election protests are gradually seeping into a memorial vault of the faces of suffering and endurance in the name of sociopolitical reform.
On Friday June 19, a large group of mourners gathered at the Ghoba mosque in Tehran to await a speech about the martyrs of the post-election protests by presidential candidate Mir Hossein Mousavi. According to one Iranian blog, 28-year-old Taraneh Mousavi was one of a group of people that was arrested by plainclothesed security forces for attending the gathering.
Taraneh, whose first name is Persian for "song", disappeared into arrest.
Weeks later, according to the blog, her mother received an anonymous call from a government agent saying that her daughter has been hospitalized in Imam Khomeini Hospital in the city of Karaj, just north of Tehran -- hospitalized for "rupturing of her womb and anus in... an unfortunate accident".
When Taraneh's family went to the hospital to find her, they were told she was not there.
According to another Iranian blog which claims to have original information about Taraneh from her family, Iranian security forces contacted Taraneh's family after the hospital visit warning them not to publicize Taraneh's story and not to associate her disappearance with arrests made at post-election protests, claiming instead that she had tried to harm herself because of feeling guilty for having pre-marital sex.
Despite its agitations for reform, Iranian society remains traditional, according to Iranian-British blogger Potkin Azarmehr, and it's the stigma of rape that is being used as a weapon against the protesters. "By killing protesters, the government makes martyrs of them, but by raping them and allowing them to live, it makes them shunned in society," Azarmehr said. Not that the stigma of rape is exclusive to Iran and other more traditional societies. A friend of Azarmehr's who is presently in Iran told him that he's "sick of hearing that people like Taraneh are better off dead" from friends abroad, just because they "can't handle the fact that she's been raped."
The psychology of threatening protesters and political activists is not a new science. The strategies and ultimate goals are the same for any kind of torture: to humiliate, disembody (through denying the victim authority over his/her own physical self), extract confessions (whether true or false) and ultimately permanently terrorize the victims to prevent further 'disturbances'. The last part often fails spectacularly, as victims tend to feel even more antagonism toward the perpetrators, and even more of a 'do or die' mentality about agitating for change at any cost.
Prison abuse and torture is also about marking these victims as defiled human beings -- it's like a scarlet letter of social isolation against them, to deny them the community support and strength which they need to move past those memories and not be defined by them. This is where others can step in and change the very attitudes toward abuse which so many institutions count on when they commit these crimes.
The story of Taraneh's condition is still unfolding and there are no certain confirmations of its details beyond the reports of bloggers who are obliged to remain anonymous for safety reasons -- but the idea that political prisoners are being mistreated in this way is not new to Iran and is a significant element of a program of terror which has sustained the current system in Iran.
Taraneh's story must be told and it must be heard. Perhaps her life can still be saved.
Popular in the Community