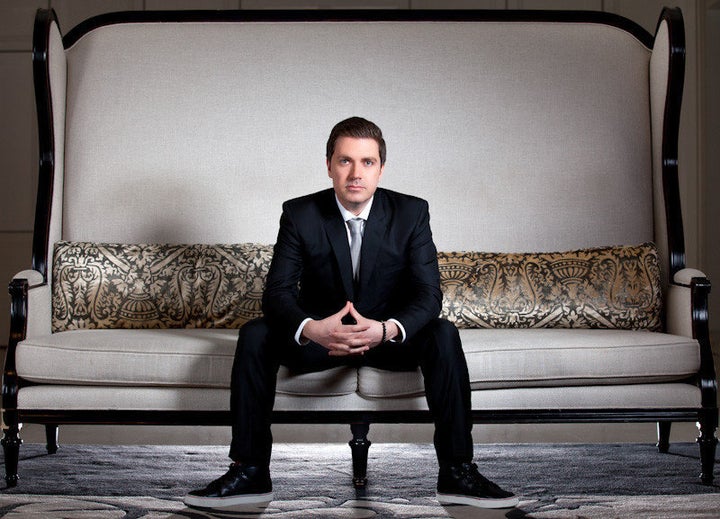 Over three nights in June, some 320,000 revelers endured bottleneck traffic to make a pilgrimage to the Las Vegas Motor Speedway. The crowds were as diverse as they were massive — ravers in neon tutus and furry boots, glasses-wearing college freshmen, bona fide adults — all headed to an electronic dance music festival which featured over 200 performers across stages that varied in size and genre.
It's perfectly possible that you haven't heard of Electric Daisy Carnival or Insomniac, the company that puts it on, but know this: EDC, as it's known, is the biggest, most-pyrotechnically trigger-happy music festival in North America. Last year, the weekend pumped $136 million into the notoriously depressed Vegas economy. This year, a couple was married at the event as fireworks cracked through the hot desert sky above them. And the world has Pasquale Rotella to thank — or demonize — for it.
Rotella, 37, is Insomniac's CEO, responsible not just for overseeing EDC but also the company's other mega-popular dance party-cum-Coachella experiences (Nocturnal, Electric Forest, Beyond Wonderland, Escape From Wonderland and White Wonderland). He's been doing it since 1993.
"We've been at the forefront of a lot of challenges that dance music has faced as a whole," Rotella told Huffington. "Just like jazz and rock and roll and hip-hop had their struggles, dance music has its challenges. And we've been right there at the front line — investing a lot of time and money to try to get things to a point where it's easier for people who are jumping in."
Along the way, he's made quite a few friends and become a sometimes enemy of the state — at least in Los Angeles. Rotella, who is currently dating Holly Madison, a former girlfriend of Hugh Hefner, regularly books the Armin van Buurens, Steve Angellos, Tiestos and Aviciis of the world for his stages. (Madison recently said she was ready to have a child.) His events are often lauded as the most ambitious and enjoyable dance music events on the continent, but putting on EDC-scale parties does not come without its challenges.
Media reports have long associated dance music with drug use and other risky behaviors, but Rotella says that's not a relationship borne out in the facts. It's true that EDC's flagship event (there are others, including a stop that draws more than 100,000 people in New York and another in Puerto Rico) moved from Los Angeles to Las Vegas after a 15-year-old girl died after taking ecstasy at the 2010 installation of the event, and that a 19-year-old died after attending EDC Dallas in 2011. But Rotella — and nearly everyone in the dance music community — maintains that these tragedies are not indicative of flaws within Insomniac or the scene.
"We feel as though we are the safest festivals out there," Rotella said. "Whenever anything tragic happens, whether it's at the festival or even hours after the festival and the attendee just came to the show, it's always suddenly about the genre of the music and about the style of the event."
After this year's event in Vegas, one man died after being struck by a car and another died when she fell from her hotel room. But neither of these incidents occurred at the festival, as Insomniac reps were quick to point out.
It would be easy to dismiss Rotella's defenses if they didn't ring with certain truths. After all, when a stage collapsed in advance of a Toronto Radiohead show — killing a 33-year-old drum technician — no one decried alt-rock as a dangerous stain on society. Nor, it bears mentioning, did such protests emerge last year when Bonnaroo reported its ninth death in 10 years. (Bonnaroo's 2011 attendance? A mere 80,000.)
Rotella actually pulled the plug on one of this year's nights. Saturday, the most popular of EDC's three nights, was marred by gusting winds that Rotella's team deemed unsafe. "It's pretty black and white, that was not a call that was made by fire or police — they were actually looking to us and our team," he said.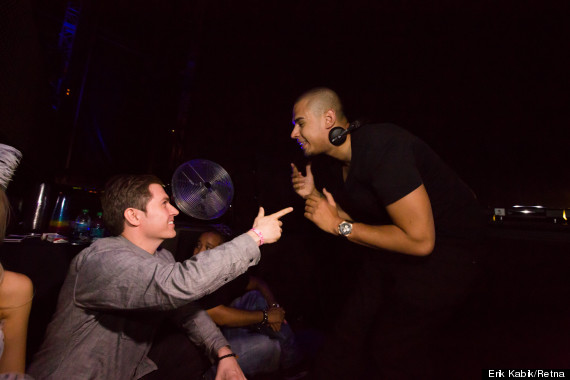 Rotella and Afrojack (one of the biggest names in mainstream house music), at this year's Electric Daisy Carnival.
As a fan of old-school techno, break beat, drum-and-bass and early Moby, Rotella is sometimes reminded that he's from a different generation than many who attend his events. "I was a little sad when I first started seeing a bunch of kids standing there with their phones out," he confessed before adding that at least young fans don't know what the scene used to be like, and thus can't really be missing out. "I do think they're being deprived, though," he said. "It's more fun to dance like no one is watching than to watch someone push buttons on a stage."
It's comments like these — about the replaceable nature of DJs — that sometimes get the Insomniac top boss in trouble. Rotella ruffled some feathers at this year's first annual EDMBiz conference (hosted by Insomniac, naturally) when he said he was less interested in booking dance music superstars than in creating a new experience. But Steve Goodgold, a top agent at the Windish agency, which represents a large share of dance music's heavy hitters, from A-Trak and Steve Angello to Joakim and Mr. Oizo, understood what Rotella was getting at.
"He said he doesn't want to be a concert promoter," Goodgold told Huffington. "He's building the biggest stages in the world, and he's booking the biggest artists in the world, and you put those things together and you got kids that sort of just sit and stare at what's happening because the production and talent is so high."
When offered time to clarify his earlier remarks, Rotella is a little more direct. "A DJ's job is to play a good set, and there's a lot of DJs who can do that. We're going to want big names and all that jazz, but its not what is going to define us, we don't want to be defined by our lineup. Fans are going to trust that we'll have a good soundtrack. We're not a rock show, we're something different."
He may not be in the business of rock and roll, but Rotella's relationship with authorities recalls that of early Sunset Strip rock clubs. Rotella and Reza Gerami, another (seemingly much dodgier) promoter, have been charged in connection with a massive corruption case. If convicted of diverting $2.2 million to a Los Angeles Coliseum official, Rotella could face up to 13 years and 8 months behind bars.
"Obviously everyone has got a bit of concern, because we'd hate to see it go badly," Goodgold said when asked if Rotella's legal troubles have affected Windish's relationship with Insomniac. "But until it does, we got to give him the benefit of the doubt and let the courts take care of it."
Though he seems completely genuine when he says he takes the charges seriously, Rotella has assured his staff and colleagues that it's "business as usual" for Insomniac. "I worked [in Los Angeles] and did business down there like I did anywhere else," he said. "I would be more stressed if I had something to hide."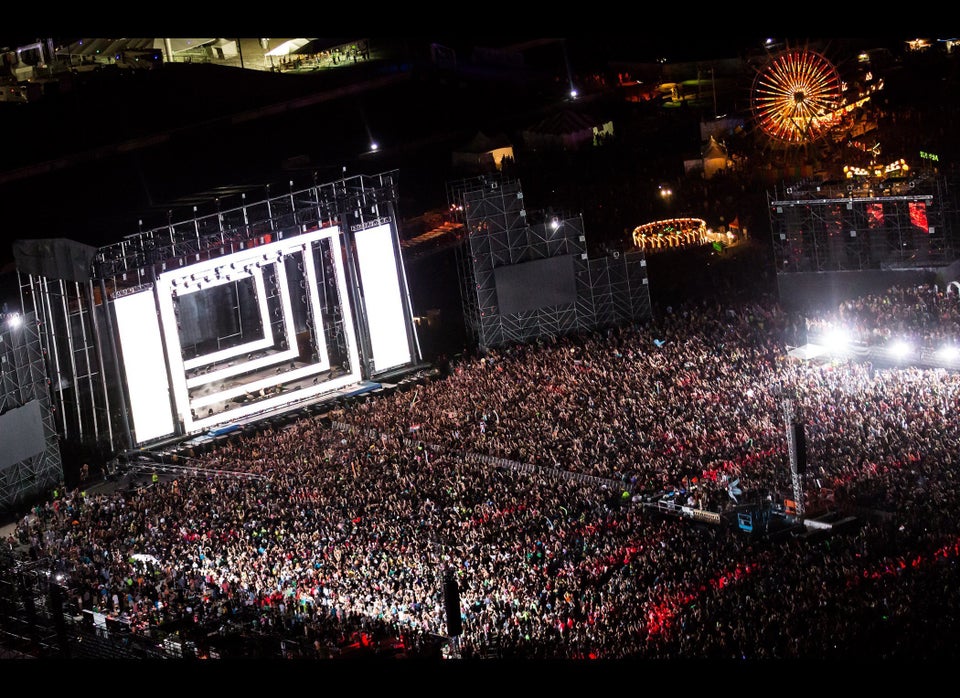 EDC 2012
Popular in the Community