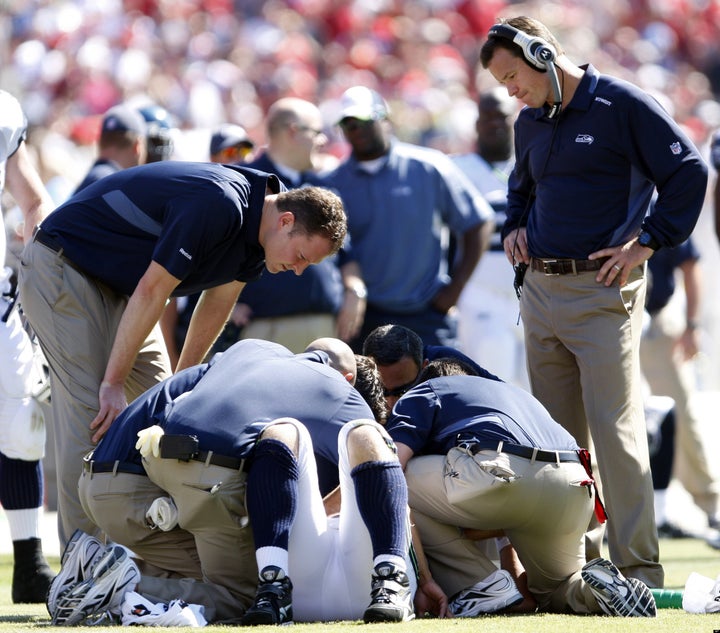 Last week, I was named the AFC Defensive Player of the week. I was extremely honored to represent the Baltimore Ravens in this capacity. After all, I have Ray Lewis next to me, Terrell Suggs in front of me, and Ed Reed behind me--all three of these men have been named NFL MVPs of some sort at different points in their careers. And then there's lil' ole Brendon Ayanbadejo being named AFC Defensive P.O.W! I loved every minute of it!
I did not achieve this status alone. Not only must I thank my teammates, I owe a special debt of gratitude to Ravens Linebackers Coach Vic Fangio. Known in our locker room as "Vic Fangio, Football Specialist," he is the first linebacker coach in my 10-year NFL career to claim me as his own. Vic took me on like an old Mustang: he polished up my wheels, conditioned my leather, gave me a nice buff and wax, changed all of my fluids and topped me off with some 93 octane. All of a sudden you could see me coming from a mile away! I rumbled a lil' louder, I moved a lil' faster! All I needed was a lil' attention. He knew that he didn't need to go out and spend 100K on a new ride. He just needed to bring out the best in what he already had in me!
And a hero was born! But was I really? I wouldn't say I was Batman, but it sure felt good to be Robin. On a daily basis, I played Batman on special teams, but defense was an entirely different animal. To play the role of the hero in a defensive capacity was welcomed and uncharted territory in my NFL career. It was a new role that challenged me, excited me and allowed to grow as a player.
I also have an extraordinary role model in John Harbaugh. who became head coach of the Baltimore Ravens in 2008 after spending nine seasons as the Philadelphia Eagles' special teams coordinator and one year as the defensive backs coach. Many well-qualified candidates were considered for his position, so when Harbs got the job, he did not let this opportunity slip through his hands. In what seemed to be overnight, Coach Harbaugh went from a special teams coordinator to one of the NFL's best head coaches today! In actuality, it was the culmination of a lifetime of dreams actualized and goals achieved. Harbs is a man with a well-defined and well-executed plan. It is my honor to be lead by him.
At 33 years old, having played football for 20 years, I was at the height of my development in the sport. Not only did I feel like a superhero on the field, but the same changes were metamorphosing off the field. Typically on Sundays, a full-time special teamer can expect around 20 plays a game. However, in addition to that, I was averaging another 25 snaps on defense - essentially doubling my load from seasons past. Given the rigors of my dual capacities on the field, one might expect that come Tuesday, the official NFL players' "off" day, I would be doing absolutely nothing at all. Au contraire, mon frère...

In Week 4, I attended an event at Corkran Middle School in Glen Burnie, Md. The NFL Network, Baltimore Ravens and Verizon Fios teamed up for "Keep Gym in School". A $50,000 donation was given to spruce up the school's track, fields, gymnasium and playgrounds. During Week 3, I attended an NFL "Play 60" event at Patterson Park in Baltimore. Our mission, in order to curb childhood obesity, is for legislation to pass that requires 60 minutes of physical activity per day as part of the public school curriculum. The kids, as always, were amazing, and it was great to meet Maryland Governor Martin O'Malley. I actually took Week 2 off in order to catch up on some treatment and to visit University of Baltimore's Merrick School of Business with our team's Assistant Director of Player Programs Harry Swayne, Domonique Foxworth and Ed Reed. (More to come on this later in the article.)

During Week One, I was honored to be a guest at Equality Maryland's unveiling of its new location at 1201 S. Sharp Street, Suite 109, in downtown Baltimore. In April, I penned an article for Huffington Post in support of same-sex marriage that catalyzed this relationship.
It was an amazing event that highlighted equal rights for same-sex marriage and my presence there landed me landed on Perez Hilton's infamous Web site. LOL! I didn't mind, considering Perez typically trashes everyone but actually gave me kudos. Thanks, P.H. Last but not least, Tommy Zbikowski, Anita Marks, Casey Willett and I teamed up with ESPN Radio 1300 to rock "The A-Z Show" (Ayanbadejo-Zbikowski) every Wednesday night from 6-8 p.m. at Catches in White Marsh. MD.
Can you say blast off? Radio shows, TV shows, personal appearances, community service, AFC Defensive Player of the Week, GMAT prep courses, 40-plus hours a week of football with a Ravens team that started 3-0 and was considered to be the No. 1 team in football in the NFL.com power rankings! Everything was going great. I even called my mom and told her I was going to play lotto for the first time in my life.
Then came Week 4. Our opponent was the New England Patriots, a bitter rival for our ball club. I would not hesitate to say our rivalry with the Pats is right up there with that of the Pittsburgh Steelers. I was ready for the game of my life! I certainly had the best week of preparation in my NFL career. "Vic Fangio, Football Specialist," didn't give me any other option but to be prepared for greatness. I was his old Mustang that he had invested with months, weeks, days and hours of mental elbow grease to ensure my complete restoration. And I was ready to deliver!
I was actually having a decent game against the Patriots last Sunday. I had no mental errors or missed assignments; the game was in the balance. Then poof! In the blink of an eye, my dream season was over. We were barely into the fourth quarter when I was making a routine tackle on a former teammate, Sammy Morris, with whom I played earlier in my career as a Miami Dolphin. My quadriceps tendon gave and tore from my kneecap. I felt like someone had hit me really hard in the thigh with a ball-peen hammer.
I did not anticipate the injury was nearly as severe as it actually was. Nicks, bumps and bruises have always been a part of my game. I was riding a high for the past eight seasons of 110 straight NFL games, including playoffs and Pro Bowls. Throw in another 18 games of CFL ball, and I was two games short of 130 straight in my professional career. I went from the pinnacle of my game to the ultimate low -- a season-ending surgery.

As I lie in bed right now with IVs connecting to my wrist and knee, my spirits are surprisingly high. I had surgery at 8:00 am Wednesday morning, three days after the injury. The first thing I did upon waking up after the surgery was call my daughter Anaya to let her know her Daddy was OK and that I love her more than anything in this world. Then, I promptly called Coach Harbaugh's voicemail to tell him I am coming back at 1,000 mph. I told him how much I loved him and the team as well, and that I couldn't wait to return to the best teammates and coaches in the NFL. I also mentioned how dearly I already missed them. (I actually forgot about all that intimate conversation I had with his voicemail, but he promptly reminded me when he called me back following practice.)
Much like Coach Harbaugh and the Baltimore Ravens, I am a man with a clear and deliberate plan. In team meetings, we often talk about "Mighty Men," which means men building cathedrals in life on and off the field. Men that are on a daily mission to endlessly improve in life as fathers, sons, athletes, students, and overall as human beings with great character -- in every facet of life. This is what successful people do. High achievers are never satisfied with what they have, and there is always more in sight. We talk about vision to not only see what is around us and in front of us, but to see far beyond what we know right now into what the future holds before us.
Psychologically, the mind can be so powerful: "Not only can the mind grasp more than the hand, its ability to change its surroundings is even greater." (That's a quotation from an unknown source.) As I physically rehabilitate my quadriceps back to 100%, I know I have the capacity to use my mind to change the environment for a greater cause. The way I see it, as one door closes, another door opens.
I am looking forward to the challenges ahead of me, especially spending more time as a full-time daddy. Additionally, along with Ed Reed and Domonique Foxworth, I can continue preparing for the GMAT with the tutors at the U of B Merrick School of Business. That is certainly going to be a unique experience. As many people know, I would like to be the future athletic director at UCLA, the youngest in history and first of African descent. The incumbent AD is Danny Guerrero, who is doing a spectacular job, as is his assistant AD Bobby Field, my former linebackers coach at UCLA. I have a great relationship with both of these men, and I plan to learn a whole lot from them, just as I have from many other amazing people around me like Ray Lewis, O.J. Brigance, Vic Fangio, and John, Jim and Jack Harbaugh. I must also mention the incredible women in my life, such as my mother Rita Sanford, physiologist Beverly Taylor (whose hypnotherapy tapes help me cope with surgery and life goals) and our team psychologist and fellow UCLA alum Janice Furst. My greatest teacher of all just might be my 4-year-old daughter, Anaya Lee Ayanbadejo.
I plan on being a sponge and soaking up all that life has to offer these next several months. It's no mystery that Ravens are the smartest birds in the animal kingdom.
I would like to thank all my friends and family for their support. I would like to thank the Baltimore Ravens organization--especially my coaches and teammates--for allowing me to grow as a player and as a person. And, I would like to thank all the amazing Baltimore Ravens fans. Without all of you, I would not be the person I am today.
No. 51 will be back at 1,000 mph in 2010! Just you wait and see!
Related