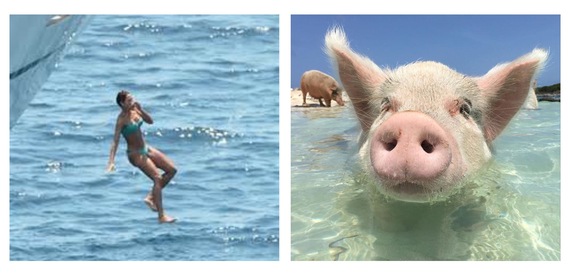 Before the advent of social media there was so much information I knew nothing about. I didn't know how life changing thirty days on a regimen of Rodan and Fields skincare products could be, how to make the perfect salad, or how good a handstand looked in front of every national landmark - especially when captioned with the obligatory "spiritual" gibberish. I never realized how grateful and blessed phony girls with fake boobs in exotic locales on some rich guys dime were. I didn't know jet setting around the world when you owed millions of dollars to people you had screwed over was something to brag about. What happened to humility, class and subtlety? Flying private? Not so private anymore. Someone loves you or you're madly in love? Prove it over and over by posting pictures of flowers, the two of you kissing, and an overload of useless hashtags; #love #perfectcouple, #forever. And your vacation destinations better be stellar, because if you're not heliskiing in the Swiss Alps, you better fucking fly to the moon before your pictures get trumped by someone with more money and a better travel agent. And then what? Are you still grateful and blessed? If not, do another handstand. Then again, there's always Photoshop, where you can make everything in your world look insanely perfect, or just casually erase those smile lines, stretch marks, or change your college diploma to say Harvard instead of Hartford.
My threshold for the insanity and nonsense hit its peak a while ago, around the time I saw a mother of two who had slowly, proudly, and publicly become obese, drinking vodka out of a bottle in an attempt to be humorous. So finally, I took the liberty of unfollowing the gold diggers, the mental patients, the assholes, and the bores. But then, all of a sudden there was tremendous void to fill. What was I going to waste time with now? I was discussing this with a couple of friends who were mutually disgusted and fed up with the thousands of bullshit posts we saw daily, and then one of them said, "Do you follow Pumpkin the raccoon?" And that's when everything changed for me. I suddenly realized an entire "niche" of social media animals, and that their lives were much more fascinating than a yogi in tree pose in front of a tree. It started with Pumpkin - a raccoon a family in the Bahamas claimed to have "rescued." I know, it's a tad absurd. I mean, rescued from where? A garbage can? A bad date? That's like me saying I rescued an alligator from the Everglades, or a fish from the ocean. But regardless of the details, Pumpkin was cute and entertaining, even though the pictures seem slightly staged, because I sincerely doubt Pumpkin woke up, went and got a donut from the fridge, and sat on the couch waiting patiently for his next photo op. Either way, I'd still rather look at him than another duck face selfie, or a 45-year-old woman who looks like an apparition due to the abuse of photo filters. And besides Pumpkin, (@pumpkintheracoon) there's also Wally (@wally_and_molly), an English Angora rabbit with a dogs haircut, Kevin the Pygmy goat (@goatsigram), and pig siblings Prissy and Pop (@prissy_pig). And with 903,000, 315,000, 25,000, and 634,000 followers respectively, clearly I'm not alone in my preferences. People out there are following the real animals of social media. And yes Wally eats a lot of salad, but that's normal, because he's a rabbit. And yes, some days we see him bizarrely posed in a wheelbarrow wearing a beret, but it's definitely worth a like and a screen shot. I just love animals, and not the human kind. I'll follow anything with more than two legs; anything that doesn't have spray painted abs and can't jump off a yacht. Because I'd rather watch a pig swim than a "pig" swim. I'd rather watch a goat walk on a picnic table than see how many miles someone clocked on their MapMyWalk app. I'd rather watch a rabbit eat lettuce all day than view another picture of a fucking salad. I've seen enough salads to give me diarrhea for the rest of my life. Instead of inducing nausea, these animals make me smile. Instead of making me cringe and roll my eyes, they keep me sane in this bottomless pit of narcissism and insanity we call social media. So maybe we can all take a cue from these awesome creatures: be cute, be funny; be authentic. Plus Pumpkin has a calendar and a book available on Amazon, and truth be told I'm more impressed by that than anyone's vacation album. So unless your next trip is to the Bahamas to visit him, I don't want to hear about it.
REAL LIFE. REAL NEWS. REAL VOICES.
Help us tell more of the stories that matter from voices that too often remain unheard.