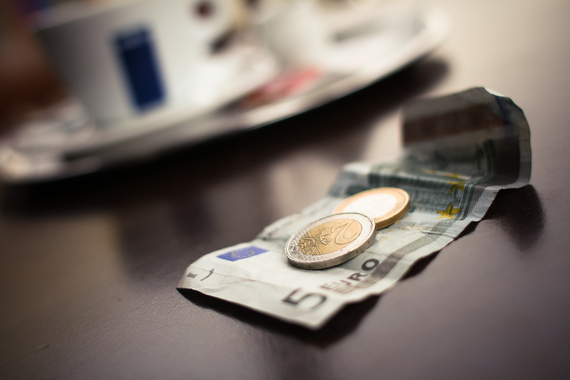 Image credit: Picjumbo/Viktor Hanacek.
Europe has more than 30 million migrants with the number increasing all the time. Migrants are making headlines for the wrong reasons at the moment with almost 750,000 estimated to had arrived in Europe by the sea in 2015. [1] As refugee crisis unfolds there is a danger it will undermine the vital contributions working migrants make to domestic economies.
5-7% of Europe's GDP comes from remittances
On average, a migrant worker in Europe sends around USD 12,000 home every year. This is effectively a minimum salary back in their home country, where the average wage is around USD 20,000 a year. Sending money home, or remittances, are one of the most stable sources of finance and, unlike private investment, these funds often increase economic problems. Between 5 percent and 7 percent of Europe's GDP comes from remittances. [2]
In Britain, migrants dominate mid-level jobs
People are moving abroad for various reasons. Many of them have been forced to leave their home countries due to local atrocities, others have chosen to leave their home after the financial crises, which for example led to the collapse of the entire industry, forcing many people out of their jobs. That has happened to Elena Nebunelea, who while living in the Romanian city of Vaslui, was working as an insurance trader and leading a team of 15 people. "I had a well-established career and a lot of responsibility, but unexpected legislative changes during the crisis lead to the absolute chaos and forced the company out of the market leaving thousands of well-respected and hard-working people jobless" - says Elena.
After battling poor economic conditions back home, she, together with her spouse, has decided to move to the UK, where for the past six months she has been working as a cleaner. The couple's daughter is still living in Romania with her grandparents. Elena is a great example of many over-qualified and well-educated people who due to certain economic conditions had to leave their home country just so they can provide for their family members that are left behind and save in order to ensure the better quality of life for when she says she will eventually go back to Romania. Elena and her husband both send money back to Romania every month and there are many more people like her. The woman says that it's enough to live and save from what she's earning now as a cleaner, nevertheless, she is also attempting to start anew by studying to get accounting certificates in the UK. This in order to apply for more qualified and better-paid jobs, better matching her previous experience and career goals.
In Britain, migrants, such as Elena, dominate mid-level jobs in the service industries and power manufacturing and production sectors. They have National Insurance Numbers and pay UK tax. They can also earn between four and six times more than in their home country, which allows them to send this money home.
The price of sending money has been inflated
Experts suggest that the price of sending money has been inflated by companies such as MoneyGram and Western Union, which have a duopoly on the market. Transfer fees with companies such as these can be as high as 29 percent. [3] Therefore, people like Elena need to look for some other option to send their money home, which could guarantee not only lower prices but also would be reliable and secure. Sometimes, the most important thing is for the money to receive the recipient as quickly as possible, especially if the recipients are depending on it to pay bills. New remittance field players such as TransferGo, employ the most innovative payment solutions not only to fight against the risen costs but also to enable same day purchasing power, that has a transformative impact on the lives of the families.
Daumantas Dvilinskas, CEO and co-founder of TransferGo said: "This money that people send home is the difference between barely making ends meet and entering a middle-class lifestyle. Only a couple of years after our journey began, blue-collar migrants can now save more than 90 percent on their transfer costs and can deliver money to their families on the same business day, which is a huge step forward."
Global remittances will rise to USD $681 billion
By the end of 2016, the World Bank projects that global remittances will rise to USD $681 billion. With more and more people moving places and looking for a higher quality of life, remittance is almost an inseparable part of lives of migrants. Dilip Ratha, CEO of KNOMAD, a World Bank initiative that organises data and knowledge on migration, said at a TED talk in 2014: "Remittances fund education, healthcare, business investments, surgery, weddings and funerals that senders cannot attend." [4] Therefore, it's very important to create services that helps to reduce fees for migrants around the world, while also ensuring that their money gets home safely and preferably on the same day.