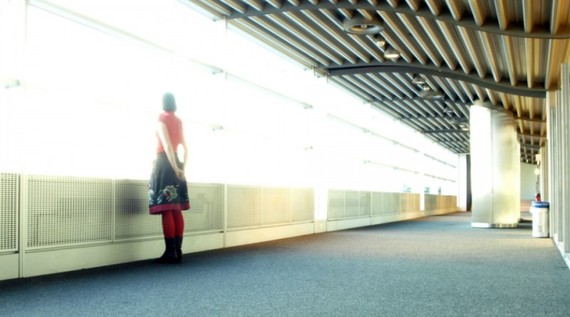 There's a new standby option in town and it's called the same-day change fee. Most people don't know if you've got to change a flight, sometimes it's best to do it at the very last-minute for a seriously reduced cost.
Eight years ago, as a fresh-faced college grad, I was heading back to the airport after flying to San Francisco for a job interview when an email landed in my phone asking to interview again. (This was pre-iPhone, mind you.) I arrived at SFO, gave the airline agent my sob story and begged if I could postpone my flight. She put me on the last flight for the day so I jumped back on the train to Fremont, dumped my luggage behind the Starbucks counter, interviewed, hopped back on the train, went straight back to the airport and flew out. A couple of days later, I got the job.
I will always thank that Sony Ericsson P1 for that job. And the airline agent.
Of course, if I had known about same-day change fees then I probably wouldn't have panicked so much. The average change fee costs anywhere from $100 to $200 these days, making it sometimes cheaper to ditch the flight than taking it. Meanwhile, the same-day confirmed change (SDC) is sort of like standby but entitles the passenger to a confirmed seat if something comes up like a meeting or if you just want to spend a few more hours in town.
(I actually routinely did this as a United Premier Gold member because I wasn't charged the fee. Sometimes I would buy a cheaper flight on the day I wanted to depart even if it wasn't the perfect time and SDC later to the time I originally wanted to save money. I also managed to push back a few flights for a few days by consistently SDCing until I could no longer SDC so I could hang out longer in town.)
It's not all peaches and cream, though. It doesn't allow travelers to change airports or routes and will only let you take an earlier or a later flight. It goes without saying but it only works on flights that have open seat availability. Specific policies definitely vary by airline.
In general, most same-day change fees are about $75 except for Frontier. But if you're flying Alaska, Virgin America, Delta or JetBlue, it can be virtually the cost of a relatively not-too-three-star meal. Hawaiian doesn't offer any type of SDC.
Asterisks in the chart below denote the airline may charge you a difference in fare in addition to the change fee if the original fare bucket is not available.
Read More
: