Truth be told, there are many versions of Eggplant Parmesan. This classic dish seems to have a lot of culinary fans, and now during the height of summer with gardens bursting with the shiny purple (violet or white) fruit, it is time to enjoy eggplant at its very best.
Yes, eggplant is botanically considered a fruit, even though it is thought of as an exotic vegetable to many. It is a member of the nightshade family of plants along with potatoes and tomatoes. As you probably know, it can be cooked in many ways including grilled and marinated for salad, or stuffed and baked or fried. It is turned into classic caponata, a Sicilian relish of sorts that was probably introduced by Arab cooks centuries ago.
Still, most people are more familiar with Eggplant Parmesan. Unfortunately, the many calorie laden versions of this dish slathered with cheese and layered with salami, sausages, and meatballs and covered in a thick blanket of tomato sauce, bear no resemblance to the real thing.

The real eggplant Parmesan is a dish so ethereal that it would be difficult to do it justice in just describing it. You will just have to make it. Here's how:

The Real Eggplant Parmigiano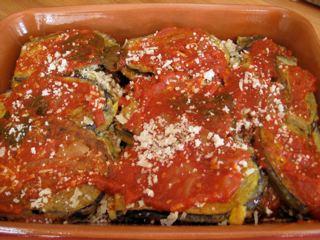 Serves 8

1/2 cup flour
1/2 teaspoon salt
Grinding black pepper
2 medium size eggplants, stemmed, peeled and cut into thin lengthwise slices
3 large eggs, lightly beaten
1/2 cup Canola or peanut oil
1 1/2 cups prepared tomato sauce
2/3 cup grated Parmigiano-Reggiano cheese

Place the flour, salt, and pepper in a heavy-duty paper bag. Close the bag and shake the ingredients to blend them. Add the eggplant slices a few at a time to the bag, close and shake to coat the slices. Transfer the slices to a dish.

Spread a thin layer of tomato sauce over the bottom of a 9-x 12- x 2-inch casserole dish and set aside.

Preheat the oven to 350F.

Heat the oil in a large sauté pan. While it is heating, coat the eggplant slices in the beaten egg on both sides. Fry the slices in the oil until they are golden brown on each side. As they brown transfer them to a large platter.

Place a layer of the slices in the baking dish slightly over lapping them. Spoon a thin layer of tomato sauce over the slices and 1/3 of the grated cheese. Continue making layers until all the eggplant is used. Finish off the top layer with tomato sauce.

Cover the dish tightly with aluminum foil and bake for 35-40 minutes. Remove the dish from the oven and allow it to sit for 15 minutes before cutting it. Serve warm or even at room temperature.

Note: this is even better made a day ahead of time. Cut it when cold for neat, even pieces.
Calling all HuffPost superfans!
Sign up for membership to become a founding member and help shape HuffPost's next chapter