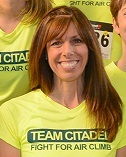 Susan Warmerdam is a guest contributor for Harold Wimmer, National President and CEO of the American Lung Association, on The Huffington Post. In February 2012, Susan was diagnosed with Stage 4 lung cancer, having never smoked a day in her life. After getting past the initial shock of her diagnosis, she has turned her attention to fighting lung cancer on a larger scale and helping others through her involvement with the American Lung Association.
After a chest x-ray and a CT scan for an allergy-like cough, my Internist told me not to worry and sent me home with a prescription for anxiety medications to get me through the weekend. But several tests and two weeks later, at age 47, I had Stage 4 lung cancer... an inoperable and incurable stroke of bad luck. In my mind, lung cancer was a smoker's disease; and since I had never smoked a day in my life, I had ruled out any possibility of ever getting it. Many women in my family battled breast cancer, including my mother, so it was always breast cancer that I feared.
I initially kept my diagnosis private to keep the normalcy in my life, but then I decided that I was going to beat my disease and do everything within my control to fight it! So, I assembled my team of supporters, did vast amounts of research (holistic and medicinal), renewed my faith and drastically changed my lifestyle. The more I learned, the more determined I was to win my battle against the most deadly cancer. I participated in a clinical trial and was on an experimental drug that, along with my lifestyle changes, I am convinced saved my life. So, do I think research is important? You betcha.
Research is needed to find the causes of lung cancer. Research is needed for early detection, because unlike other cancers, there is no widely accepted protocol to detect lung cancer early when it is in its earliest, most treatable stage. Lastly, research is needed for more personalized treatments so that no one has to go through what hundreds of thousands of lung cancer patients have gone through or are going through today. There's so much to be done and, because lung cancer research is vastly underfunded, the death rates only continue to rise.
Having taken every step to embrace wellness and believing I was receiving the best medical care, I wanted to fight lung cancer on a larger scale. I wear a rubber wristband (symbolic of lung cancer) to show my continued support for the fight against lung cancer and as a reminder to educate at least one person every day. I quickly came to realize that the average person didn't know that lung cancer is the #1 cancer killer of women and men and that ANYONE can get it. Once I tell them the risks and stats, and change what the "face" of lung cancer looks like in their minds to that of a 47-year-old seemingly healthy woman, the end result is always the same. People want to help.
My goal, in partnership with the American Lung Association, is to increase awareness regarding this disease, in an effort to understand and address lung cancer in never smokers like me. I have been active in the fight for lung cancer to receive equal attention and funding toward research projects, for a better understanding of the role that genetics, gender and environmental factors may play in this disease. Together with the generous support of family, friends and colleagues, I've raised more than $121,000 for lung cancer research through the Lung Association's charity events and donations made in my mother's memory.
Lung cancer will always be a part of me and I will always be committed to the fight. I've recently recovered from my third and final surgery and now show N.E.D. (no evidence of disease). My doctors are giving me the best chances of survival and my hope is that my results will soon become the norm - not the exception.
REAL LIFE. REAL NEWS. REAL VOICES.
Help us tell more of the stories that matter from voices that too often remain unheard.