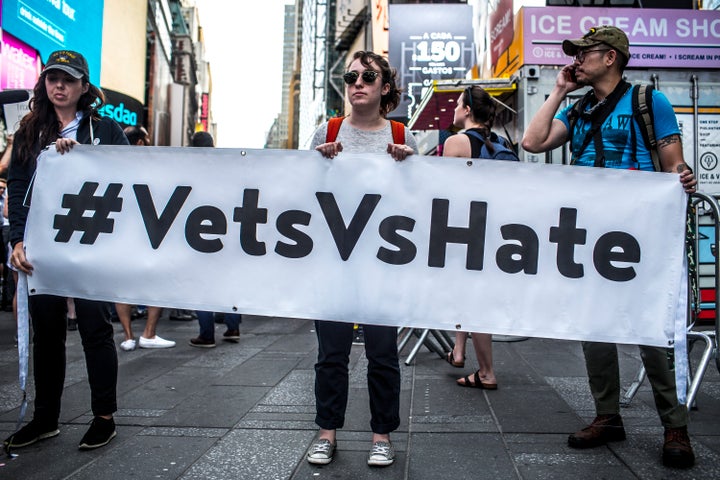 President Donald Trump's ongoing campaign rallies, his continued obsession with 2016 voter data that shows Clinton was more popular, his regular complaints about a critical media and his vicious Twitter outbursts amount to one irrefutable truth: At base, the president needs to be liked. Or perhaps loved.
In part, this explains why, seemingly out of nowhere (but at the same time as he's feuding with his attorney general and Senate Republicans faced yet another possible health care failure), Trump decided to go after transgender Americans.
On Wednesday morning, he announced that the Department of Defense "will not accept or allow transgender individuals to serve in any capacity in the U.S. Military." The reason? "The tremendous medical costs and disruption." (Canada allows transgender people to serve in the military and is currently reviewing its policies to be more inclusive.)
Disruption is code for the discomfort felt by bigoted people, and those who value their own comfort over a trans person's right to be treated with dignity. It's discriminatory, though somewhat logical.
The medical costs excuse, meanwhile, is preposterous.
Trump is not a man for details, so it's likely he has no idea what such costs might be. To no one's surprise, they're miniscule.
Trans people make up a mere 0.1 to 0.5 per cent of military personnel — an estimated 4,000, according to a 2016 report from the RAND National Defence Research Institute.
The report estimated that a fraction of those, only 29 to 129, would ask for any kind of health care related to their gender identity (the National Centre for Transgender Equality has a higher estimate for trans people in the military, at 15,000).
The increased cost each year to the military health system would range between $2.4 million to $8.4 million, out of a total health care budget of $49.3 billion, the report said.
Considering Trump's hoping to boost the overall military budget marginally to $603 billion, that's not exactly a "tremendous" cost. It even pales in comparison to the $28 million the military recently wasted on camouflage uniforms to be used in Afghanistan, which don't actually blend into the landscape — spending that Defense Secretary James Mattis called "cavalier."
The word suits another attitude: that of Trump to the welfare of others.
In pursuit of pleasing his base (who, aside from Supreme Court Justice Neil Gorsuch, don't have much to cheer), he's revealed just how broad and specific his indifference to others can be. From a wide swath of million of Americans, Trump would happily rip away health coverage to get an Obamacare repeal "win."
From a few thousand transgender military personnel, he'd take away their jobs. And to what gain?
A White House official told reporter Jonathan Swan the move will force Democrats in "Rust Belt states" to campaign against the new ban in 2018, and risk losing "blue collar voters." On Breitbart's news site deep in Trumpland, thousands of commenters are singing Trump's praises.
This is governing for popularity when most of the nation detests you: Swapping dedicated military members for applause from the base.
Calling all HuffPost superfans!
Sign up for membership to become a founding member and help shape HuffPost's next chapter