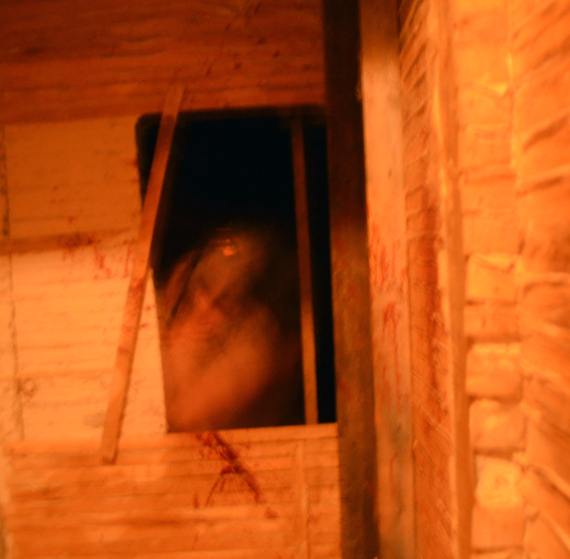 It's that time of year when the air is brisk, the leaves are falling and mystery is in the air. Yes, friends, my favorite time of year has arrived: Halloween. Last year in my October column, I named Frightland Haunted Attractions as one of the Top 5 Scariest Haunted Attractions for Millennials in the United States. This year, I've got a whole new level of scary coming out of Frightland.
Frightland Haunted Attractions sits on 1300 acres, with 350 of them being dedicated to the haunted attractions themselves. It is a vast property with a very rich history that wasn't always necessarily "happy".
I've been working with Frightland via one of my businesses, Elyk Studios, for 5 years now and the "unexplained occurrences" began almost immediately. At first, I shrugged it off as just talk, but I quickly found that there may just be something to that talk.
I brought in my friends at Diamond Stage Ghost Investigators (DSGI) to come out and do a paranormal investigation. They have an amazingly solid reputation for their paranormal investigations. DSGI are not looking for "ghosts", they are looking to debunk what people say are ghosts.
The property that Frightland sits on was a successful farming property for hundreds of years. One of the owners over the decades, Clifton Davis, was a family man. Davis came down with syphilis and committed suicide in the woods on the property. Within a year, the servants quarters burned to the ground for unknown reasons. His daughter, hung herself in the barn that still sits on the property, 200 years later.
The family estate sold the property, seemingly want to get away from a land which held so much pain for them. It went through multiple owners until 1980, when the current owners purchased it up. Frightland started in 1996 as a fundraiser for Leukemia. Immediately, the unexplained phenomenon became apparent to the owners. Visions of a young girl were seen by multiple people. Frightland staff complained of someone watching them. Some would run out of the barn, refusing to ever step foot in it again. To this day, the property owner himself will not go into the barn alone.
As i spent more & more time at Frightland, it became apparent to me that there was a presence there - multiple ones, in fact. Once, I was in one of the buildings working on a project. When I went to leave, the door from which I had entered had been locked from the outside. There was no one else on the property at that time.
Electronics batteries drain regularly in certain places on the property - especially the barn. Hearing tapping, footsteps or knocking has become a near daily happening. The instances of faint voices has not been a rare occurrence either. I had always felt a "disturbing feeling" in the barn, but never knew how to explain it. It became completely apparent when DSGI came in for their investigation. As we had ended the investigation, I was doing my safety walk through before I locked the attic of the barn. I was using my video camera for light, as my cell phone battery had long since died. Myself and Christina from DSGI were exiting the door when I felt something hit me and then we heard a loud metallic noise. We looked down and realized it was the toy truck that we had used during the investigation and had left in a room far from the exit. We both screamed immediately and jumped out of the door. It was the clearest proof to me, that the stories throughout the years were all true. It was as if that presence was saying, "Don't forget to take this back."
Much of this, and plenty more, is in the documentary short I created about this fascinating place. The film, Frightland: A Paranormal Investigation, documents the investigation I did into the history of the Frightland property and the paranormal investigation itself. You really do have to see the footage of the weird ongoings to believe it. I've learned a lot about the paranormal at Frightland. I've faced some of my fears, while others only increased. Most importantly though, I've learned that sometimes reality is scarier then fiction could ever be.
Frightland: A Paranormal Investigation
A documentary short by Kyle McMahon
Kyle McMahon, the recording artist known as K.Mac, is a millennial who has appeared on a series of Emmy winning Oprah's Lifeclass specials, writes about self improvement and personal development for millennials and gives speeches on fatherless sons. Check out the Kyle McMahon website for more information. You can follow him on Twitter, Google+ or Facebook.
Calling all HuffPost superfans!
Sign up for membership to become a founding member and help shape HuffPost's next chapter