If Western media is to be believed, little but murder and mayhem comes out of Pakistan. The images that dominate are those of men shouting for the death of one group or another, their beards bristling with anger.
It was therefore a relief to meet an entirely peaceful Pakistani family whose mission was to spread good will and good deeds among people regardless of race and religion. Unassuming and well-spoken, the family hailed from Bahawalpur, the rural southern districts of Punjab, recently identified as a hotbed of militant Muslim groups.
Representing the Cholistan Development Council (CDC), they were in Washington, D.C. this summer to present their annual awards recognizing top peace-builders and "heroes" in Pakistan and beyond.
They did just that at Mehran the Pakistani restaurant in Springfield, Virginia.  At the well-attended dinner prominent community leaders like the poet and scholar Dr Z.A. Kazmi and journalists like Ali Imran, Anwar Iqbal and Behjat Gilani were among those given awards. My award said: "Special Award (lifetime Achievement) Honourable Prof. Akbar Ahmed —for his remarkable services for Pakistan, Islamic and Social Research." Earlier recipients had included movie and TV stars like Zia Mohyeddin and the author and newspaper editor Raza Rumi.
This modest family representing the rural culture of Pakistan made for an impressive contrast to the usual Pakistani VIP visitors to D.C., members of the rich and mighty elite bristling with self-importance, arriving to ask for economic or military favours.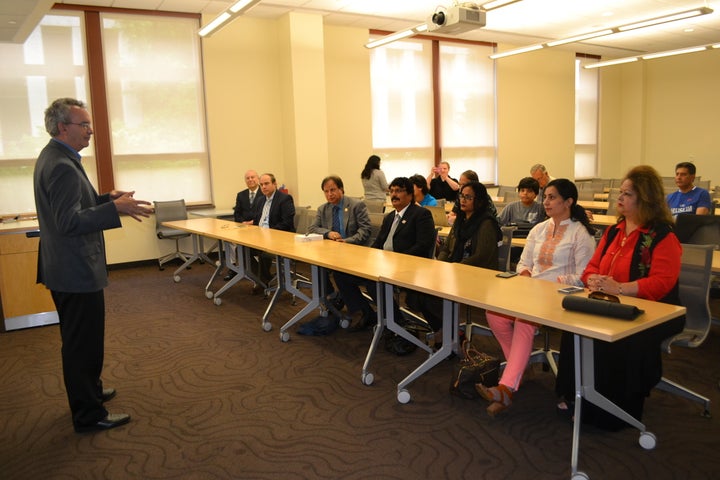 The CDC team was not thinking of taking from America but giving to it. I was impressed by the boldness and compassion of its vision. These were the real heroes of Pakistan.
The team consists of Mr. Farooq Ahmad Khan, Razia Malik and Aleem Ahmad Khan. They are a proud Rajput Chauhan Saraiki-speaking family. They have chosen to highlight their area Cholistan which Aleem described as "the name of Thar's desert of Punjab which is located in Bahawalpur division. The most deprived area even today with no water, electricity and mostly no modes of communications."
The family head, Farooq Khan, is the founding member and executive director of CDC. While focusing on such key areas as health and educational reforms, women rights and gender mainstreaming and the promotion of Cholistan culture, CDC also promotes peace-building and conflict transformation.  The organization's stated vision is to "work for the betterment of society to promote harmony, tolerance, and local culture, to create an environment for education and better health, and become a catalyst in the provision of rights." He also serves as the Pakistan National Coordinator for the South Asian Campaign for Violence Against Women in Politics. CDC also works actively with youth in the districts to channel their passions and energies in healthy, constructive directions.
Ms. Razia, the Director of Programs for the CDC, has served for nearly 20 years as a renowned social and women's rights activities in Bahawalpur, advocating for women who have suffered from violence, torture, and discrimination. In recent years she has hosted cultural radio programs from Bahawalpur Radio with the names of "Mere bhi hain kuch Khwab," "I too have dreams," and "Aman Mera Haq," "Peace is my birth right"
The young and dynamic Aleem, an advocacy and campaigning officer for the CDC, has worked on various advocacy and development projects in South Punjab for more than a decade. His main focus areas are peace, conflict transformation, religious bridge building, women's rights, education, and police reform. He has produced a number of public awareness videos, as well as radio programs and such materials as posters, pamphlets, banners, and handouts advocating on these very issues.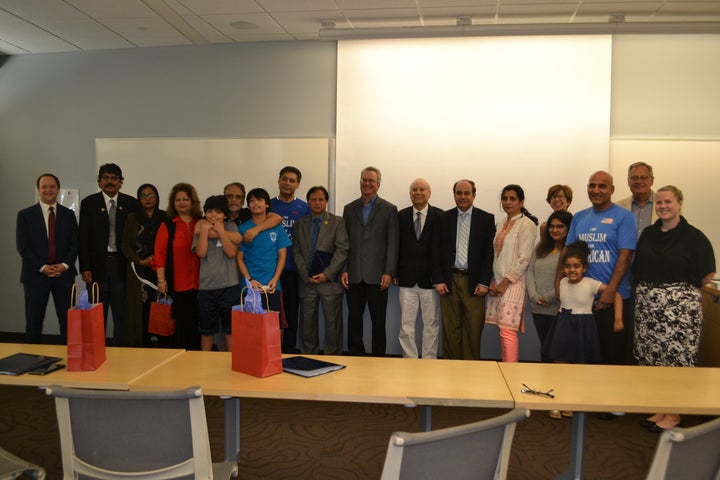 The delegation stayed on in Washington after the ceremony, and I hosted them for a seminar discussion on the importance of building bridges and fostering dialogue at American University. Then-Dean, James Goldgeier and then-acting Associate Dean, Rosemary Shinko welcomed and introduced the mon behalf of the University. The Dean said, "It was an honor to welcome such distinguished guests to the School of International Service at American University."
The distinguished Professor Bram Groen, wished afterwards "to convey admiration for this group and what they do to help so many poor families in South Pakistan, and under circumstances unimaginable to most of us in the Western world. I came away from this wonderful day with CDC re-energized in my belief that "humanitarianism" crosses all imagined borders. This is only One Earth, One Civilization that (still) lives on it, and One People that have an obligation to help each other and preserve what we have for our prodigy — is this not what our joint Abrahamic God asks of all of us? I hope to have a chance to see them at work in South Pakistan." Bram has invited Aleem to lecture to his class via Skype.
The day following the event, Dr. Kazmi, who led the delegation, wrote to me:
"Most Beloved and Honourable Ambassador Dr Ahmed, Salam! My wife Tanvir joins me and CDC to send heartfelt gratitude for yesterday's beautiful and blessed meeting at American University, a great institution; our gratitude for their generosity and hospitality. I'm always available to assist you in any project and you may count my love and support for your gracious work as a teacher and mentor in the footsteps of Rumi."
From the deserts of Cholistan I heard the sweet message of Rumi. I prayed the world would hear it too.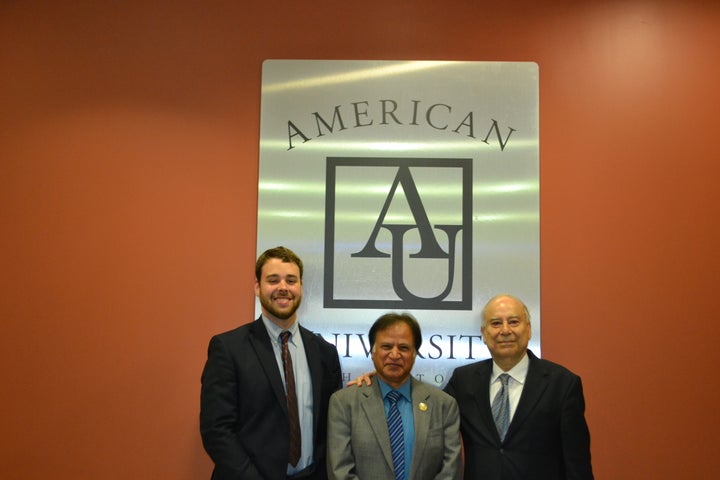 Calling all HuffPost superfans!
Sign up for membership to become a founding member and help shape HuffPost's next chapter