From the minute she stepped into The Bailey Agency several seasons ago, Kenya Moore breathed a brand new life into "The Real Housewives of Atlanta". As the new season kicks off (Sunday November 6th at 9:00 8/7c), Moore is poised for her hottest season yet. She sat down with me to chat about her new home, Moore Manor, how she's quite possibly found love with a new man, her time with a certain Presidential candidate on "The Celebrity Apprentice", and what alliances may have shifted with her fellow Atlanta Housewives.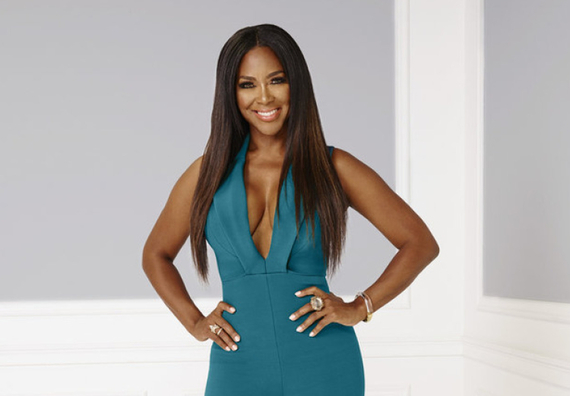 Well right off the bat Kenya, you are back at the forefront of the drama on this season of "The Real Housewives of Atlanta". Moore Manor definitely has taken some significant steps towards completion since we last saw it.
Oh thank you. I never felt like I would be finished with everything but now that I am, looking at it from the first episode until now, it looks iike a completely different house.
It looks like you definitely won the bet with returning cast member Sheree Whitfield about whether or not her "Chateau Sheree" or your "Moore Manor" would be completed first, correct?
Oh, I mean, I've been in my house four or five months now and she still hasn't moved into her house. It's pretty safe to say that I won that competition.

Other than not having Nene Leakes as a cast member this season, what is different about this season for "The Real Housewives of Atlanta"?
For me, there is obviously other dynamics on the show, like having Sheree back full-time, that has been very interesting, she has been definitely getting her hands dirty in the process. What's interesting for me is my relationship being a big part of my life this season. Trying to figure it out, I mean, we're a year and a half into it. Is there going to be marriage, are we going to work on our issues or are we going to part ways? That's real different for me this season.
Based on what we've seen in the trailer, it looks like you and fellow cast member Phaedra Parks are in a very good place especially.
Yeah, you know sometimes in life, time heals wounds. We both hurt each other in various ways but I am a person that never, if you watch the show, likes living in the past. I don't like people that harp on old things and I know I've made mistakes, but at the core, it wasn't anything that I planned to do. I never did anything inappropriate with Apollo, while there were friendly texts that I answered, we discussed that in lengthy detail. I never really crossed a line that could not be uncrossed. For me, it was not anything that was unforgivable. I just feel that if a person wants to make amends and move forward, I'm willing to do that as long as they accept their responsiblity. In just made sense for us to move forward.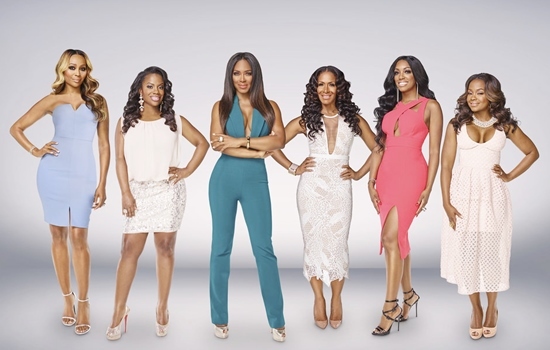 The ladies in Atlanta always seem to have some of the most volailtsle of the relationships, with physical altercations taking place during a reunion with you and castmate Porsha Stewarty and then last year with Cynthia Bailey and Stewart. You however, seem to be able to move forward with the ladies you have disagreements with in a very smooth way, arguably with more ease that other Housewives may be able to.
You know, my focus is always a laser focus in moving forward. I was raised to be very forgiving, because i want people to forgive me if I have done something horribly. I definitey have had my challenges in terms of physical altercations, because I feel like that is the ultimate violation. We are at work. At the end of the day, this is a job. You can feel a certain way to walk away, you always have a choice to use your words I feel that when you cross the line and do something like that,it can be very, very challenging. But then to see it happen with the same person two more times, it's like I said, I was not the problem. Clearly there was something else going on. With me, I just don't like the heaviness of hate in my heart. I can't hate people for past injustices. I just have to always move forward. Life is too short; I just want to be happy and everyone else figure it out for themselves, that's the only way I can deal with it.

Speaking of hate and business, you were on "The Celebrity Apprentice" which Republican Presidential Candidate Donald Trump hosted at the time. Is the person that you see running for President that same person you saw in the boardroom?
Are you trying to get me in trouble? (laughs). Honestly when Donald was in the boardroom, he was judging us on our performances. There wasn't any locker room talk or anything like assaulting women or bragging about it. In that regard, it's not the same person. Is it the same person that offended Alicia Machado for being overweight-yes. Is it the same person that called Rosie O'Donnell a pig-yes. Clearly, that is something that has occurred and he makes no apologies for it. For me, he was tough on me, but he was fair in the end. I can only appreciate that from Mr. Trump.

Speaking of men, you have had your trials finding a partner during your time on the show, While we saw you with Matt last season, could there be trouble in paradise this season? We have gotten to know your best friend Brandon during your time on the show, and it seems that a perfect partner would be another Brandon, but straight of course!
You're right I definitely need a straight Brandon (laughs) thats my baby! Matt is a good guy though .Walter had it out for me that moment we started filmng and that was what it was. Matt is a good person and I haven't seen that in a long time. He is Team Kenya all the way. He is just young and immatture, not only trying to figure himself out, but life in general out. That is one of the challenges of dating someone that is sixteen years younger than you who isn;t even thirty years old yet. HIs intentions are in the right place, but the immaturity and the lack of experience and dealing with someone like me only magnifies that he is the age that he is. He definitely is a solid person though, his heart is definitely the heart of a man that you would want to marry.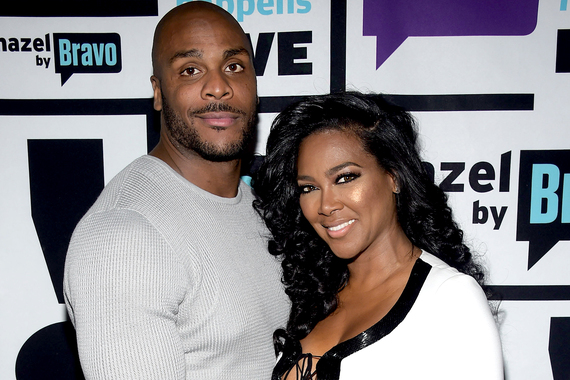 You definitely came onto the show and staked your claim as a prominent cast member. Both on your show and on "Celebrity Apprentice" you had your run in with other ladies. What is it that you think makes other women really want to mix it up with you.
In terms of other "Housewives" that have come for me, it was only (former "Real Housewife of Beverly Hills) Brandi Glanville. I think Brandi's reason for targeting me was to come for me. We were sitting at a dinner after the NBC Upfronts and she all of a sudden starts talking out of the side of her neck and crazy, and I'm looking at her like "what happened"? I had never met her before and she made it a point to target me. I think that sometimes when you are trying to make a name for yourself, you go for the biggest name you can go for. I'm going to go for the biggest target for my own fame and my own notoriery; I think that was Brandi's idea from the beginning, and to an extent it worked for her, especially on "Celebrity Apprentice". Her whole storyline was attacking me the entire time.
The gay men, without a doubt, absolutely love you, that goes without saying. Why do you think that the gay men absolutely gravitate towards you?
I love them too honey! I think gay men love fabulous and fierce women. I'm a former model, and former Miss U.S.A. an I own it, I own who I am. I've never been ashamed to speak up, I've never been a victim of someone bullying me, and I've just owned who I am. I love the skin that I'm in; whatever it is, I am honest and straightforward. You can either like me or love me, I really give zero____. I think that a lot of the time, gay men identify iike that and want to be fierce and fabulous also. I think we just identity with each other too. I grew up being non judgmental and never had anyone in my family judge or criticize anyone for being gay. I came up in the modeling agency and so many of my best friends are gay. It's a part of who I am and I think they know that too.

If you looked back on the girl who first walked onto "The Real Housewives of Atlanta" many seasons ago and could tell that new Housewife something now, as almost a veteran, what would you tell her?
Bitch you better bring it! I'm not stepping off my throne, you're gonna have to take me off this one!
(Photos Courtesy of Bravo)
Calling all HuffPost superfans!
Sign up for membership to become a founding member and help shape HuffPost's next chapter