For a religious person the ultimate rejection is rejection by God, and in the Deep South, where many believe homosexuality is a sin -- no different from bestiality or murder -- churches are still teaching their followers to "pray away the gay" as if it were a contagious, airborne disease.
If lesbian, gay, and bisexual youth in the U.S. in general are four times more likely than their straight peers to attempt suicide, we can only imagine what the Bible Belt contributes to that dark statistic. Ask almost any gay person in the small towns of Mississippi or Alabama and they'll tell you that they have tried to pray away the gay in profound fear of what would happen to them in this life and in any notion they have of an afterlife.
It is therefore incredibly important that the LGBT community be provided with resources to help them take a good, hard look at the Bible and contemplate what it's really saying instead of contemplating suicide. Brandiilyne Dear, co-founder of The Dandelion Project, is rising to the call of duty.
As a young girl Brandiilyne realized that she was attracted to other girls, and her anguish over that fact led her to start using drugs. As her drug use got worse throughout her teens and 20s, Brandiiyne hit rock bottom and ended up in a Christian church, where she managed to attain sobriety. Brandiilyne believes she was saved by God, and ever since, she has been on a mission to help others. She became a pastor and had a very high success rate in helping people overcome drug addiction and homosexuality -- or so she thought. She married lesbians to men and baptized their children. The mayor even sent jail-bound people to Brandiilyne before resorting to locking them up. For many in her community, she was their last hope. She was recognized as a bastion of light and love. And then Brandiilyne met a charming force of a woman named Susan.
When Brandiilyne realized that she was in love with Susan, she finally understood that neither drugs nor God had managed to make her straight. She had always been a lesbian and always would be. When Brandiilyne's church got wind of her relationship with Susan, they forced her out of their congregation and left her with nothing. She has been described by the owner of her local newspaper as "a fallen hero." She had helped hundreds of people get their lives together and find hope, and now, when she needed their love and acceptance in return, there was nowhere to go.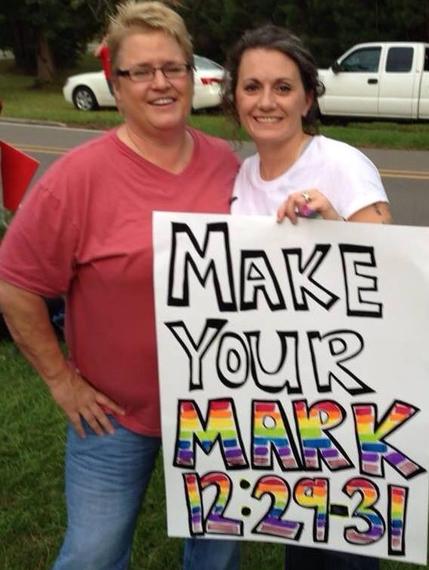 Brandiilyne Dear (right) and her partner, Susan Mangum (left)
The owner of the local paper gave me Brandiilyne's contact information so that I could interview her as part of the casting process for a documentary about lesbians in conservative communities. It was clear that Brandilynne was profoundly sad and hurt when I met her, but what was even more apparent was that despite the major setback she was overcoming in her life, "BB" was going to come back even stronger; she just didn't know it yet. It was clear that we needed to get our cameras down to Mississippi, and if you tune in to the premiere of L Word Mississippi: Hate the Sin (today, Friday, Aug. 8, at 9 p.m. EDT on Showtime), you will bear witness to Brandiilyne rising from the ashes of her struggle.
This week I caught up with Brandiilyne to put the following interview together in hopes that it and the documentary might make it easier for those who are suffering with an inability to reconcile their religion with their sexuality to find the support that BB is building in the South.
Catherine Day: BB, the first time I spoke to you, while searching for lesbians to be a part of this documentary, you picked up the phone and told me how crazy it was to get my call, because it was exactly one year to the day since you had been kicked out of the church. You told me your Bible was next to you, but you hadn't opened it in 365 days. What has changed since that day?
Brandiilyne Dear: Discovering my sexuality and finding the love of my life was an incredible and life-affirming thing, but something was missing. I had found myself, but there was a huge void: I had lost what I believe to be my purpose, and that is helping people. I believe that God put me here to help and serve others, and I lost that when I lost my ministry, Dying to Live. When Susan and I decided to start The Dandelion Project, I knew I was right where God wanted me again: helping people. Ministry isn't always a sermon or a church service. No! Ministry is about loving people -- all people. Jesus was radically inclusive. Just look at the woman at the well and the lepers, all considered abominations by the religious people. Jesus loved them, and He included them. That's what I want to do with The Dandelion Project.
CD: What is the most important thing The Dandelion Project is doing?
BD: Creating community. Even Susan wouldn't hold my hand in public until we created The Dandelion Project. Now she won't take the intolerance anymore! She has not only stood up with us; she now protests with me on the steps of City Hall! Come out and live out! Accept yourself for who you are! You are not an abomination; you are beautiful! Religion is believing in someone else's experience; spirituality is having your own! The only people Jesus rejected were the religious Pharisees.
CD: How is The Dandelion Project different from other LGBT organizations?
BD: Right now we have a local food drive for the animal-rescue organization in town, because we want to make sure people see us in a different light. We're not perverts out there running around naked. We want to change this community and make it better on all fronts. We are more than lesbians; we are more than gay. We are your sisters, your daughters, your teachers, your neighbors.
A video from The Dandelion Project's "We Are" campaign
CD: What are some parts of the Bible that you want people to pay attention to and interpret differently than they might be?
BD: The word "homosexual/ity" never made it to the Bible until 1946, proving this is only a modern interpretation. I have a blog, Guilty or Not Guilty, and in it I wrote a six-part series where I reinterpret the Word to help liberate myself and others from misguided shame. Mark chapter 12 -- what is the greatest commitment? Mark 12:28-32: "To love him with all your heart, with all your understanding and with all your strength, and to love your neighbor as yourself is more important than all burnt offerings and sacrifices." The fact that Jesus Christ didn't say anything about sexuality is a really big deal. However, Jesus Christ did condemn adultery -- and the Bible says if you marry a divorced woman, you become an adulterer. Forty percent of the church today is divorced! It's socially acceptable, so nobody talks about divorce as an abomination anymore. When homosexuality is fully revealed and becomes socially acceptable, it will no longer be considered a sin either.
CD: Do you ever get sick of waiting for things to change? Ever feel like leaving Mississippi?
BD: Of course! But we have to stay. When it comes to change, we can't give up on pushing for it. If not us, then who? If not now, then when?
CD: One of the most fascinating things I learned when I was down in Mississippi is that the resistance is creating persistence, because there are actually more children being raised by gay parents there than in any other state in the country. The LGBT community is trying so hard to be straight; they are having children and then realizing they can't stop being gay. It's encouraging to think of how progressive the South is becoming as this huge generation of their children are growing up.
BD: Jesus said we have to become like little children. They live simply, trust perfectly and love completely. In the end it's really simple: What we need to cultivate is grace -- radical grace. We need to walk in radical love. The real "L" word is "love."
Well, that's an interpretation of the Bible that I think anyone could appreciate, not just lesbians. I feel incredibly grateful to have become Brandiilyne's friend thanks to this project, and I hope the documentary will help her voice reach all the people out there who truly need to hear it. Please help spread this real "L" word: love.
REAL LIFE. REAL NEWS. REAL VOICES.
Help us tell more of the stories that matter from voices that too often remain unheard.