The Episode...
Last night's episode revealed that after five months of pregnancy, we lost our daughter, Charlie. Most of you are probably thinking... "That must have been so difficult for Kacy and Cori to relive."

And to be honest, you would be wrong. Unfortunately, we know those ghostly white faces, those tear-stained cheeks, and those red, lost eyes all too well. We know those faces, because the sadness of losing Charlie still weighs heavily in our hearts. We know those faces.
It was the first episode of the season that was the most difficult. Seeing those two happy people, both glowing with life and love -- excited about their future -- who in no way, shape or form have any idea, or even consideration, that one day they'd be the ghosts in black, crying about their loss. Watching those two people was like looking at old photos from when you were younger, skinnier: Was I really that happy? Was it that perfect? Can I ever be that again?
The future met up with us on Christmas Eve, and for those of you who do not follow our blog or twitter, you now have an answer as to why we haven't answered your baby questions, or responded with "thank you" for the well wishes for our family. So I can say now, with a full heart, thank you. Thank you for checking in, for caring, and for wishing our family well. Hopefully, you understand why we couldn't respond.
In all honesty, our hearts are broken... and we are a little less of the people you used to know. Losing Charlie was so incredibly devastating, and the way we lost her, the hope we had, and then the crushing reality of the situation, is often times too much to bear. Yes, we have each other. And yes, we have an amazing support system of family and friends who have helped us through this. But in preparation to do the show again, we both felt like we had experienced a very intense form of Déjà vu.
We had gone through the roller coaster ride called getting pregnant, and succeeded. We made it through the terrifying first trimester, when everything was supposed to go wrong, but it didn't. We were in the clear. We were parents. And we were having a girl named Charlie.
We were choosing the color of Charlie's room. Cori was developing a range of maternity outfits, and we had two baby bump pictures under our belts. We had our first Christmas tree as a family, and Cori had a slew of presents underneath that all pointed to a child on the way.
It wasn't supposed to happen like this. When a baby is born, there is supposed to be a cry in the room. Ours was silent, unless you count the sound of our hearts breaking -- unless you count the screams of anger and frustration and questioning and sorrow that have followed many nights after. This wasn't supposed to be our story. But many things in life are never supposed to be.
To date, all of our friends who were pregnant with us now have children. To date, all of our friends who got pregnant after us will all have children in less than two months. It wasn't suppose to happen like this... but it did. This is the story, our story, and we lived through it.
We almost didn't return for Season 3 of The Real L Word. We weren't certain that this story would be well received. We didn't want to disrespect the memory of our baby girl, and we weren't sure if by doing the show it meant that we were somehow exploiting her. We had been carrying this together, feeling isolated from the world, lost and obliterated. How could we share this, or talk about it, when we can barely face it or shoulder the burden in our daily lives?
What changed our minds was the outpouring of support we received when we posted the update about what happened. The very first post was from a woman with the same condition as Cori, who had lost her child in almost the same way. That is when we realized that we were not alone in this. We belong to a group of people that no one wants to belong to -- the parents of lost children -- and we were going to be the voice for their story, regardless of how difficult.
We lost Charlie Monroe Boccumini on December 24th, 2011. She was a beautiful little girl, with her Mother's face. She stole our hearts the minute we saw her, and we still smile when I think of her little cheeks.
The greatest thing about The Real L Word is that it allowed us to do two things: First, it allowed us to tell such a story, one that is unfortunately a reality for many families -- gay and straight. Second, it introduced our daughter to the world. In the first episode, you all got to meet our lovely first-born daughter, Charlie. And in this episode, she will hopefully have a profound effect on you, as will the rest of our story throughout this season.
It is our wish that you watch our story and that it will help you start to understand what parents who lose children go through, if even just a tiny bit. It's our wish that parents who have lost children can watch this and not feel alone, or voiceless, or forgotten. No one wants to tell this story, but if it has to be someone, it might as well be us.
We lost our daughter, Charlie, on December 24th, 2011. She was a beautiful little girl, with her mother's face. And we have relied on each other every day since: to breathe, to live on, and to survive this. Marriage is for better or for worse, and this is worse. If anything, I hope that we can represent for all of you brave couples that picked up and kept going -- because you are heroes. And to those friends who found the right words, and maneuvered around the discomfort to be there for friends in need -- I hope our friends represent you, because not everyone can do what you managed.
This is our story, for better and for worse. Thank you for watching, for your words of support, and your kindness.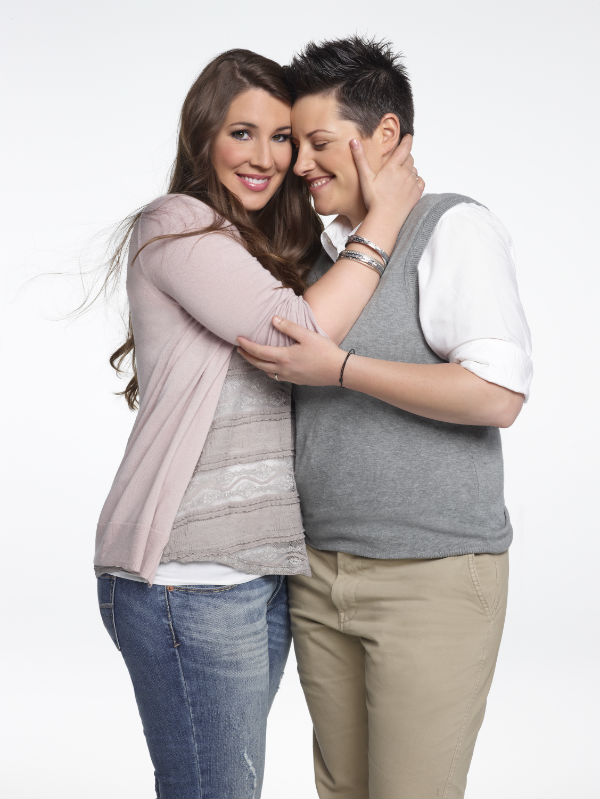 Image: Jeff Lipsky/SHOWTIME
REAL LIFE. REAL NEWS. REAL VOICES.
Help us tell more of the stories that matter from voices that too often remain unheard.