Forget Silicon Valley (well, not completely!). The trending startup hub of California right now boasts one of the most famous addresses in the world -- Los Angeles. Long a mecca for the hopeful, the entrepreneur, and the American dreamer who's willing to fight for fame and glory, LA now offers up some of the most promising startups in America.
It's no longer just movie star and model wannabes picking up and moving to the lower half of the Golden State. "LA has a really strong community of smart, hard-working, and fun entrepreneurs," explains John Ellis, CEO of Social Discovery Platform, Tapiture. "There is a great mix of people from tech, entertainment, commerce, and other sectors. When all those ideas get mixed together -- as they do in LA -- you create a really unique, creative environment for growth."
If you haven't heard of these startups yet, you will soon. From spreading the locavore movement to offering technology solutions sure to catch the eyes of Google, Microsoft and other big names in the business, these small businesses are taking la la land by storm:
This startup is re-defining farm to table, and although it has physical locations in eight metros around the nation (including LA, of course), it also ships nationwide. Partnering with nearby farms and other produce, meat, and goodies suppliers, GrubMarket provides direct to your door service of the freshest, in-season, and organic foods in the country. Can't decide? Sign up for one of their many baskets based on your preferences and budget for a basket of delicious surprises. After all, who has time to go to the luxury grocery store these days, especially when there's no guarantee your favorite treats will be there?
The leading app in over 80 countries has earned such a fantastic title for a reason: It turns anyone into instant music video directors! It's simple to turn a montage of your favorite photos into a short video, so you can capture the magic of a night (or a life!) in just a few seconds. Sure, there are other apps and software that offer similar features, but none are as fast, easy, and fun as this one.
You've either seen the commercials or you're one of those "I'm so above television" people. The Dollar Shave Club is capitalizing on the fact that getting even a mediocre razor these days costs an arm and a leg (and it's not from a severe razor cut). Get free blades for life when you sign up for monthly auto delivery (just a few dollars depending on your preferences and needs), upgrade/downgrade as you wish, and never have to worry about dull blades again. It's pretty ingenious.
In the world of big data demands, it's time to get back to local--without giving up any global benefits. That's what Factual does with "global data, local context." Better location signals married with global data, offering a kind of customization that's astonishing at such price points. A real-time data stack allows for constant updating from billions of inputs around the world.
Traveling can be confusing, but don't worry. This isn't another travel site competing for your bookings and cash. Trippy is slated to be the Yahoo! Answers of the travel world, but with a much more pleasing layout and zero spammy responses. It's simple: Ask a question, a group of travel experts (really!) answer, and then the best answer is voted to the top. With the likes of Anthony Bourdain answering, you know you're getting travel gold.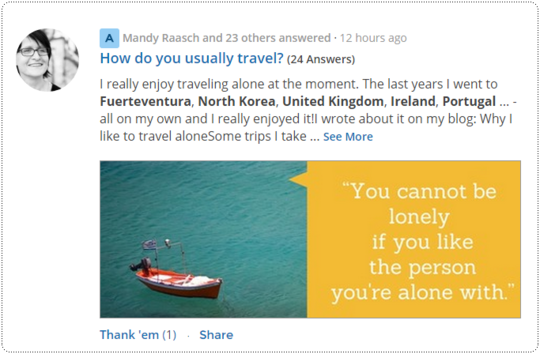 CurbStand harnesses the power of smartphone technology to create a seamless, cashless concierge-style valet experience for users to find and pay for parking. No more waiting in lines at the valet stand in inclement weather. No more dashes to the ATM for cash. CurbStand offers a streamline and efficient way to enjoy your favorite venues. The 'Request Car' feature also allows Angelenos to notify their valet attendant in advance of leaving to ensure that their car will be ready and waiting for them once they're ready to go.
There's lots of great stuff on the internet, but sorting through it can be a drag, and that's the problem Tapiture seeks to address. The product helps users find stuff they really like. As you browse, it learns user preferences and delivers more of the same. And that surprise content is part of the app's appeal, delivering a new adventure in content each time you use it.
Washio gives people back their free time. The average professional spends 10 hours or more each month doing laundry and going to and from the dry cleaner. With Washio, a busy mom or an executive who only has a few hours to herself each week can press one button at any time and have dry cleaning and laundry picked up and delivered back in just 24 hours. Laundry is one of the more cumbersome chores that any household has to deal with, and we've all been the person who's left our favorite shirt at the dry cleaner for weeks (or months at time). With Washio, residents of LA, San Francisco, Washington DC, Boston and Chicago are able to spend time doing what they love rather than folding shirts.
Fameus.me is a social network and job site for people working in the entertainment industry. Borne from target user audience feedback, the company met with hundreds of people, from producers, actors, musicians to hair & makeup and entertainment marketers, to build the product. And the mission was simple: produce a product that would be helpful in the day-to-day lives of entertainment industry professionals.
"LA is a place that is great at telling stories, from social media to motion pictures there is no better place to create and share them with the rest of the world," explains Kent Speakman, CEO of Fameus. The platform's users come from from around the world and share what they are working on, provide updates on roles or gigs they are booking, and contribute to one another's projects.
Some of the most popular services and apps hitting an eager market are those that cut-out the often antiquated middle man. This disintermediation is happening in health care, securing publicity and PR, and even HBO is doing it with its streaming service. So naturally, a more streamlined way to enjoy great wines should follow suit.
Club W is just that -- a global winery "all about making ridiculously delicious wine at a fantastic price." More than a mere wine club, the company builds direct relationships with vineyards and farmers to make exceptional small lot wines at prices impossible to achieve at retail. Using social data, they we match these wines to user palates, and deliver them directly to the doorsteps of club members.

You always suspected LA had more to offer than celebrities and great beaches, and here it is: A slew of startups destined for success.
Related
Popular in the Community