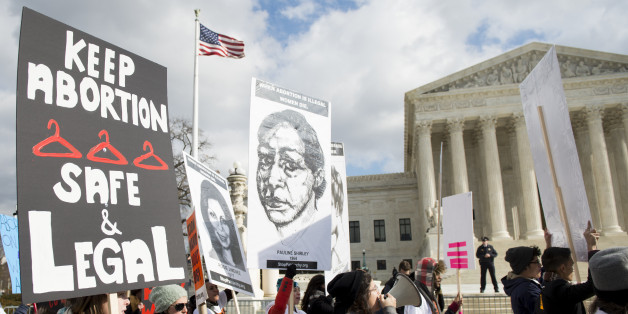 To recap: This week, amidst massive public outcry, anti-women's health politicians in Congress canceled a planned vote on dangerous and deeply unpopular abortion restrictions and instead voted on... dangerous and deeply unpopular abortion restrictions.
You read that right: After a sweeping ban on abortion at 20 weeks proved to be so politically toxic House Majority leadership couldn't even get their members lined up behind the bill, they switched it out for a different bill with the same goal: to ban abortion altogether.
While it's encouraging that some people in office are beginning to realize the impact these dangerous and unpopular abortion restrictions can have on their political careers, it would be better if they realized the impact these policies have on women's lives. Make no mistake: The bill passed by the House yesterday -- just like a 20-week ban or the myriad abortion restrictions already introduced in state legislatures around the country in 2015 -- is a thinly veiled attempt to eliminate access to abortion and undermine a woman's ability to make personal decisions about her own health care.
What Americans really want isn't a mystery: In nearly every poll -- including the one on Election Day -- voters have expressed their strong desire for Congress to focus on growing the economy and expanding opportunity for women and families. Instead, in their first five days in session, members of the 114th Congress introduced seven anti-women's health bills. Then the U.S. House of Representatives -- not a governing body known for their political expediency -- worked around the clock to introduce and pass legislation that would all but eliminate abortion access for low-income women.
I've seen headlines these last few weeks that say extreme politicians in Congress have wasted no time pushing an anti-women's health agenda, and I strongly disagree: This is a monumental waste of time. Instead of advancing an extreme agenda ultimately designed to end access to abortion, Congress should focus on addressing real public health issues in this country. Forty-twi years after Roe v. Wade, let's make the constitutional right to safe and legal abortion a reality for every woman in this country -- whether they live in Texas or New York. Let's continue to agree, as President Obama pointed out in his State of the Union, that it is a great accomplishment that teen pregnancy in this country is at a historic low -- and let's also recognize that didn't happen by accident. Let's celebrate the tremendous advances women have made in public life over the last century and celebrate the fundamental right that underpins each one: the ability to determine whether and when to have children. Let's recognize that we cannot move ahead if half the population is left behind.
So if Congress wants to grow the economy and keep up with progress on the global stage, if they want to unleash the potential of all American people, there are some things they could do right now to protect women's health:
> Expand access to publicly funded planning services -- the single best way to support women so they can get an education, succeed in the workforce, and support their families.
> Recognize that appropriate sex education for every young person in this country isn't just a great idea -- it's absolutely necessary. Even with teen pregnancy at the lowest point in history, the U.S. still has the highest rate of teen pregnancy among developed countries. This costs the U.S. about $9.4 billion each year - and more importantly, it costs young women their opportunities and their futures. We've got work to do on this front.
> Make birth control affordable and accessible -- over the counter, at the doctor's office, but always fully covered by insurance with no co-pay, just like all other women's preventive care.
> Support efforts to strengthen and protect Medicaid -- so women and families in desperate need of affordable health care can get it.
> Pass the Women's Health Protection Act so that abortion is always safe and legal, no matter where you live.

For nearly a century, Planned Parenthood has believed in the power of women to determine their own lives and futures. We've seen the progress that's possible when we expand access to care instead of standing in the way. California's new law to allow nurse practitioners to provide early abortion meant that women in rural parts of the state could access abortion in their community for the first time. In Colorado, researchers found that when women have access to birth control and cost isn't a barrier, it brings down teen pregnancy and unintended pregnancy rates. Let's build on this progress.
So as we reflect on the 42nd anniversary of Roe v. Wade and House Majority leadership's abortion fiasco, let's make sure the lesson we learn is the right one: The majority of Americans want their lawmakers to focus on policies that keep women -- and this country -- moving forward, not on turning back the clock. Think of what could happen if we stopped using reproductive health as a political bargaining chip and focused on improving access to health care for everyone. It's time we stopped giving credit to legislators who recognize the horrible optics of attacking women's health and rights and start giving it to those who actually advance them.
Calling all HuffPost superfans!
Sign up for membership to become a founding member and help shape HuffPost's next chapter