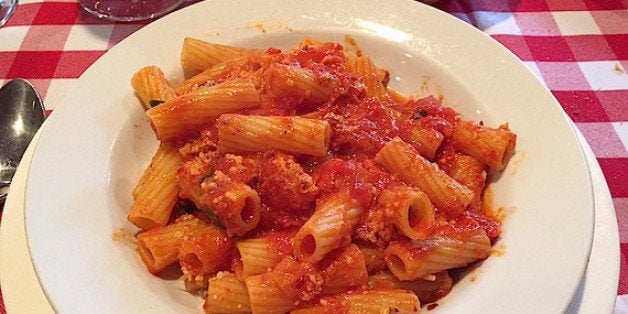 If you've been to Little Italy in Manhattan and were disappointed by the tourist-trap atmosphere and the forgettable food, it's because you went to the wrong place.
The real Little Italy is a vibrant neighborhood in the Bronx called Belmont, half a mile from the Bronx Zoo and Botanical Gardens. Others call it Arthur Avenue, the neighborhood's main street, bisected by East 187th Street, lined with restaurants, pizzerias, meat and fish markets, bakeries and pastry stores.
This is the Bronx the way it was in the 1950s, when Joe DiMaggio, Phil Rizzuto, Yogi Berra, Rocky Marciano, Jake LaMotta, and Julius LaRosa ate in the local restaurants, and, later, Muhammad Ali, Liz Taylor, Paul Newman, and James Gandolfini. Most important, it was home to Dion Dimucci, who named his do-wop group the Belmonts.
Years ago the restaurants of the neighborhood were so insular that menus varied little, the ingredients were cheap, and the wine lists boring. But in the past two decades all that has changed, so that now even the real old-timers have upped their game and you can eat extremely well within a primarily Italian-American style, influenced by Neapolitan and Sicilian cookery.
I shop on Arthur Avenue weekly, so I have my definite favorite restaurants I recommend to New Yorkers from other boroughs and visitors from anywhere. This is the way this food should be made.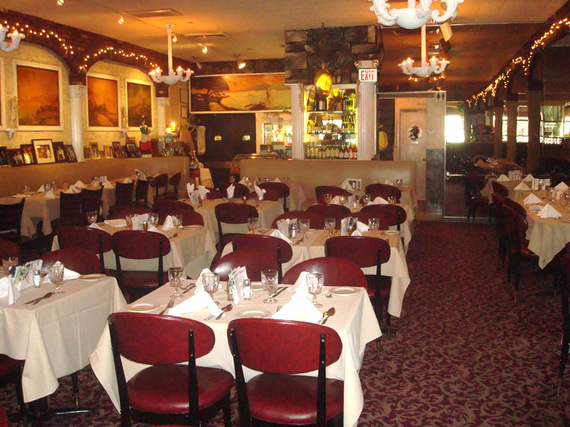 One of the oldest restaurants on Arthur Avenue is Mario's (above) , which started as a pizza window shop in 1919, and is still run by the Miglucci family, whose fourth and fifth generation members are always there to maintain an unwavering consistency--not just with the nonpareil pizzas but with superb linguine with clams, tender, light potato gnocchi in a bright tomato sauce, and tiny pink lamb chops you pick up by the bone to eat, called scottaditti, which means "finger burners." Freshness rules this kitchen and you taste it in the veal alla parmigiana, the mozzarella loaf called spiedini alla romana, and the hearty seafood stew zuppa di pesce.
Pizza is always served but after 6 p.m. you have to order something more, so treat a pizza as an appetizer, and don't miss the wonderful food afterwards. But to miss this great pizza is to miss a dish perfected over nearly a century in business.
And you will never be treated better in a restaurant than you will be at Mario's, whether you're a regular or on your first time through the door. The dining room (right) always looks festive, its murals evoke Naples, and the photos on the wall show that Mario's has long been a destination for every sports figure and movie star who have been guided to it. It's always an ebullient atmosphere, lighted so you see everyone in the room, which on weekends is packed, so I recommend going during the week to get a better sense of the charm of the place.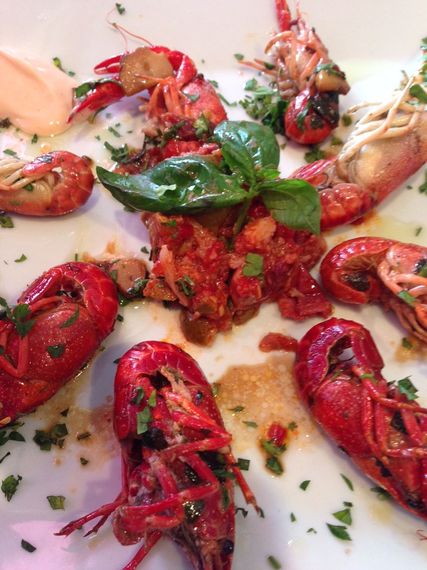 Across the street is a bright, very cheerful small trattoria named San Gennaro, where chef-owner Gennaro Martinelli is working outside the traditional menu with dishes based on what's freshest and seasonal in the markets from which they cull their seafood, meats and vegetables right there on Arthur Avenue. If there are crayfish (above) available for a day or two, you'll find them glistening on your plate with crushed tomatoes, olive oil and vinegar. Soft shell crabs will be lightly battered and sautéed crisp and golden, succulent within. Housemade ravioli, full of moist ricotta and graced with a ragù, are radiant and delicious, the linguine with tiny, sweet vongole clams is rich with garlic and served in the shell, and his spaghetti alla carbonara, with egg heated by the pasta itself, is textbook perfect. The wine list needs serious bolstering.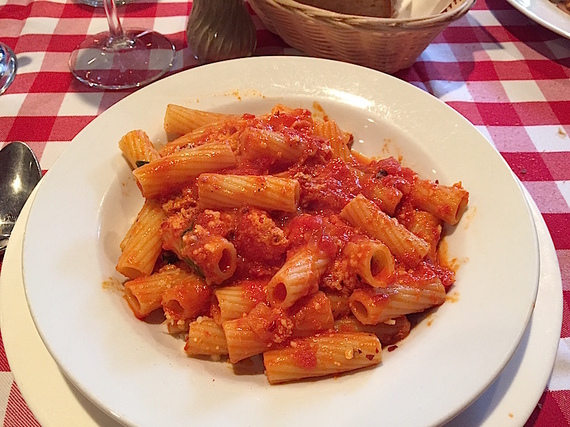 Over the past two years I've found myself returning again and again to Tra di Noi on East 187th Street, whose sunny dining room with the requisite red-checkered tablecloths is the setting for Chef-owner Marco Coletta's generous, highly personalized cooking, where regulars ignore the printed menu in favor of the blackboard of daily specials, which might include unusual pastas like fusilli with fava beans ($16.95) and rigatoni (above) in a spicy amatriciana sauce ($16.95). There is perfectly fried calamari ($12.95) and robust chicken alla scarpariello ($18.95) rich with garlic. The osso buco may be the best in the area. Marco hails from the Abruzzo province of Italy, so ask him if he's serving any of his regional favorites.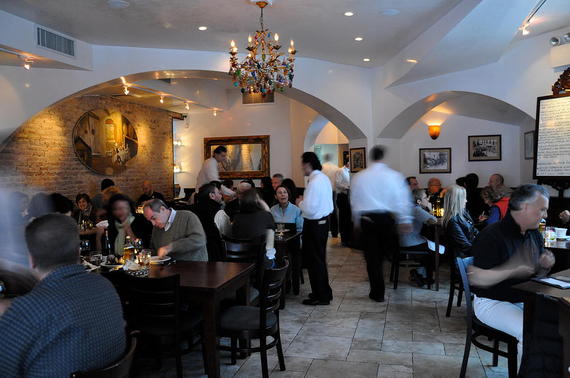 One of the culinary pioneers of the neighborhood is Roberto Paciullo, who 12 years ago opened a namesake trattoria that strayed far from the formulaic menus in order to focus on unusual dishes that may only be available that day. Roberto's (above) is where you go for dishes like tender rabbit braised with tomato and onions; spaghetti steamed with leeks and porcini mushrooms in a foil pouch; a massive sirloin slathered with melting Gorgonzola cheese; for an antipasto there might be short ribs with sun-dried peppers, bright arugula and a spicy olive oil; the special pasta one day may be tender risotto with cuttlefish and its purple-gray ink and shrimp. Soft shell crabs in season are crisp and full of fat. One of the simplest dishes is the best: fettuccine with parmigiano and shaved black truffles. In autumn those will be white truffles. And to finish, a lemony torta cake, all accompanied by the area's best wine list. Downstairs is a room bordering the glassed-in wine cellar, which is easily the best in the neighborhood.
And don't be surprised if you sit next to celebs like former Yankees manager Joe Torre, actress Marisa Tomei or TV chef Mario Batali.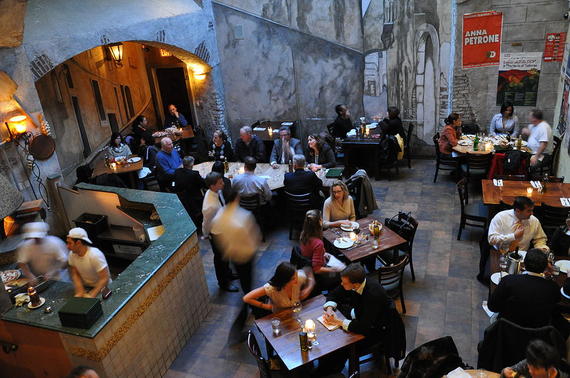 Roberto also owns Zero Otto Nove, which means 089 (above), the area code for Salerno, Italy, from which he emigrated. Having proven himself as a fine restaurateur, Roberto swore he would open a great, modern pizzeria--this in a neighborhood full of good ones--and he has succeeded (now with branches in Manhattan and Westchester County). Roberto became a local hero when he demolished a much-despised McDonald's to open in this two-story building, whose shadowy décor and corridors mimic the narrow streets of his hometown.
There is a big, open wood-burning pizza oven, and the pies themselves--13 varieties--are Salerno-style, with a crispy outer crust that mellows into a softer crust in the middle, with wonderfully fresh toppings like butternut squash puree, smoked mozzarella, pancetta ham, béchamel sauce, and porcini mushrooms. But the pizzas are only the beginning at Zero Otto Nove, whose menu offers fabulous baby octopus cooked in tomato sauce, lusty pastas like pasta e fagioli azzeccata baked with cannellini beans and prosciutto, and linguine in a silky black sauce teeming with calamari and cuttlefish. For dessert go with the Nutella pizza or the torta della nonna ("grandma's tart") with almond cream and pine nuts.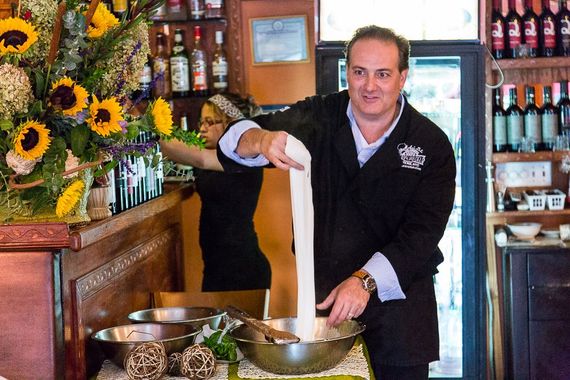 The best Italian charcuterie and hero sandwiches, along with an eggplant parmigiana that beat TV chef Bobby Flay's in a smackdown, is found at Mike's Deli, where the indefatigable David Greco (above) and his irascible father, Mike, stock a daunting array of salami, cheeses--including handmade mozzarella produced several times a day on premises--hams, marinated vegetables, and baked pastas that can be eaten at the tables adjacent to the deli. It's as close as you'll come in America to a true salumeria-trattoria of a kind you'll find all over Naples and Palermo, from which come many of the products David imports. He also supplies the cheery Bronx Beer Hall on the same premises, often thronged with Fordham University students, which proudly serves brews made at nearby breweries.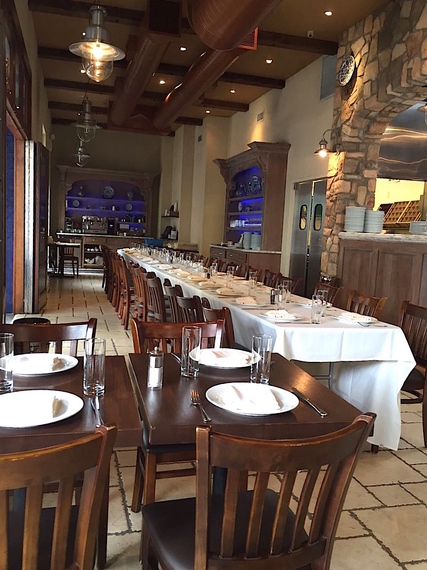 There have been some culinary intruders into the overwhelmingly Italian dining scene in Belmont, several from Eastern Europe, including the beautiful Blue Mediterranean restaurant (above), whose menu, while listing more and more Italian dishes, shows its real eminence in carefully, simply cooked Mediterranean seafood of very high quality, glossed with olive oil and a squirt of lemon. There's a friendly raw bar that serves an abundant seafood plateau for two ($55), rigatoni with mussels ($18), and, when available, wild shrimp and grilled langoustines (market price). Frankly, I haven't tried the Italian dishes here because I could never be weaned from the Mediterranean-style seafood that Blue does better than anyone else in the neighborhood.
I happily live just fifteen minutes from Belmont, which I've adopted as my second home. But if you go--and it's worth a trip from Manhattan by subway or, more easily, my Metro North to the Fordham station--the experience may become one that you will tell friends about wherever you live. Already on the weekends, tour buses arrive on Arthur Avenue from Westchester, Connecticut, and New Jersey, and there are Italians who long ago moved to Long Island who come back for what they can't find where they live. Nostalgia is always a draw--once or twice--but it is the quality and atmosphere of Arthur Avenue that makes it very, very special.