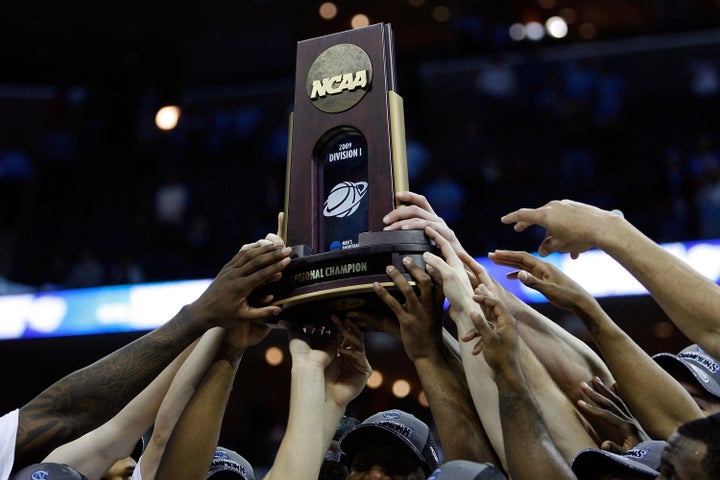 In the beginning, there are 64 teams. Each roster contains about fifteen players which means there are approximately 960 student athletes competing for the NCAA Championship trophy. The teams hail from thirty-two conferences; however, the majority of them come from six: ACC (9), Big East (7) Big 10 (7), Big 12 (6), SEC (5) and PAC 12 (4).
There are so many nuggets and tidbits shared about the NCAA tournament. Kansas City has hosted the most Final Fours to date with 10. The Connecticut Huskies are the only school to win his-and-her national championships in the same year. And, while the spotlight is on the men, it is the Tennessee Lady Vols who have been to the tournament every year since it was introduced in 1982.
We love these fun facts. They fill hours of pre and post game coverage. They give us fuel for debate. But, these next three are different.
Sudden cardiac arrest is the #1 cause of death of student athletes. Division 1 NCAA Basketball players have a 1 in 3,000 of experiencing sudden cardiac arrest. Seven teams this year have players with heart conditions (that's ten percent).
Dayton Flyers. Last year, Big Steve McElevene, helped lead his team to an NCAA tournament birth. He died at the end of the school year from an undetected heart condition. This year, his team took on Wichita State in the first round. Note: In 2013, Wichita State players Carl Hall and DJ Bowles were impacted by heart conditions. Carl continued to play; D.J. retired. In 2008, the Shockers lost Guy Alang-Ntang when he collapsed and died on the court.
Virginia Tech. Ty Outlaw sat out last season due to a condition called hypertrophic cardiomyopathy. This year, he and his teammates took on Wisconsin in the first round. Note: Michael Saxby, a high school student from Wisconsin collapsed on the basketball court this season. He was given CPR and shocked with an AED device. Fortunately, he survived.
Baylor. King McClure from Baylor was diagnosed with hypertrophic cardiomyopathy his freshman season. He received an implantable cardioverter defibrillator (ICD). He and his team are heading to New York to play in the Sweet Sixteen against USC. Note: Isaiah Austin, a Baylor grad, discovered his heart condition, Marfan Syndrome, during his 2014 NBA draft heart exam. He was forced to retire.
University of Nevada. Halice Cook played basketball for Iowa State and then transferred to University of Nevada. Both teams faced off in the first round. Halice was not on the court. After collapsing during a pick up game, he discovered a heart condition. He is retired from basketball but remains on scholarship with the team.
Oklahoma State. Tyrek Coger began his basketball career at Cape Fear Community College. He transferred to Oklahoma State University to play for the Cowboys this season. Seventeen days after arriving on campus, he died from an undetected heart condition.
University of Minnesota. Jarvis Johnson discovered a heart condition his freshman year. He retired from basketball but remains on scholarship. His team was upset by Middle Tennessee University in the first round.
Northern Kentucky University. Jalen Billiups graduated from NKU last season. He was one of two active players playing collegiate basketball with an implantable defibrillator. This year, the Norse lost to Kentucky in the first round.
Fortunately, the majority of these stories have happy endings. Unfortunately, it is likely due to luck. We do not have a plan in place to detect these heart conditions.
In September, a study was published in the American Journal of Cardiology. It was funded by Simon's Fund, the organization founded in memory of my son, and the National Collegiate Athletic Association (NCAA). Dr. Jon Drezner and team conducted physical exams on 5,258 athletes from 35 NCAA institutions. That is the standard protocol for our student athletes - a physical exam. The medical team was able to diagnose three players with heart conditions.
Following the physical exam, each student received an electrocardiogram (ECG). This non-invasive and inexpensive test revealed heart conditions in ten more students.
In basketball, strong offensive rebounding, low turnovers and getting to the free throw line increase a team's winning percentage. If a team does these three things, it has a better record.
In medicine, an ECG, coupled with a physical exam, increases the likelihood of discovering a life threatening heart condition. If a player gets his heart checked, he is safer, and in some cases . . . alive.
Since I started writing this post this week, two students have died. Darion Deshawn Verner collapsed and died in gym class. Xavier Carter collapsed and died on the basketball court. I bet that each of them had several annual wellness checks and sports physicals. We failed them.
I wish their families comfort and peace in the days and months ahead.
Over thirty million people will watch the NCAA Championship game. Over $9 billion will be wagered during March Madness. The real madness of March (and every other month) is that we can't direct some of this attention and money to try to solve this problem. Our kids will continue to die from detectable and treatable heart conditions until we do more to protect them (and we have a game plan). Our shining moment will be the day when we change the cardiac standard of care. Our children will get their hearts screened, just like their eyes and ears.