"Where else would you go other than Alan Rickman?"
That's how "Harry Potter" casting director Janet Hirshenson put it when asked about the actors considered for the role of Severus Snape in the "Harry Potter" film franchise. Hirshenson joined the production after another casting director had worked on the movies for a year and said Rickman was already locked in at the time. She had no argument.
"I don't know if that was the first initial one they reached out to or not but ... it was Alan Rickman," she said.
Today, we're more than a year removed from losing our favorite Potions Master. Rickman died in January 2016 at the age of 69 after a battle with cancer. The actor has an assortment of iconic roles under his belt, but "Harry Potter" fans know him best as the complicated and polarizing Professor Snape. His co-workers on the films, however, simply remember him as a remarkable person, a man who even once made an extremely sick child's dream come true.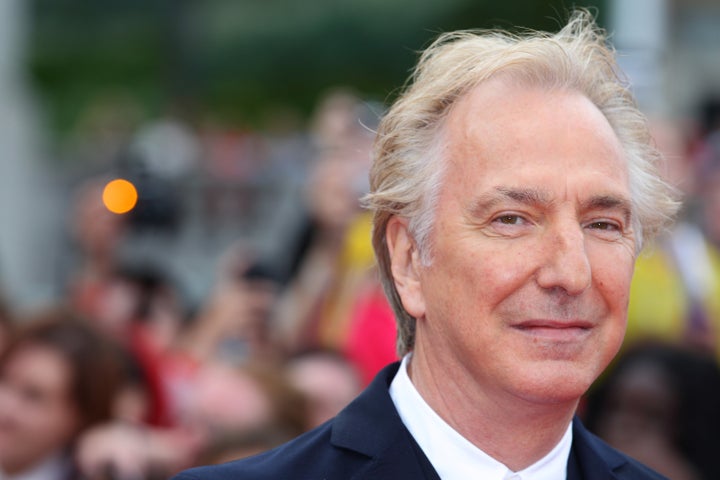 It's been 20 years since the "Harry Potter" book series debuted, and debate over its characters still rages on ― particularly over Rickman's character, Snape. Is he a Half-Blood hero? Is he The Jerk Who Lived? Even J.K. Rowling has struggled with how to bring him up without causing a brouhaha (or in honor of witches, a brew-haha?).
As Daniel Radcliffe, Emma Watson and Rupert Grint grew and changed during the films, Rickman's controversial character remained an unwavering staple, even down to his wardrobe.
Costume designer Jany Temime instituted major wardrobe changes when she joined the franchise in the third film, "Harry Potter and the Prisoner of Azkaban." For proof, just check out Professor Filius Flitwick's changing looks. However, Snape's outfit remained largely the same.
Temime told HuffPost, "When I arrived on [film] No. 3, I looked at all the costumes, and the only costume I kept was the costume of Snape, which I thought was perfect. I thought it was exactly Snape. We remade a cape ― we made a cape bigger. But I liked how tight it was. And also, Alan Rickman loved it. He loved it."
The costumer did admit there was one small alteration.
"The only thing we did is that every time Alan Rickman was going to holidays in Tuscany and coming back with two or three extra kilos, we made it bigger without telling him. That's the only thing we did, but it was the same costume," she said.
Snape's signature black robes had an ominous presence that the actor himself noticed.
"As soon as I put that costume on something happens. You can't be someone else inside that outline. It has an effect on me," Rickman once said of the outfit.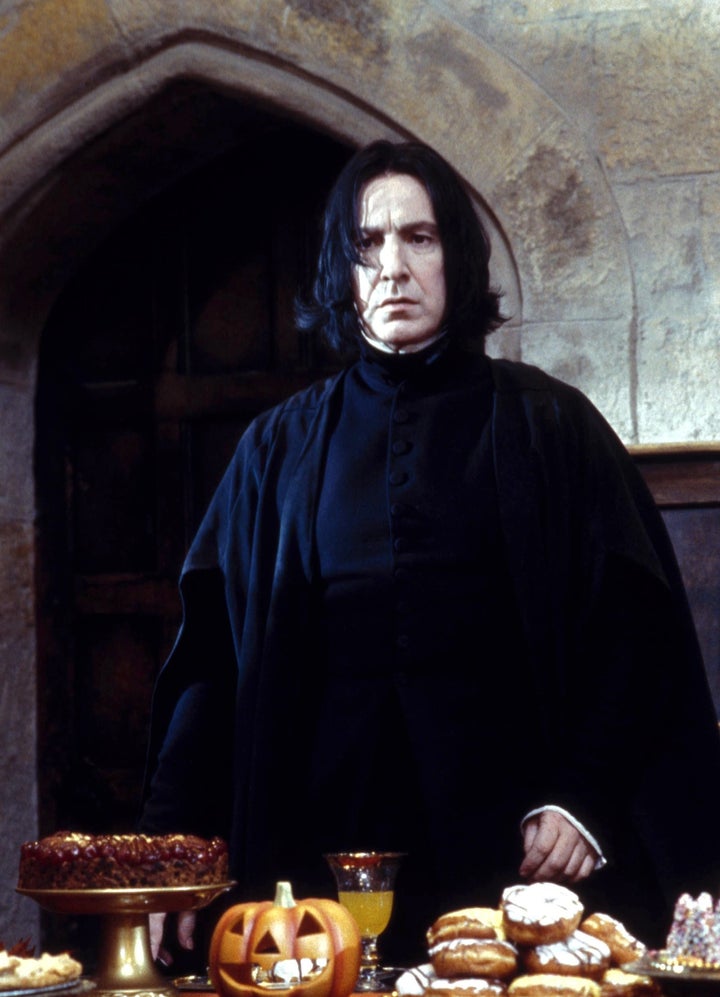 It had an effect on the other actors, too.
Oliver Phelps, who played George Weasley in the films, told HuffPost, "I was intimidated by him, I think, just because you're looking at this guy in a big cloak and everything."
Snape's formidable presence on set is a testament to Rickman's talent for embodying a role as if he'd taken Polyjuice Potion for it. Once you got past that frightening facade, you'd find a person who was "really funny, and self-deprecating and kind of wonderful company," as Daniel Radcliffe put it during a past conversation with Rowling.
Besides being a delightful person, Rickman staunchly supported his co-stars on and off the set. Radcliffe told Rowling that Rickman cut a vacation short to see the Boy Wizard perform in the play "Equus," and Phelps told us he once received acting advice from Rickman after giving him a lesson on MP3 players.
"I remember he'd just come back from an award ceremony, and they had given him an iPod, and he wanted to know how to work it. I was showing him how to do that, [and] on the same token I was sneaking in the, 'You know, in this scene I've got coming up here, how would you [do it]?' He was brilliant to actually give advice for it, and I was only about a 17-year-old kid at the time, but [Alan] was very to the point with me about it, which was cool," said Phelps.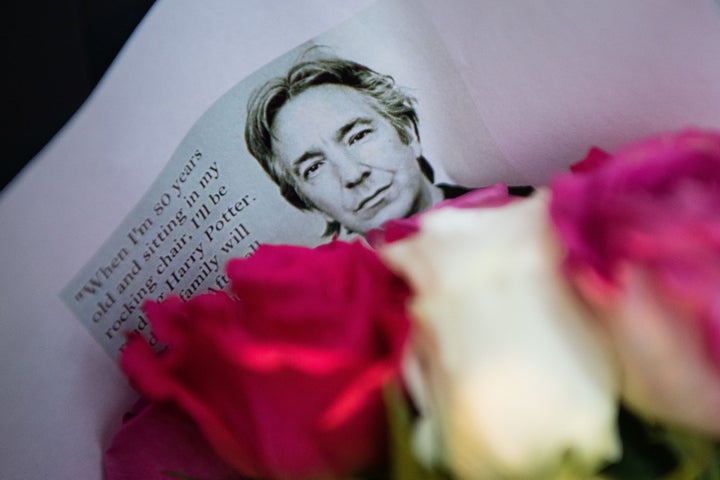 Perhaps the most memorable Rickman story comes from producer Paula DuPré Pesmen.
The producer worked on the first three "Harry Potter" films, and also took it upon herself to be the point person for organizing set visits for terminally sick children. This would later lead her to leave movie producing and start There With Care, an organization that helps provide fundamental services to families with children facing serious illnesses.
DuPré Pesmen told us the entire cast was "so gracious" during the children's visits.
"Dan, Rupert and Emma, and Tom Felton and Devon Murray, especially those kids, when I would have sick children with me on the set they would come straight up to me and start engaging with these kids and take photos with them and ask, 'What've they seen so far? What was their favorite part of the film? What was their favorite part of the day?'"
She reminisced about a number of touching memories from the set visits, including a time a young boy got to help direct a scene with Radcliffe in "Chamber of Secrets." After the scene, the boy ran up to Radcliffe, threw his arms around him and said, "I love you, Harry."
"All of us were in tears, the director [Chris Columbus], the cast, the crew, we were all tearing up. But it was such a beautiful moment, and Dan was so sweet with him. That's the purity of 'Harry Potter.'"
One of the most memorable visits comes from a boy named Jay.
Jay, a child diagnosed with Stage 4 neuroblastoma, was excited to visit the set, "But what he really wanted was to be in the film, not just visiting," DuPré Pesmen added.
"I said, 'Well, we can't really do that, and you're already here.' Alan [Rickman] came over and introduced himself to Jay, and Jay was so happy to meet him. He was really knowledgeable. He was about 15 at the time, and he knew a lot about Alan's other films, and Jay mentioned to Alan that what he really wanted to do was be in the film."
Then, something magical happened.
"Alan looked at me, and he kind of went into his Snape-mode in costume, and said, 'Why isn't this child in the film?'" recalled DuPré Pesman. "Everyone had a good laugh, and Alan took him by the hand and put him into the crowd of kids as they were panning across. The back of him is actually in a shot."
The producer told us the moment happened in Remus Lupin's Boggart class during "Harry Potter and the Prisoner of Azkaban."
"Alan put him in, and it was from the back of the classroom looking over the backs of the kids," she said.
Though Jay's shot apparently wasn't included in the final cut of the film, DuPré Pesmen said he was thrilled.
"[Jay] was very happy that Alan did that for him," she told us.
Sadly, like Rickman, Jay succumbed to cancer. He died in 2005. DuPré Pesmen credits Jay as one of the founders of There With Care, and if you're wondering, he did actually end up in another movie.
"[Jay] was there. He had a moment."
The producer said she and Chris Columbus pulled Jay out of the hospital for a few hours one day and put him in a scene from "Rent," which Columbus directed.
Jay may have not been in the final cut of "Prisoner of Azkaban," but the producer said, "[Jay] was there. He had a moment," thanks to Alan Rickman.
Whatever you think of Snape, there's no denying the character of the man behind the black cape.
So do we miss Alan Rickman? Even after all this time?
From June 1 to 30, HuffPost is celebrating the 20th anniversary of the very first "Harry Potter" book by reminiscing about all things Hogwarts. Accio childhood memories.
Related
Before You Go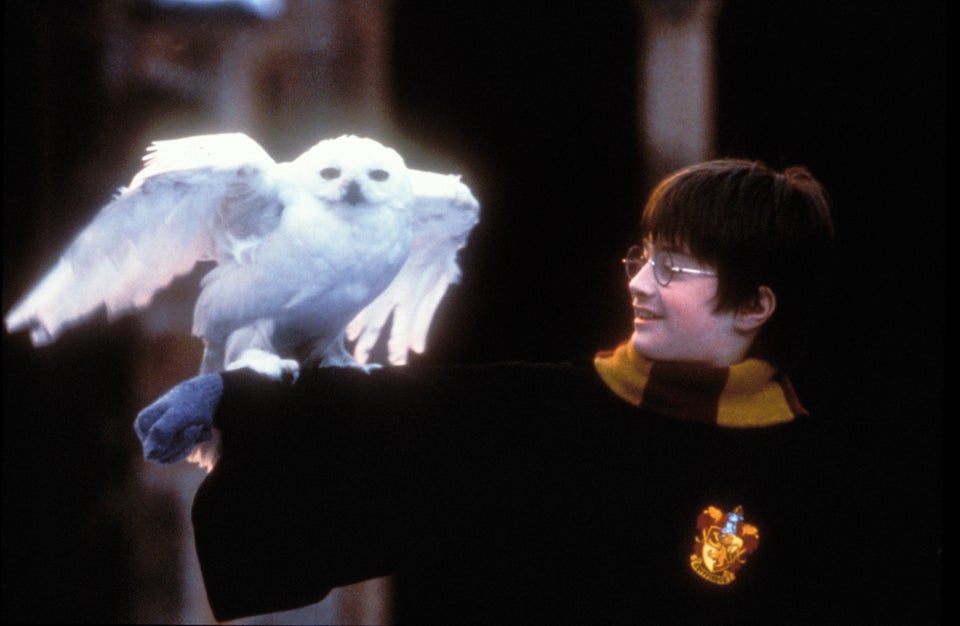 'Harry Potter': Where Are They Now?