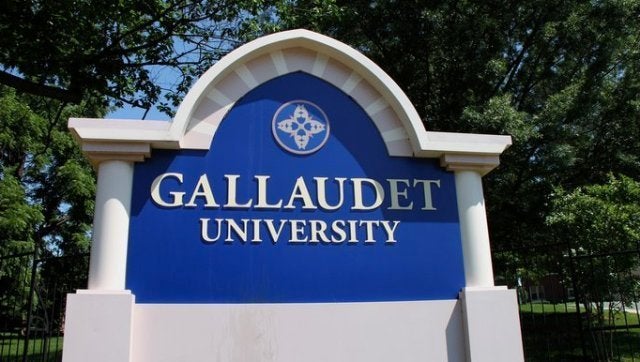 On July 12, 2012, Angela McCaskill, Gallaudet University's Chief Diversity Officer, signed a petition supporting a referendum on same-sex marriage in the state of Maryland. When her action became public, it led to an uproar at Gallaudet University, to her being placed on paid leave, and to national attention.
Currently, an assortment of advocacy groups, including the Family Research Council, Marylanders for Marriage Equality, the National Black Church Initiative, and the Human Rights Campaign, have lined up against Gallaudet's decision to place Dr. McCaskill on leave and urged university president Alan Hurwitz to immediately reinstate her. Maryland Gov. Martin O'Malley and Lt. Gov. Anthony G. Brown have also pushed for McCaskill's reinstatement. When have the Family Research Council and the Human Rights Campaign ever been on the same side of an issue? That in itself is an impressive statement.
But it begs a question that no one seems to be asking: In the face of this unification, why would President Hurwitz not reinstate Dr. McCaskill posthaste? The reason is actually very simple: Gallaudet's students don't want him to reinstate her. At least, not yet.
Eager to score political points, the politicians, advocacy groups and national media miss the student position and the heart of the matter. Not one of them has asked what the Gallaudet students feel and desire. So let's ask: Why do Gallaudet's students resist the idea of immediately returning Dr. McCaskill to her previous position?
First, understand that respect for diversity affects them on the deepest personal levels. They are all minority students, part of the seldom-seen, seldom-heard deaf minority. It can be incredibly difficult to find common ground and understanding between deaf and hearing people, more so than between races and sexual orientations. For deaf students diversity is not a politically correct buzzword. The support of diversity programs and laws are some of the most powerful tools Gallaudet students have in their quests to have satisfying lives rich in opportunity.
Dr. McCaskill's actions affected them deeply. To a 19-year-old university student struggling to come to terms with his sexuality and his hearing loss, Dr. McCaskill's signature on the petition was not a statement on democracy or free speech but was a statement on his own individual struggles to be seen and accepted and more at ease within his skin.
Assisting that student is the abiding mission of Gallaudet. Helping students grow into their most empowered selves is the cause of all liberal arts institutions. President Hurwitz could never take any stance other than supporting that student's delicate struggle. The decision to place Dr. McCaskill on leave while the university addressed the fallout from her actions follows from that.
It has been disturbing to watch politicians and special interest groups run roughshod over the university's internal dialogue. The vehemence and energy of those opposing Gallaudet (now they plan in-person protests) and their refusal to even consider the student position reinforces to those students that their opinions and emotions are disregarded.
Another thing that makes the McCaskill controversy so delicate for the university is the astounding diversity of its community. To outsiders it can seem that Gallaudet is made up of an extremely one-note population -- that is, deaf -- but it is actually as diverse an academic population as you will find. Students come to Gallaudet from all over the country and the world (46 states and 22 countries in 2010), and they bring different religions, skin colors, cultures, communication styles and sexual orientations. Students from the Far East often bring culturally internalized notions that their deafness is karmic retribution for past-life improprieties. Students from Africa are a generation removed from being left in the bush to die for the crime of being deaf.
Such diverse backgrounds demand incredible sensitivity on the part of the university administration and specifically its Office of Diversity. Getting the students to trust other deaf groups, not to mention the larger world, can be a painstaking process. The only way to meet this challenge is with a continued emphasis on all-inclusive diversity, something that, unfortunately, Dr. McCaskill's actions, on their face, do not support.
These students arrive from all over the country and the world oppressed not just by prejudice but by laws and isolation and marginalization. A huge part of their collegiate experience is learning to cherish all that they are, including the very thing that, for their entire lives, society and their peers and families have consciously and unconsciously told them is a tremendous burden.
To have that expression trampled by such powerful groups as the Family Research Council and the National Black Churches Initiatives is disgraceful. Shame on them for immediately determining that their political agendas were more important than the students affected by the principles of diversity every day. The students should be commended for handling being pushed to the side of their own story with grace. President Hurwitz and the university administration should be commended for respecting their students' feelings and processes. Keep in mind as well that at no point has Gallaudet said it did not want Dr. McCaskill back; it just wants to respect the community's process.
In principle, respect for diversity and opposition to same-sex marriage are not incompatible, nor are supporting same-sex marriage and supporting a referendum to take it away. But to the 19-year-old student struggling with his identity and self-worth, they are hard to reconcile, and our focus should not be on picking winners or assigning blame but on showing him that in our complicated and diverse American culture, we're all in this together, and his feelings have as much value as anyone else's.
Calling all HuffPost superfans!
Sign up for membership to become a founding member and help shape HuffPost's next chapter