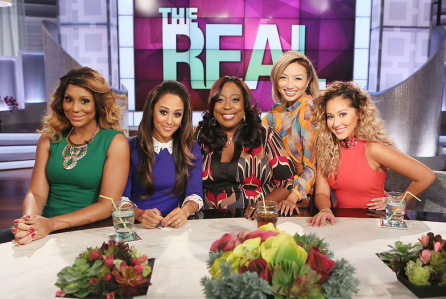 Diversifying television is not a hard battle. It's just one that you have to choose to embark on.
At a time where our favorite sitcoms, soap operas, and reality television obsessions can all be found online, talk shows are the key piece of television production that are still watched as they were many years ago -- on a television.
But with one foot in the mouth moment after the next, is there really any major difference between your female talks show?
No -- except for the Warner Brother's and Rachel Miskowiec produced talk show, 'The Real.'
Originally airing on a four week trial basis in the Summer of 2013 the ensemble -- led by actress Tamera Mowry-Housley (of Sister, Sister fame), Tamar Braxton (currently on this season of Dancing with the Stars), Loni Love (comedian), Adrienne Bailon (actress), and Jeannie Mai (fashion consultant) -- the one hour talk show was quick to gain rating and viewer success.
TV already had its all-female ensemble talk shows with CBS's 'The Talk' and ABC's 'The View.'
What makes the 'The Real' any different?
While it may be referred to as an "urban" talk show, the ensemble is led by women of both diverse ethnic and professional backgrounds. Although the same can be argued for similar competitors, 'The Real' chooses to tackle the topics that make them different.
It therefore becomes a topic you want to watch and just not listen to.
Take Ms. Braxon -- she is your outspoken, over-the-top female that you enjoy having fun with, but connect with when she speaks of issues of bullying and her battle with vitiligo. Ms. Mowry, who is married to Fox News Channel Senior Correspondent Adam Housley, steals the show when she talks about her experience as a mother of two children. It is on the show that viewers have gotten to witness her journey pre- and post-pregnancy.
It is only a few weeks ago that Tyra Banks and Chrissy Teigen followed their model receiving praise for sharing their pregnancy struggles on the new ABC talk show, 'FABLife.' Soon after, the talk show aired a segment where the hosts "got nude" by taking off their makeup on camera (something the host had already done many time before by taking of their makeup, appearing with no makeup, and wearing casual clothing on screen).
So is being open with viewers the secret to talk show success?
Love, the comedian and mom of the group (Love is 44 years old while her co-hosts are in their 30s) has also shed a different side of her famed comedic persona sharing her weight and relationship struggles while also discussing life before and after her divorce and her experience switching from working as an engineer to a comedian.
Mai and Bailon, whom identify as Asian and Latina (respectfully), have not been afraid to tackle the issue of race. Ms. Mai has discussed working in the fashion industry as an Asian American woman. Bailon has also not been afraid to discuss her cultural upraising and expectations as a Latina women.
Maybe viewers don't want to divulge into such heavy topics during their morning routines. But these female talk shows have to become conversations instead of debates to keep viewers tuning in.
I'm sure that other female talk show hosts have similar diverse background. But do these shows have to be labeled "urban" in order to get their hosts to talk about them?
Even the beloved Ellen, who can arguably be referred to as the queen of female television, talks about the importance of accepting people for who they are, but doesn't mention her experience as a lesbian even when people praise her for helping them share their own similar journeys. It's like being known as a lesbian is enough of a conversation.
I am not asking for these female hosts to break down on screen and share stories from a diary. I think as a female, millennial, and Latina women, I just want to see women continue the conversation and continue to share their stories with their viewers and not expect certain facts or characteristics to do all the talking for them.
Talk shows are talk shows. Daytime talk shows -- in particular -- are dominated by women but don't draw in as much attention as their male counterparts. More often than not, women are not taking seriously while men find it easier to get more prominent figures on their shows. It's not too late to change that.
'The Real' talk show model is not one that is difficult to reproduce. Just get females who are willing to start talking.
REAL LIFE. REAL NEWS. REAL VOICES.
Help us tell more of the stories that matter from voices that too often remain unheard.