We've all been there: never-ending shopping trips to find that perfect pair of jeans that fit you in all the right places ... only to be disappointed a few short months later by their not-so-perfect bagginess in key areas like the bum and the knees.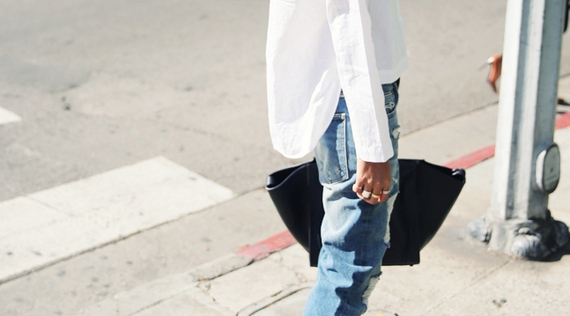 You even bought a pair with a little stretch it them, thinking that's what would keep your shape in check. So what's the deal?
Good news is: It's not you. It's actually due to the fiber content of those babies. Most "stretch denim" is a combination of cotton and spandex, versus traditional denim, which is 100 percent cotton. And that spandex--while curve-hugging in the beginning--loses its elasticity over time, causing that awful sag right below your derrière.
Our solution? We're not saying you should forgo stretch denim all together, but maybe when you do buy it, opt for a cheaper pair (say, those Old Navy high-rise skinnies), and save your shopping splurges on pure cotton denim (oh heyyy, Acne Studios) that will hold its shape for seasons (even decades) to come.