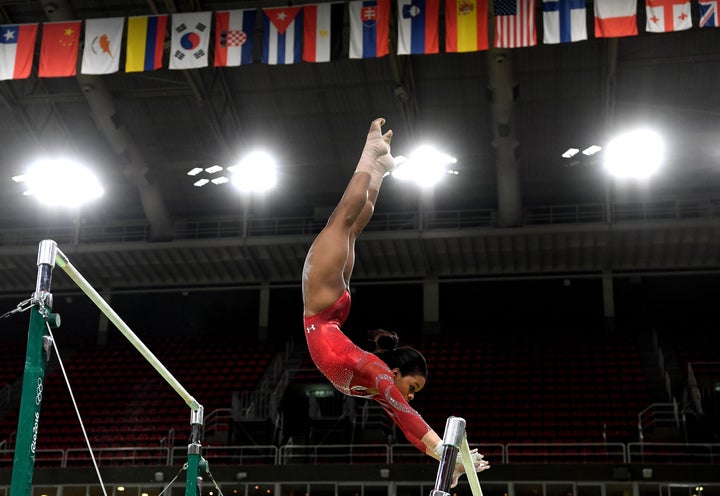 It's not just Olympic viewership where the sport is popular, either; across the nation, at hundreds of clubs, close to 74,000 American girls and women are doing artistic gymnastics (the official name for the version of the sport that involves vault, uneven bars, balance beam and floor exercise), according to numbers provided by USA Gymnastics.
It might not be the NFL or the NBA, but gymnastics is big here. Americans love gymnastics, and the popularity of the women's side of the sport considerably outweighs that of the men's.
Some of that popularity is due to the breathtaking daring involved: There are few things more thrilling than watching a gymnast launch herself into a tumbling series on the 4-inch-wide balance beam, or watching her whip her body around the high bar into a dazzling dismount followed by an improbable rock-solid stuck landing. Gymnastics, as gymnasts and coaches know, is physics; it's governed by the rules of inertia, momentum and rotation, like the rest of the world. To outside viewers, though, it can seem more magic than physics ― how else to explain how these young women manipulate their bodies into feats that ought to be physically impossible? No wonder it's a must-watch on NBC every four years.
There are other reasons why gymnastics is one of the most beloved sports at any Games, though, and they're less about the magic of the sport than they are about how gymnastics stretches cultural norms around women's bodies and women's sports only as far as we're comfortable. They're less about the delight viewers feel at seeing a gymnast stick a galactically high vault than they are about how the sport walks the fine line of pushing boundaries while compensating for its transgressions against gendered expectations.
In her new book The End Of The Perfect 10, gymnastics journalist Dvora Meyers documents the sport's shift to a new scoring system with theoretically limitless scoring, in which the difficulty of a gymnast's routine and her execution of it are evaluated separately, with the two scores added together to produce a final score. The goal of the new Code of Points was to find a way to reward gymnasts for attempting increasingly difficult routines and discourage them from playing it safe in order to perform perfectly ― and to recognize when routines were being performed well. It was implemented in 2006, and 10 years on, one thing is clear: The sport has become dramatically more athletic.
Gymnastics has always tended toward increasing difficulty; the vaults that were being performed by Olympic champions in the 1970s and 1980s are now considered easy enough for lower-level gymnasts to perform. Watch a video of Soviet gymnast Olga Korbut vaulting at the 1972 games and a video of American Carly Patterson vaulting at the 2004 Games, the last to be held under the old Perfect 10 scoring system, and it's clear that there's been some difficulty deflation.
But the new scoring system, Meyers argues, has accelerated that phenomenon, because the new Code of Points puts a greater emphasis on acrobatics and tumbling over the dance elements that used to be common on floor and beam. The result, says Guardian sports journalists Elizabeth Booth, is that "gymnasts have become athletes." The ideal body shape for the sport has changed, yet again, from improbably strong but short and skinny, or with long, balletic lines, to spectacularly muscular, with an even greater emphasis on the strength of lower body muscles required for explosive tumbling and vaulting.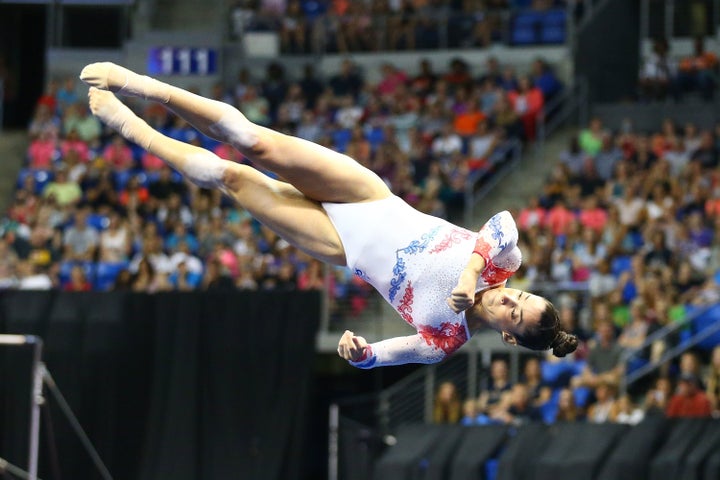 Gymnasts have become athletes. Crucially, some of the more difficult vaults and tumbling tricks are ones that were pioneered by male gymnasts and that women are now attempting and mastering. And as the sport has become more difficult and the gymnasts more undeniably, mind-bogglingly strong, the aesthetics of the sport have changed to emphasize their femininity, as if to compensate and reassure those who view femininity and athleticism as contradictory.
For one thing, if you watch the Games this week, you'll notice that the gymnasts are heavily made up, as they are in most competitions. Until recently, the U.S. gymnastics team had a sponsorship deal with CoverGirl. Sometimes, the team will compete in matching bold red lipstick, as they did at last year's World Championships in Glasgow. Gymnasts have long worn makeup in competition, and when you consider the number of cameras being pointed at them, beaming close-up images of them around the globe, you can understand why. But in recent years, watching gymnastics competitions has left me wondering ― especially since makeup was prohibited in meets when I was a gymnast in the late '90s and early 2000s ― when they find the time on meet days to apply so much of it.
So it goes for jewelry, which was similarly prohibited when I was a gymnast. We were not permitted to wear jewelry of any kind ― no earrings, no necklaces, no navel rings, nothing. At the risk of bearing too close a resemblance to an old man yelling at a cloud, I would say this seems like a necessary rule, for obvious reasons. Jewelry gets caught on things, it bumps against your body and distracts you, it can come off and go missing in the gym. An earring on a gymnast always looks like a bloody mess waiting to happen ― what's to stop it from getting caught on a coach's sleeve while she's spotting you and tearing out of your earlobe? Yet earrings are now permitted in international competitions, provided they're studs, and they're commonplace.
And then, there's the sparkles. As the New York Times documented this week, international gymnastics is experiencing something of a sparkle arms race, with leotards becoming increasingly crowded with crystals. In 2008, the Times noted, Olympic Champion Nastia Liukin won her medal in a leotard that featured 184 crystals. Four years later, Douglas' leotard had 1,188 crystals. This year, the Team USA leotards have 5,000 crystals ― each.
The combined effect ― of the makeup, the jewelry, and the glitter ― is an impression of a concerted effort to convey that these girls may well be athletes, but they are still girls.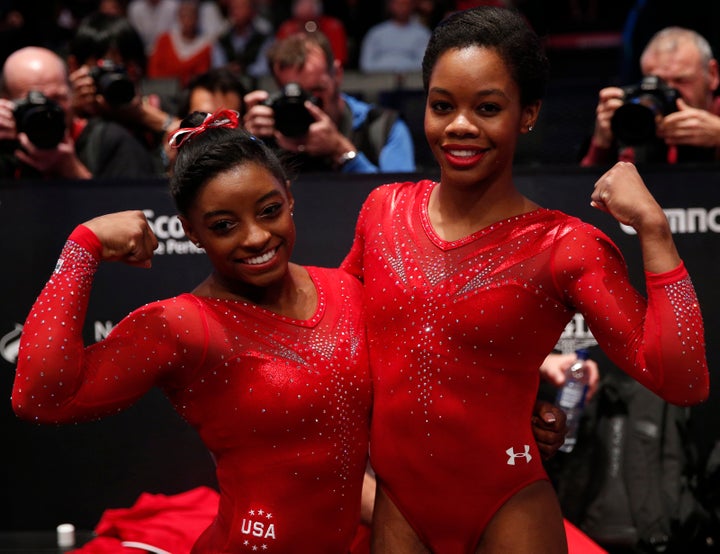 Meyers agrees that a desire to compensate for athleticism with sparkling displays of femininity may explain the Swarovski surge. She also allows that there may be other factors at play; elite gymnasts tend to compete longer and therefore be older than they once were, "so maybe they can express their aesthetic preferences a little better." The same goes for makeup, she says: Because the gymnasts are older, "they're given a little more permission to play with makeup than they used to have, and they're a little older, so maybe they're allowed to assert themselves a little better."
All the same, the dramatically increased difficulty of the sport has coincided with a noticeable shift in the gendered self-presentation of gymnasts, and the two would appear to be connected.
Recent changes aside, there are other reasons why gymnastics appeals so widely that have less to do with the sport itself and more to do with cultural expectations of girls and women. For one, as Meyers notes, gymnastics is not strictly adversarial: The athletes compete against each other, but each routine, each gymnast's performance, exists independently of all the others. They aren't chasing and tackling each other to gain possession of a ball or aiming shots at each other's goals. They're competing against each other, but there is no physical contact of any kind, and each routine is a performance that, in theory, shouldn't be influenced by the rival who performed immediately before.
It's probably no coincidence that one of America's most popular women's sports is one in which athletes perform more than they compete. This is a form of feminine athletic involvement we're comfortable with; even though they're throwing themselves around in skin-tight leotards that show every line in their six-packs, they're competing in an appropriately feminine way. This may also account for the relative unpopularity of men's gymnastics, which is similarly non-adversarial; America's most popular men's sport is one in which athletes pummel each other to the point of causing permanent and debilitating neurological injuries.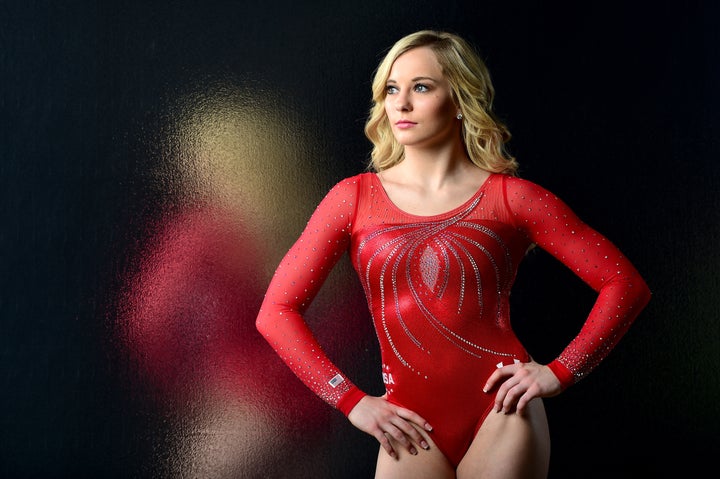 Finally, there's the ways that media coverage of gymnastics encourage viewers to focus on gymnasts' bodies, muscled and athletic though they are, in ways that are perfectly in keeping with a culture that objectifies the female body and often undermines women's abilities and achievements by emphasizing their physical appearance. It's evident in press shots of gymnasts wearing leotards but with their hair down and flowing, instead of pulled back tight as is necessary for training and competition ― as if to reassure the viewer that they're athletes, but they're also women.
It's evident in the ways that commentators comment on and compare the size and shapes of gymnasts' bodies, in terms that have varied, over time, from excessively frequent to downright creepy. And it's obvious in the tendency of media outlets to feature photos of gymnasts with their legs wide open and their crotches facing directly to the camera. Clearly, these photos are spectacular ways to convey the strength and flexibility of gymnasts, but the widespread reliance on the "crotch shot" to communicate that idea suggests at best a lack of imagination, and at worst a sexualization of world-class athletes, some of whom are very young indeed.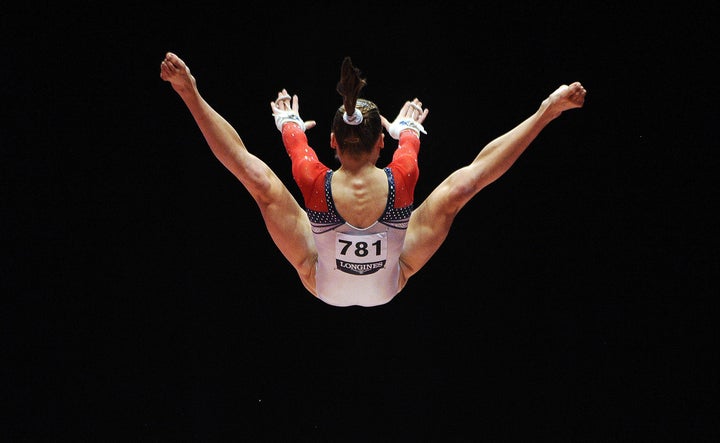 In short, one of the ways in which gymnastics is made palatable to ― and wildly popular with ― a mainstream audience is by making it more closely resemble the rest of the world, where women are valued not for what their bodies can do but for how they look. It's a world where women's achievements, be they athletic or intellectual, are often perceived to be at odds with their ability to perform a particular kind of femininity. A world where women and girls often feel pressure to cushion the transgressive impact of their excellence in athletic or intellectual fields ― long viewed as the province of men ― by emphasizing that femininity, with sparkles and lipstick.
There are many reasons to love gymnastics. For me, the love is rooted in memories of my own gymnastics career, and in my awe at the strength, tenacity and fearlessness of little girls, whether or not they grow up to be Olympic champions. It's easy to enjoy the sport for its death-defying tricks and its sparkly glamor. But as we tune in to watch this year's highly anticipated competition, we should remember there are other, less savory reasons for the sport's appeal: Even as it challenges us to see girls and women as exceptional athletes, it reassures us that ultimately, they will be kept in their place.
For more Olympics coverage:
Related
Popular in the Community