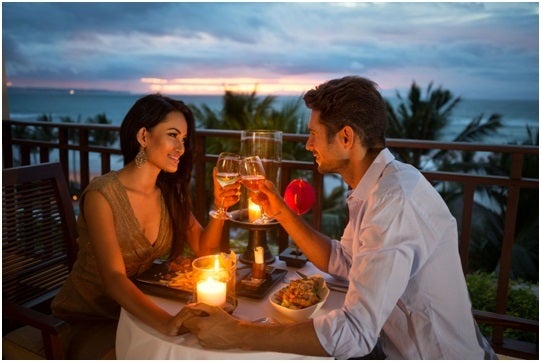 Bali, it's the Island of the Gods, long stretches of untouched coast, lush rice fields, dense jungles, and abundant lavish spas. For those of you, who've never had the pleasure of visiting Bali, you'll soon discover that it is the paradise in the midst of Asia everyone's been talking about.
So what makes Bali so desirable? Why is Bali the ideal honeymoon location? There are more reasons than you might think!
Bali's Sunsets Are Something Else
With numerous stunning dramatic backdrops, Bali's sunsets are some of the best. There's Nusa Penida Temple, which offers a display of beautiful golden hues in the backdrop. There's Yeh Leh Beach with its cumbersome boulders scattered across a deserted beach that paints a romantic picture as the sun finally bids farewell for another day. And of course Potato Head Beach with its luxury resort setting, palm lined shore and leveled bars is the perfect romantic spot in Bali to enjoy one of the finest cocktails you'll ever try while taking it all in as the sun goes down.
Private Chefs and Personal Butlers
Forget eating at busy tourist packed restaurants on the Legian strip. Bali has a number of fabulous and very private dining areas that cater to those in search of romance. Treat yourselves to a romantic dinner for two with your own private waiting staff and feel what it's like to dine in paradise, away from everyone else, butwith the person you love.
The choice is immense. Feast on aromatic truffle parcels, grilled baby octopus, succulent oysters and other delicious treats on your tailor-made exclusive aphrodisiac picnic. Yes, there's such a thing – look it up!
Hire out your own private cave in Nusa Dua away from the masses and sit in darkness with the natural moonlight setting the mood. This is privacy at its best. Who wouldn't want to dine on caviar, fruits of the sea, and mouthwatering beef filets cooked to perfection?
If the cave isn't enough, maybe your own private cabana will be. With your own private chef and custom menu, this honeymoon dinner in Bali will be one to remember.
Bali Spas and Treatments Galore, Oh My!
Need pampering? Who doesn't? Bali's spas are up there with some of the best, but that's not the best bit, they're also super affordable, meaning you could indulge in romantic couple pampering sessions on a daily basis. Where else could you do this? And there's one thing the Balinese do well - it's massages – they know how to work those hands!
Let's Not Forget Bali's Beaches
Romance on the beach; it sounds a bit cliché, but Bali's plethora of beaches will certainly satisfy you on many levels whether you like to indulge in some intimate private time on a secluded Bali beach or you'd prefer to head to livelier beaches and get adventurous in the sea with your partner (snorkeling and diving that is). One thing's for sure, Bali's beaches are charming. If you don't believe in falling in love over and over again, you will once you've set foot onto Bali's romantic beaches for lovers.
Bali's amazing, yes, but when you go to Bali on honeymoon, you'll also get the chance to discover all those other stunning surrounding islands that are equally as enchanting.
The great thing is that every island has its own unique personality – it's bewitching, and they're literally a stone's throw away so if you've got the time, they're definitely worth checking out.
Moyo Island is chic and renowned for its natural beauty and peace. Nusa Lembongan is for those romantics who want a slower pace of life. Nusa Ceningan is rustic and a true hidden gem. Nusa Penida is 100% pure and undeveloped, making it a true hot spot for romantics looking for peace and quiet. And if it's culture and contrast you're after, Surabaya, or Little China as it's more commonly known as, is fascinating.
You'll Never Grow Bored in Bali
Sun, beaches and long walks are all part and parcel of a honeymoon in Bali, but there's also no shortage of exciting activities for couples. Explore the beauty below the sea snorkeling or diving, climb a colossal beast and go on an elephant safari, or if you're game, hike to the top of Mt. Batur for some stunning and out of this world scenery and panoramic views.
Bali Villas Are Pure Luxury
Of course, there are numerous luxury 5-star hotels in Bali, but there's something even better, the Bali villa! The epitome of luxury and privacy, Bali luxury villas surpass any other in the world.
Often cheaper than the very best 5-star hotels, Bali villas are second to none in terms of affordability and luxury. Pools, spas, saunas, and private waiting staff…you can have it all for a fraction of the price of private vacation rentals elsewhere.
There's no doubt that honeymooners are flocking to the shores of beautiful Bali for a reason. It's certainly the land of contrasts, but most of all, this exotic isle is perfect for honeymoons. Love and romance are far better at a beach in Bali, so what are you waiting for?
Calling all HuffPost superfans!
Sign up for membership to become a founding member and help shape HuffPost's next chapter
This post was published on the now-closed HuffPost Contributor platform. Contributors control their own work and posted freely to our site. If you need to flag this entry as abusive,
send us an email
.