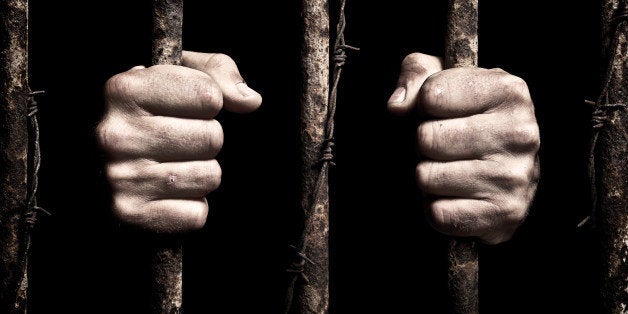 Numbers are tricky. Studies are done. Reports are written. Statistics released. And then people take the numbers and run with them, waving them like protest placards claiming how the numbers prove or disprove some long held "truth." The Right does it. The Left does it. We all do it. Maybe there's a tiny toggle in the human genome that manipulates us to manipulate the numbers. That's why I've never liked numbers, never trusted them.
I saw this all play out in a recent Boston Globe Op-Ed piece about the high rates of recidivism in U.S. prisons. Using the most recent data from the Bureau of Statistics, the numbers roll out: Within six months of being freed 28 percent of former prisoners were arrested for a new crime; three years, 68 percent; five years, 77 percent. Twenty-nine percent of the returnees had been arrested for violent offenses; 38 percent for property crimes; 39 percent for drug offenses; 58 percent for public order crimes. I think everyone would agree that the numbers paint a pretty bleak picture.
But this is where the numbers get tricky. The article insists that these statistics prove that efforts at prison reform and rehabilitation don't work. Criminal justice experts have been searching for the "holy grail of rehabilitation" for years -- 40 according to one expert quoted -- and nothing has worked. The article then goes on to suggest that since this holy grail is so elusive, since so many criminals leave prison "only too ready to offend again," we have no option but to continue our present practice of mass incarceration, thus maintaining the U.S.' global position of locking up 25 percent of the world's prison population while being only 5 percent of its general population.
This is why I don't trust numbers. In these studies and reports people are treated as mere chits in the final count. No one notices that each one of those hatch marks is an individual, a real person -- prisoner, inmate, offender, criminal, con, whatever you want to call them -- living a life behind bars that few of us can imagine. That is the real story behind those numbers: a man or a woman, young or old, trying to survive in a prison culture that is designed -- in the name of justice -- not to nurture change but to demean; a system that punishes by deprivation: lack of proper nutrition; of adequate medical and mental health care; of physical, sexual and psychological safety; of meaningful work and education.
So where's the mystery to recidivism? It is obvious -- basic Social Science 101, basic parenting or human interaction. How you treat people is how they will act. Living under present day prison conditions, day after day, for years, can only foster more bitterness, anger, and despair; can only result in more crime fueled by vengeful feelings upon release.
And that "release" is another crushing blow to the ex-offender's chances of making it. Many find themselves barred from public housing, food stamps, certain jobs and the right to vote. In some cases federal education loans are denied for certain crimes. None of these punitive restrictions are an incentive to becoming a productive member of society.
There's not much forgiveness in American culture. It seems that ex-offenders can't suffer enough or repent enough for our Puritan tastes. The shackles of restrictions and prejudices that they as "free" men and women drag around may be silent compared to the ones they wore in prison, but those chains still rattle loudly not only in their own ears but in the ears of the communities that continue to shun them.

The roots of recidivism are not that elusive and never have been. Things won't change until we are willing to define our penal system not as a social solution but as a social problem, one that we tackle with the same determination and vigor as we do other social problems such as addiction, sexual and physical abuse, and inadequate education. What's our choice: the sacrifice, cost and efforts of true prison reform or the continued warehousing of human beings and the waste of their potential? Look at the numbers.
Related
Popular in the Community