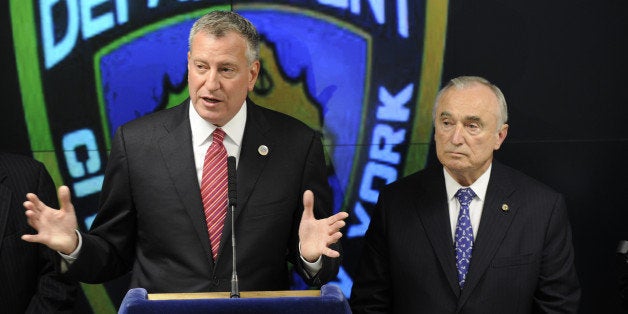 Don't look now but there's a media-driven scandal brewing at the NYPD. It's gotten so bad, so fast that Mayor de Blasio and his police commissioner slapped together a meeting with reporters on a Sunday afternoon in order to rail against the press.
I'm beyond upset and you should be to. But not because the highest ranking black cop, Chief Phillip Banks, resigned. Not because the first lady, Chirlane McCray, might or might not be upset about it. And definitely not because the New York Post has been accused of being an unethical newspaper -- even by tabloid standards (who knew!?).
The real scandal is that the NYPD, under Broken Windows champ Bill Bratton, continues to dole out its racist brand of policing without being accountable to anyone. A recent report by CUNY's John Jay College outlining the racial skew of policing practices for the last few decades has only reiterated what we and others (like Alex Vitale) have been shouting from the rooftops. The massive increase in low-level arrests target communities of color are directly attributable to Bratton's low-level-crime-focused Broken Windows foolery. But now the substantive conversation about policies that are at the core of how blacks and Latinos are policed have given way to the style points the NYPD lost with Banks. Forget the Post, almost the entire New York City press corps have run to cover City Hall and 1 Police Plaza like a fifth grade lunchroom.
"Ooooh did you hear the first lady doesn't like Bratton?"
"De Blasio yelled at the commissioner."
"Now they're denying it?"
Somewhere a chain gang of prisoners is being shuttled by an NYPD van into central booking for the high crimes of fare evasion or possession of Marijuana while a political soap opera dominates the news.
The fact that the city renewed its vows to its fundamentally racist policing philosophies when it brought back Bratton made an unreformed NYPD quite predictable. It didn't matter whether Banks was #2, 3 or 10 on the totem pole -- the man at the controls is the zero-tolerance white cop from Boston who paved the way for Stop and Frisk. So why are people in uproar over Banks' exit?
The implied argument is that diversity in police departments is a crucial element for policing that doesn't unfairly target or brutalize people of color. Having a black man within the upper rings of power at police headquarters was at least symbolic of that -- though Ferguson protesters could've told us a thing or two about Captain Ron Johnson (the black cop Ferguson authorities threw out front to try and quell demonstrators). Although reports framed him as some bridge between communities of color and the NYPD, having Banks near the top didn't affect the everyday reality for people on the ground. Banks, like de Blasio, hasn't sought to steer the department away from Broken Windows policing. But if the argument remains diversity, the Mayor and Bratton can both say that the NYPD is one of the most, if not the most, diverse police departments in the country.
However, there doesn't seem to be much, if any, research making linking more diverse police forces with less brutal policing, for example. Some of the results might actually surprise you:
From the studies that have been done, however, there's no conclusive evidence to show that white and black police officers treat suspects differently -- if anything, some of the studies show that black officers can be can be harder on black criminal suspects.
The NYPD is a top down organization and Bratton is at the top right now. Marching orders trickle down from his desk. While his Broken Windows approach continues its to take its toll on communities of color across the city, he's responded by digging in his heels and promising to fight critics. His beloved CompStat system and the unspoken quota system that fuel arrests have engrained policing by the numbers into the DNA of street level cops since his first stint at 1 Police Plaza. Diversity and a black or Latino at the #2 (or #3, which may be the more influential slot) won't change that while he's calling the shots.
But, of course, the media loves a good political drama. And although you'd be hard pressed to find a more sensationalistic, unethical and pathetically deceitful newspaper in America than Rupert Murdoch's NY Post, they've actually done us all a big favor: they've forced the de Blasios to publicly double down on their police commissioner in spite of the crackdowns on the homeless, arrests of subway performers and even the choking death of Eric Garner. De Blasio and his wife lavished praise on Bratton over the weekend with the Mayor fawning over him, calling him "the finest police leader in the United States" and pledging "absolute confidence" in him. McCray, for her part, said she "admires" Bratton and referred to those who stood in he and her husbands way as "stubborn".
While it's convenient to point at the Post and conservative factions as stoking political fires, it doesn't mean those of us seeking social justice should defend City Hall. If you look past the he-said-she-said coverage around Banks, the Mayor is making it loud and clear that his loyalties to Bratton and the business elites who love him outweighs any concerns from communities of color. Instead of taking a position on the Banks drama, people of conscience should instead be asking how much longer de Blasio will continue to play this political game while people of color are shoveled into the criminal justice system on a daily basis. We should be asking why Daniel Pantaleo continues to enjoy his freedom while Eric Garner had to be buried by his parents. This is where the alarms should be ringing.
Instead, members of the city council held a press conference this week to show "concern" over the Banks exit. Out in front was Jumaane Williams (D-Brooklyn), who has come up with all sorts of excuses to not challenge Bratton every time we've approached him in the past. Williams is "worried that the atmosphere there is not yet right for thw change we were hoping to see." Vanessa Gibson (D-Bronx), who presides over the public safety committee that wiffed when given the chance to challenge Bratton on policy at their last hearing marveled that "we have not seen the changes that we believe should be happening in this time."
What did people think would happen when de Blasio picked Rudy Giulini's police commissioner from the '90s to run the NYPD again? That the NYPD was somehow moving forward?
Police Reform Organizing Project (PROP) politely pointed out the obvious in an email by urging these 'leaders' to:
...direct their criticism and outrage at the true heart of the problem at the NYPD: the everyday policing tactics that target and harass low-income people of color who engage in innocuous or virtually innocent activities... Mr. Piniero and Mr. Banks did little or nothing to curb the NYPD's unjust and starkly racially biased practices while they held top positions at the Department during the Bloomberg/Kelly years. In other words, it's the policies and practices, not the personnel that are the real problem. And that's where concerned officials and advocates should focus their calls for needed change.
I won't be polite about it. There's too much at stake.
Empty political suits like Williams, Gibson and Public Advocate Tish James, who became belligerent when we asked her about Broken Windows in September as she left City Hall, embody the empty politics we've seen that will clamor for black and brown faces for supporting roles to Bratton, even if that means no real change to the NYPD for the rest of us.
Related
Popular in the Community