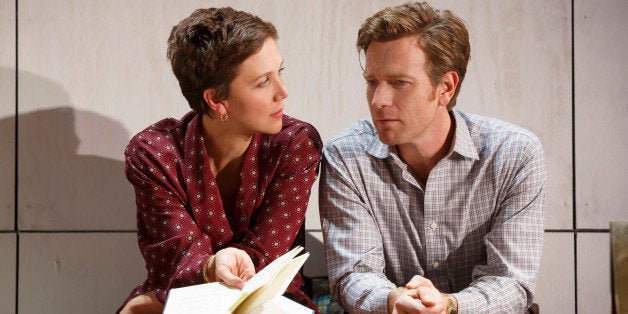 The course of true love never did run smooth, as one of Tom Stoppard's favorite writers once observed, but for the star-crossed adulterers in The Real Thing, his smart and funny play which opened last night in a curiously anemic and uneven revival, it seems to hit every pothole its path.
With Ewan McGregor and Maggie Gyllenhaal making their Broadway debuts in the roles of the lovers Henry and Annie, and Cynthia Nixon and Josh Hamilton as their jilted cast-offs Charlotte and Max, the stage seemed to be set for Stoppard's 1982 discourse on the meaning of love to sparkle like vintage champagne.
Under Sam Gold's low-energy direction, however, the result is more of a well-mannered debate on the relative merits of sexual fidelity in marriage that has little fizz and never really captures the passion that presumably burns in the hearts of two people working very hard at turning their clandestine love affair into the real thing of the title.
The story is a simple one. Henry, a playwright, is married to one actress but is having an affair with another one, Annie. At the start, both Henry and Annie are wedded to other actors who just happen to be appearing in one of Henry's plays, itself a romantic comedy about marriage called "House of Cards."
The Real Thing is one of Stoppard's best, a pithy and incisive assessment of that most elusive of human emotions and the difficulties we create for ourselves -- jealousy, suspicion, doubt -- in the pursuit of it. All we have to express that emotion are words, and if there is any question over the importance of what words we choose, Stoppard dispels that notion in one marvelous speech using a cricket bat.
"I don't know how to write love," Henry tells Annie at one point. But Stoppard is pretty good at it. "It's to do with knowing and being known," Henry says at one point. And as he later observes: "It's no trick loving somebody at their best. Love is loving them at their worst."
When we first meet Henry he is trying to select his choices for an appearance on "Desert Island Discs," a popular show in Britain in which a celebrity lists the music and a book he or she would want with them if stranded on a desert island. Henry has chosen Finnegans Wake as his book, though he's never read it, but is having trouble with the songs. His taste in music is pretty much limited to 1960's pop and doo-wop and he's afraid his picks will destroy his reputation as an intellectual.
Music, in fact, is only one of the obstacles Henry and Annie, whose preference is for classical and opera, encounter in their quest for the real thing. There is Henry's suspicion that Annie is having an affair with a younger actor she is cast opposite in John Ford's Tis Pity She's a Whore in Glasgow. Or with Brodie, a young Scottish anarchist who is in jail for setting fire to the Cenotaph and is the current cause célèbre of London's liberal literarati. Brodie, in fact, has written a play. It's a very bad play and Annie is trying to persuade Henry to rewrite it for him.
Gold's staging, however, appears to have concentrated on Henry's and Annie's musical differences. He has inserted tableaux at the top of each act in which the actors sing a '60s pop song to a strummed guitar. And at the curtain call, the entire cast sings the Crystals' "Da Do Ron Ron" whereas the original script calls for the lights to dim to the strains of the Monkees' "I'm a Believer," which seems more to the point Stoppard is trying to make.
There are further problems in Kaye Voyce's costumes, which look like they might have come from Marks & Sparks or a church jumble sale rather than clothes successful actors and writers might buy, and in David Zinn's dull railroad flat of a set that would seem more at home in Hammersmith than Mayfair.
A bigger concern, however, is the rather tepid chemistry between the lovers. If there is a current of unbridled passion between Henry and Annie, it is running on a very low voltage. McGregor has Henry's pleasant snobbishness and confident superiority down pat and he delivers Stoppard's clever dialogue with assurance. But his jealous demands are more like polite requests for information than any cris de coeur.
Gyllenhaal is more convincing in her anger at Brodie's plight than in her efforts to assure Henry she loves him. When she pleads with Henry to "touch me" while their respective spouses are out of the room, there is little sense she actually wants to be touched. Nixon is urbane and sophisticated as Charlotte, and Hamilton brings some real emotion to the role of Max, conveying the raw pain of betrayal.
REAL LIFE. REAL NEWS. REAL VOICES.
Help us tell more of the stories that matter from voices that too often remain unheard.