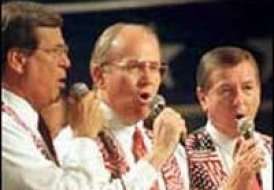 Today is a terrible day for America, public bathrooms, a cappella music everywhere. The arrest of Senator Larry Craig by an undercover police officer for lewd conduct in a public men's bathroom is the final nail in the coffin in which rots the once vibrant barbershop quartet known as the Singing Senators. Also called the Vocal Majority, the Singing Senators, or SS, consisted of John Ashcroft, baritone; Trent Lott, bass; Jim Jeffords, tenor; and Larry Craig, lead.

The quartet's beginning were as humble as the senators themselves. They started out harmonizing to "Happy Birthday" at the birthday party of fellow Republican senator Bob Packwood, a framee in his own right, who would be forced to resign over sexual harassment charges based on bogus evidence like his diary and accusations from 11 different people. The crooners had their formal debut at the Kennedy Center and then went on to record an album Let Freedom Sing in Nashville and perform on The Today Show. As their popularity skyrocketed, the SS started performing more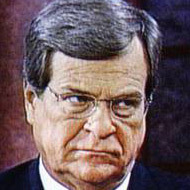 frequently, raising millions of dollars for Republican causes and charities. They may have sounded in tune, but something was out of key. And that was Jim Jeffords, who became an Independent, betraying not only the GOP but the SS. Days before Jeffords defected, a hopeful Lott predicted Jefford would stay in the party "After all, I mean, what would we do in the future about the Singing Senators? We need Jim to be part of that harmony." But Jeffords abandoned the quartet, and in a flash the Singing Senators were over, a blast from the past. Lott never saw it coming.
But Craig would not be silenced and, the quartet's lead, used to leading, launched a solo career, writing his own songs, the most notable perhaps, an homage to Judge Samuel Alito, (to the tune of the West Side Story's "Maria"
The most beautiful sound I've ever heard/Alito, Alito/Alito, I just met a judge named Alito/And suddenly the name will never be the same/Alito, Bush just picked a judge named Alito/Alito, say it proud, that Republican saying/Say it soft and there's Democrats praying/Alito, may the Senate confirm Alito.

Singing was just to fun for this senator to give up. As Craig explained to Senator John Thune, whom he tried to recruit to the SS, "You've got to let your hair down and enjoy it."
Then finally, only two months ago, on June 12, after a six-year hiatus, the Singing Senators made a comeback! Purged of the defecting Jeffords, their sound was purer and the trio was tighter. Craig explained, "We're not a quartet any longer. We're a trio, and there are a lot of good reasons for that." Singing at a fundraiser for the Congressional Coalition of Adoption Institute, the three singing senators performed "God Bless America," country and gospel tunes, and the sexy Oak Ridge Boys hit "American Made":
She looks good in her tight blue jeans /she bought in Mexico/ And she loves wearing French perfume everywhere we go/ But when it comes to the lovin' heart/ one thing is true/ My Baby's genuine "U.S.A."/red white and blue/ From her silky long hair to her sexy long legs/ My baby is "American Made"
The SS had performed with the Oak Ridge Boys in 1997, so singing "American Made" marked a 10 year anniversary of Christian jamming.
Here's where things get fishy. This reunion show took place on Tuesday, June 12. The arrest of Larry Craig took place on June 11th, one day before! And the arrest report was entered on June 12th, just hours before the reunion concert would kick off. A coincidence? Or a vast left-wing conspiracy? The reunion concert had to have been widely publicized through the series of tubes that is the internets. And the arrest was surely an attempt to silence Craig and the Singing Senators. The former rancher, family values conservative Idaho senator is said to have solicited gay sex in an airport bathroom. And yet, Craig is so straight, he voted for a constitutional amendment banning same sex marriage(sorry, Mary Cheney), opposes including homosexuals in hate crime legislation. And he's so not gay that when he was accused of being involved in a sex scandal involing male pages he said that made him "Mad as hell."
Which sounds pretty macho to me. If he's gay, why did he preemptively release a statement saying he wasn't when he hadn't been implicated in the scandal anyway? Sheesh. What could be less gay?
It looks like someone wants to shut up the Singing Senators....only this time...for good.
The Barbershop ensemble, be it quartet or trio, is the most wholsomee, most patriotic of all American all-male a cappella singing traditions. The values, the freedom-loving, and the irresistible melodies and rthyms of the SS threaten the liberal, gay, Jewish, vegan establishment bent on bringing down America.
Well, they may be able to stop the Singing Senators. They may be able to frame Craig. They may be able to persecute Lott, destroy his porch and put racist words in his mouth. They may be able to recruit Jim Jeffords. But nothing, not even pancreatis or Gonzolezean hospital-room harassment can bring down John Ashcroft. He will sing for the Senators -- he will make the Singing Senators soar.
Popular in the Community