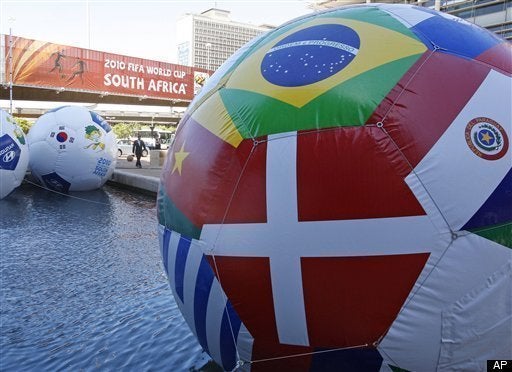 We don't need to wait for the final match to know who will win the 2010 World Cup: It's South Africa. It may not necessarily be the football World Cup, but rather the tournament of competitiveness and global respect. Barely more than two decades ago, the country was an international pariah, but today it is competing with some of the most successful nations in the world and, as it has shown by securing and then organizing the World Cup, it is winning.
Nelson Mandela, the world's most widely-respected leader, has helped the country build its reputation for freedom, tolerance and hope. However, the battle to convince the rest of the world that it has changed completely is yet to be won. There is little doubt, for example, that criminality, poverty, and the shadow of AIDS are still very real problems, while some people argue that much more needs to be done to improve social justice. Despite these and other challenges, the country has shown truly impressive growth over the past 18 years.
South Africa's impressive economic resilience has meant that its competitiveness has improved for the past two years, despite the global downturn. It has moved up to 44th place in IMD's World Competitiveness Yearbook, which rates 58 industrialized and emerging economies according to their economic performance, government efficiency, business efficiency and infrastructure. Only two years ago it was 53rd.
It made particularly strong progress in improving government efficiency, which reflects the extent to which government policies support economic competitiveness, and is now ranked 21st on this criteria, up from 26th in 2009.
Its business efficiency ranking, which expresses the extent to which enterprises are performing in an innovative, profitable and responsible manner, is 31 -- one position lower than last year, but still indicative of strong performance.
The infrastructure category, which measures the extent to which basic, technological, scientific and human resources meet the needs of business, highlights some of South Africa's biggest challenges. However, it has still made significant progress, climbing from 56th in 2009 to 51st in 2010.
A macroeconomic evaluation of its domestic economy did not show any progress over the past year in comparison to these competitive 57 nations, so it remained in 56th position in the economic performance criteria.
These rankings provide a convenient way to understand the country's challenges and map its progress, but the reality underneath these figures is complex, shaped by years of internal struggles and a search for identity and belonging. For a start, in most countries the biggest questions are those around employment, education and healthcare. In South Africa, these become even sharper questions about criminality, AIDS and the poverty that underlies both of them.
The country has high unemployment -- it is at the bottom of IMD's list on this criteria -- and is one of the worst-placed with respect to employment growth. It faces major challenges in providing basic infrastructure such as access to clean water (it is ranked 55th) and health services (52nd).
These are some of the challenges, many of which are well-known both to South Africans and outsiders; so, where are the strengths? Well, in these difficult economic circumstances, the country's government debt as a percentage of GDP is low, and is placed at 16th, which is behind top-ranked Hong Kong, but well ahead of Switzerland (28th), Denmark (29th) and Sweden (30th). It also has very good real growth of GDP per capita, coming in 22nd -- one place ahead of Hong Kong this time.
It tops the list in cost of living, comes in 4th place on implementing shareholder rights, and makes it into the top 10 in the business efficiency and management practice category, which assesses whether auditing and accounting processes are implemented adequately. And it's in the top half, at 27th, when countries are ranked according to their companies' ethical practices.
These are just a few examples of achievements. While it doesn't resolve all of South Africa's immediate problems, these successes do create a platform to shape a better future. South Africa has achieved great transformations in a relatively short time by dealing with the roots of problems while simultaneously building on strengths -- strengths that may not always be immediately obvious to anyone who looks only at the overall ranking.
South Africans seem to have an innately entrepreneurial attitude to business and a willingness to invest both locally and internationally. This is paying off. In BusinessWeek's recent list of the world's top 40 companies, three South African companies were recognized as among the best in the world: MTN, the mobile telecommunications company; Sasol, the energy and chemicals specialist; and Bidvest, the global services, trading, and distribution group. MTN, a company that was founded only in 1994 in the early days of South Africa's democracy, was seventh on the list behind the likes of Nintendo, Apple and Google, which placed first, second and third respectively.
MTN, Sasol and Bidvest achieved such high rankings because of their commitment to innovation, diversified portfolios, aggressive expansion, strong leadership and a clear vision for the future. All three companies are committed to their African origins and values while they are expanding into new markets outside the continent.
The World Cup for South Africa
South Africa is on a challenging journey that started on the day Nelson Mandela was released from prison and took his first step into freedom. It is a journey that will continue to be full of doubts and hopes, successes and failures. It will not be easy. But, as Nelson Mandela said, "after climbing a great hill, one only finds that there are many more hills to climb."
South Africa is climbing such a hill in organizing one of the most prestigious sport competitions in the world. It deserves to win a unique World Cup -- a prosperous future. This is a victory which will remain with the country long after the football competition is over and handed to another host country.
REAL LIFE. REAL NEWS. REAL VOICES.
Help us tell more of the stories that matter from voices that too often remain unheard.