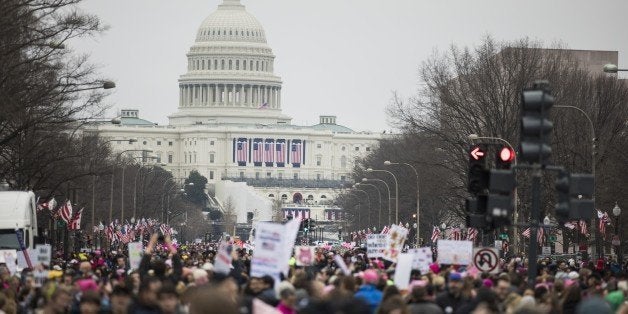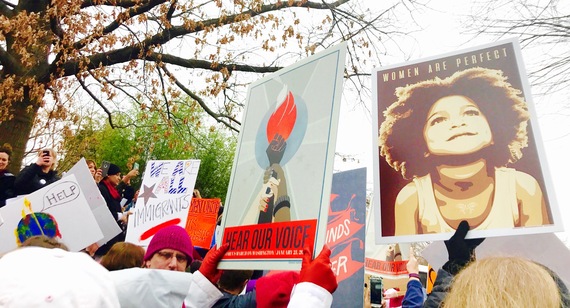 Yesterday in DC, I had the honor of marching and protesting with hundreds of thousands of sisters and brothers from all over the country. Without a doubt, the event was feminist-centric, but as the people who attended knew, it carried an even broader theme: humanitarianism.
When I first learned of the Women's March, I was instantly attracted to a protest that was built on "unifying our communities," "the spirit of democracy" and "honoring the champions of human rights, dignity, and justice." In my mind, recognizing the importance of "stand[ing] together" and "defending the most marginalized among us" represented a soothing balm to the current separatist wounds of our nation.
I was well aware of several opinions swirling around before January 21st. Some saw it as nothing more than a march that pitted women of different races, political backgrounds, etc. against each other. I even had one friend who claimed she, "as a Republican woman, didn't feel comfortable attending." Ignoring the us-versus-them static surrounding the march, I told her to attend because everyone who upholds human rights, and believes they're synonymous with women's rights, is welcome.
This all-inclusive mentality was demonstrated even before I arrived in DC. At every rest stop on my commute, I met buses of men and women from all over the country of different races, genders, backgrounds, religions, and political identities. I learned about these selfless people as I visited with them in the parking lots and waiting in line for the restrooms. Taking time to converse with these people helped me to understand their reasons for attending--and none had to do with the color of their skin, which God they prayed to, or which political party they identified with.
As I waited to buy gasoline, one woman from Minnesota told me, "I'm marching, first of all, because I can. I feel completely compelled to do it. I was sponsored by a woman from my church who used to teach women's studies and she's older and she just can't attend. I'm representing many women. I want people to know you have to be visible to raise your voice and make change."
Alongside women, many men attended the march to show their support for several causes--but to support women having a voice was one main reason. One man from Chicago made the trip solo, telling me that he felt it was "important to support women" and that "not going wasn't an option for him." This echoed passionate sentiments of a man who spoke out at the march and said, "As men, we must protect our women. We cannot let cowards disrespect our women. We must uplift our women...Today you will hear the voice of our women...It is because of our women that I am a man."
Other reasons for attending included "living out respect and kindness for everyone," "healthcare," "my friend who has a disability," "climate change," "racial disparities," "for the rights of my LBGTQ friends and family," "equal pay," "Planned Parenthood," "the people of Flint, Michigan," and "supporting women in their right to choose."
One woman at the march explained to me, "If a woman decides to maintain a pregnancy, I will support her. If she falls on hard times, I want my tax dollars to help her raise her child. If a woman decides to get an abortion, I will hold her hand, and I hope my tax dollars will help her have access to safe and affordable healthcare."
Another man said, "I want to let immigrants know that they are welcome here." As a first generation American, this struck a chord with me, just as it did when little Miss Sophie Cruz, a child advocating for protecting our immigrant families, took center stage. "Let us fight with love, faith, and courage so that our families will not be destroyed," she said in both English and Spanish. "I also want to tell the children not to be afraid because we are not alone. There are still many people that have their hearts filled with love."
Several celebrities attended the march, but for me, the real stars were the leaders who are working tirelessly every day--both in and out of congress--to uphold our values and our rights, encouraging us to keep working together.
"We stand with all of you," championed Melanie Campbell of the Black Women's Roundtable, an organization that works for just and equitable public policy on behalf of Black women. "We are here to declare that we are America. We march to send a message to the White House, congress, state and local politicians that we are united and that we will not be moved."
Senator Kamala Harris of California reminded us that "we are at an inflection point in the history of our country" where "we are collectively looking in a mirror with furrowed brow asking this question, 'who are we?'" J. Bob Alotta, Executive Director or the Astraea Lesbian Foundation for Justice, said, "Today we did choose to be here, to stand up, to gather together" but "we will have to make choices every single day in the days, weeks, months, and years to come--we will need to become our own collective moral compasses."
In my experience, the Women's March opened the door for this opportunity to constantly check ourselves and hold each other accountable. In response to why she attended the march, one woman told me, "I'm tired of remaining silent." This deep-rooted need to no longer sit in the company of uncomfortable passivity is what brought millions of people together worldwide, peacefully protesting in over 60 countries. Within our country, the Women's March is now estimated to be one of the biggest protests in US history--a camaraderie I'm honored to be a part of.
The Women's March was powerful because it represented many aspects of the human existence and, as global citizens, we understand that what affects one will affect us all. Quoting Martin Luther King, Jr., "Whatever affects one directly, affects all indirectly. I can never be what I ought to be until you are what you ought to be. This is the interrelated structure of reality." Not everyone has the same journey, but it's our responsibility to respect the choices and lives of others--no matter how differently they are from our own. We are the fabric of life. But once we stop seeing the world through a cohesive lens, we'll start to unravel.
At the march, Scarlett Johansson spoke directly when she said, "President Trump, I did not vote for you. I want to be able to support you. But first I ask, will you support me?" I think millions are seeking an answer to the same question.
And now I'm taking this moment to encourage the current administration to accept our actions, not solely on a basis of resistance, but as a chance to have open dialogue with your constituents about how you can represent and support every American. This is an opportunity to lead and uphold the constitutional rights of all, as well as provide a clear and accessible path to the pursuit of happiness for everyone equally--not only for those who you can identify with.
As I explored the many people who attended the march, I was lucky enough to meet a poet who free-styled her thoughts and beliefs for all who would listen. With the Washington Monument resting in the backdrop, she confidently recited, "We put the suffer in suffrage and then turned it into a movement. We are not easily broken. We put sacrifice back into perspective." I think I can speak for everyone who attended the march, whether in body or in mind, when I say that we won't back down, we will continue to work together for a better future that's inclusive of all. The question is, will you work with us?
About halfway through the day, a woman turned my question around on me, inquiring why I was marching. I only had four words, "I'm marching for everyone."
Popular in the Community