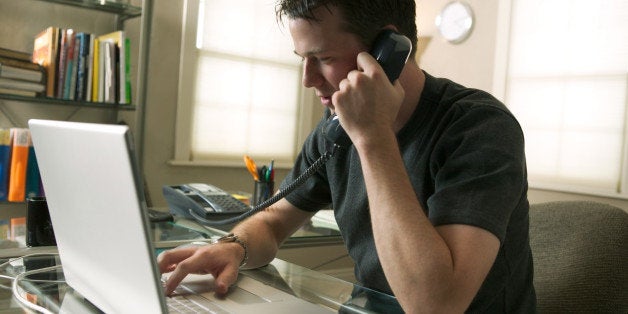 When your team is everywhere -- how do you keep it together? Working with a remote team comes with a distinct set of challenges, and yet we see many successful companies making it work. They do it with a number of helpful tools, and with a great deal of understanding.
Challenge: Distance Between Us
With the possibility of working with people across time zones -- across the country or across the globe, meeting face-to-face isn't easy.
Solution: Real-Time Chat Options
That's where real-time chat solutions such as Skype and Google Hangouts come in handy. And even then, it may be nearly impossible to get everyone together. Sure, one person could be working, but should the other have to get up in the middle of the night for a live call? Reserve those situations for dire emergencies and turn to a tool like ClckMeeting to record those meetings and save them for later viewing.
Challenge: Presenting a Unified Business Front
Your customers don't necessarily need to know your staff is spread out all over the world, working from the comfort of their own homes (and possibly wearing pajamas... or going pants-less in the process). So, how do you make it appear as though everyone's working together in a central office location?
Solution: Buy a Business Address
We're not talking anything shady or illegal -- but a rather simple solution. Since people know you don't run your business at a P.O. box, and you probably don't want your home address floating around, opt for a real street address with the UPS store, or a virtual office solution. Virtual office solutions are available to not only provide a business address but to provide mail receipt and forwarding.
Solution: Virtual Telephone System
To further the appearance that everyone's working from a single office location - you need a system that protects phone numbers of individual employees - but also lets your employees know it's a business call, rather than a personal one. A cloud-based PBX (private branch exchange) lets you operate your phone system with lines and extensions, just like you would in a traditional office environment, without being tied to a physical location. You can even operate a toll-free number this way, if your business requires one. Plus, it helps avoid missed calls and can even improve call handling efficiency.
Challenge: Keeping Everyone on the Same Page
When there's a lot going on, and you have more than one person working on a project or task, it can be difficult to keep track of who is responsible for what.
Solution: Project Management
There are a ton of project management solutions out there to help remote teams stay on task, and prevent people from duplicating efforts. Choose from Podio, Wrike, Asana, or a more advanced solution that includes customer relationship management (CRM) like Insightly. These make it easy to share files, create and manage task lists, deliverables, and even project budgets.
Sure there's always Google Talk and Skype, but, for group communications, those tools can get a little hard to manage when conversation takes place asynchronously. Enter Slack - an Instant messaging tool that can be broken down into subjects, where people can be added to one or more conversations as needed. Plus, you can send files to everyone in the group, reducing the need for email.
Challenge: Time Tracking and Payroll
In instances where pay is tracked by the hour rather than the deliverable, it can be hard to know when someone's actually working, and then managing the payment.
Solution: There's an App for That
Hubstaff is a time-tracking solution with the ability to take random screenshots while someone's logged in and working. Employees can be involved in multiple projects, and the software also shows activity levels. Plus, it integrates with many project management platforms for a smoother workflow. Managers can limit the amount of time employees can spend working and can choose whether or not to allow manual time entries. Payment for time worked can be handled directly within the app, as well.
Thanks to these and various other tools available, working with a remote team is now easier than ever before. It won't guarantee a challenge-free experience, but they certainly make it worth enjoying the freedom that comes along with working remotely.
Related
Popular in the Community