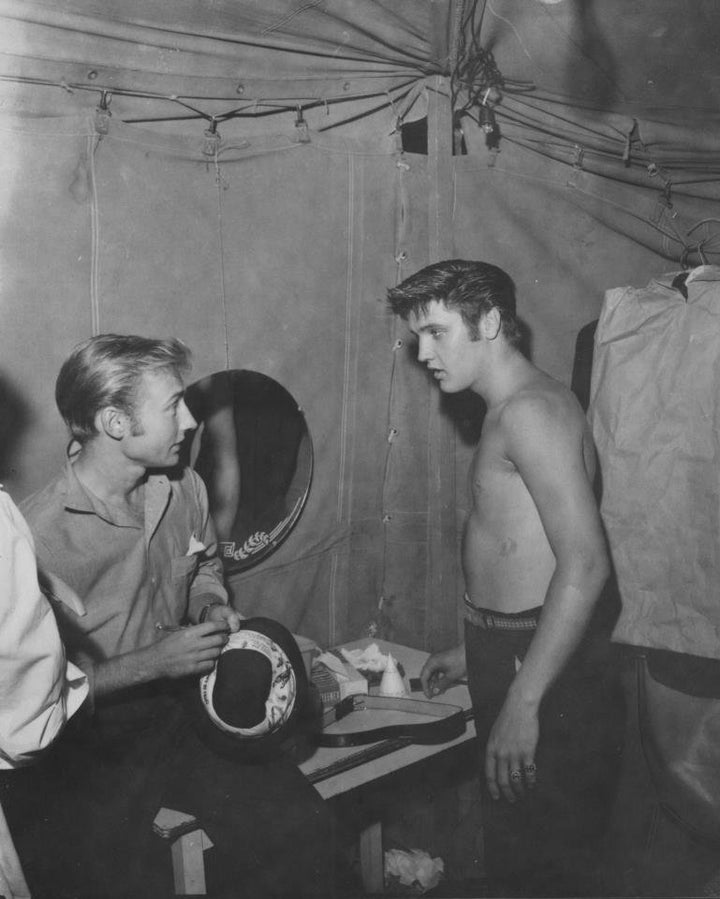 Several years ago while in Montana, Allyson Adams finally mustered the courage to crack open the mental baggage she'd been toting around for 40 years.
It was, literally, stored in a box -- a simple white cardboard filing container that she called "Daddy's box," the one packed with memorabilia about her Hollywood father, the man she barely knew, dead tragically in her early childhood.
"Believe it or not," she writes in a new book dedicated to the big story that leapt out of that box that day and on to the page, she'd never opened it once in those 40 years "because I couldn't deal with my father's story, even though it haunted me."
Underneath a stack of photographs of her father, actor Nick Adams, in his signature role as Johnny Yuma on the old TV series "The Rebel," she found a yellow envelope with loose pages stuffed in it. On the front were the typewritten words "Elvis Presley, Singer, Actor, Man" along with her dad's name in a corner.
She began reading. An "overwhelming charge of warm light" shot through her body. She had chills, her hands shook and her heart pounded. Tears streamed from her eyes.
After all those empty years, her late father was speaking to her.
"Finally," she said, picking up on the moment in a recent interview, "it was something my father wrote. It's his voice. The manuscript was so positive. I felt it was something he taught me as he passed on. It changed my life."
She decided to share it with the rest of the world. Her dad's manuscript, retitled "The Rebel & The King," was released late last month, and Allyson is making the book-signing rounds that will include upcoming stops in Ventura and Agoura Hills, where she now lives (splitting time between there and Montana).
The book is a simple but fun rundown of her dad's recollections of his friendship with Elvis that began in 1956 when they met on a 20th Century Fox back lot while Elvis was shooting "Love Me Tender." (Nick Adams had an interview for a part that he didn't get).
The bulk of the book recounts the eight days Adams spent with Elvis in Memphis later that year just before a September 1956 homecoming concert in Tupelo, Miss. Elvis was born in Tupelo and lived there until he was 13, when the family moved to Memphis.
There, Elvis is beloved by, as Allyson put it, "the thousands of people who flocked to see him." One of those admirers is Nick Adams, whose book is an unabashedly adoring glimpse into the life of The King.
"My dad loved Elvis," Allyson observed. "It was kind of a bro-mance, a buddy-buddy thing."
She always felt a strange connection with her dad, writing in the book's foreword that she believes "his soul is not at peace (and) neither is mine." She said she always wanted to tell his story but was too busy off doing her own thing -- poet, playwright, actress and a stint as mayor of the ghost town Virginia City, Mont.
Until that day she finally opened the box.
Nick Adams died of a drug overdose in early 1968 when Allyson was 7 years old. Adams was 36 and, like his famous musician friend he wrote about, died far too young and under mysterious circumstances.
The Los Angeles County Coroner's Office, she writes in the book, changed the cause of death on his death certificate three times, from homicide to suicide to undetermined. "You can see," she said, "where it's been scratched out." As of now, the cause remains undetermined. Nick Adams reportedly was on prescription drugs for a nervous condition.
Nothing was found in the house -- not a trace of drugs nor his journals, tape recordings or his typewriter, the same one she thinks he used to write the Elvis manuscript.
She deflected a question about what she remembers about her father in the too-few years they shared, and also wasn't anxious to talk about his death, though she indicated she might be writing something about that soon.
"I have my theories," she said, "but I'm uncomfortable talking about that right now."
Allyson said she learned things about her father from reading the book.
"He was such a go-getter, and he was really funny," she said.
FAMOUS FRIENDS IN HOLLYWOOD
Adams was born in Nanticoke, Pa., to a poor coal miner but grew up in a basement in Jersey City, N.J., after his father moved the family there following the death of a brother in a mining accident. Adams graduated from St. Peter's College there, tried acting in a small New York stage production and, after a stint in the U.S. Coast Guard, moved west to Los Angeles in the 1950s to pursue a screen career.
Nick Adams also became good friends with James Dean and Natalie Wood after he did the 1955 film "Rebel Without A Cause" with them. His other credits included "Picnic," "Mister Roberts" and "Pillow Talk."
Not long after Dean died in a car crash, Adams met Elvis during a wardrobe check on the "Love Me Tender" set. Adams was about to leave after it was decided he was too young for the part when someone called his name.
It was Elvis, who told Adams how much he liked him in "Rebel." and "Picnic." Adams agreed to show Elvis, who was holed up at the Beverly Wilshire Hotel, around town. Soon, they were going to the beach and the movies, sometimes bringing along Adams' friend Wood.
Next to those two meteoric stars, Adams was the struggling, small-part actor. In a touching moment in the book, he writes of going to a showing of the 1956 film "The Last Wagon" -- his biggest part to date -- with Elvis and Wood.
When he saw his name on the screen, Adams began to cry, reflecting on the hard work it took to get him that far and thinking of all the hard times his family had. Wood leaned over and kissed him on the cheek and told him she knew how he felt. Elvis tapped him on the shoulder and said the same thing.
"It's my favorite part of the book," Allyson said.
But the next day, the papers said Elvis and Wood were necking at the movies. In the book, Adams denied any romance between them.
Allyson believes her father and Wood weren't romantic, either. They were both Ukrainian and young, but it didn't go farther, she said, adding, "I think they dated just for the sake of going out and doing things."
The pages also reveal a sense of yearning for love and acceptance in Adams. At least twice he mentions that his family didn't recognize him in "Rebel."
"He really didn't feel loved," Allyson observed, "and he was kind of wounded."
WALKING WITH ELVIS IN MEMPHIS
Adams also writes glowingly of the loving interaction between Elvis and his parents, Gladys and Vernon, when he accompanied The King to Memphis as Elvis prepared for his Sept. 26, 1956, homecoming concert in Tupelo.
He stayed at the family home at 1034 Audubon Drive in Memphis for a week. (It wasn't until the following year that Elvis bought what would become the famous Graceland mansion).
"I never felt so welcome before in my whole life," said Adams, who describes the Presley parents as wonderful, sincere and honest.
Adams details the gargantuan breakfasts Gladys prepared for her famous son and other sumptuous meals and snacks, including, yes, those famous peanut butter-and-banana sandwiches Elvis so craved.
Here, the sense of Elvis as pop icon and homeboy-done-good roar through. Everywhere he and Adams go, they are mobbed -- at the fairgrounds where they won teddy bears for people by throwing baseballs at milk bottles, in a toy store and along the road after Elvis was flagged down by well-wishers who repeatedly ask him, "What's it like in Hollywood?" Hundreds lined the fence outside the home every day just to get a glimpse of him.
"It just read like a circus ride through Memphis," Allyson said, noting that the two alternately indulged in and escaped from the attention Elvis' fame brought them.
One day, Elvis took Adams to Sun Records Studio in Memphis to meet founder Sam Phillips, the man who helped make Elvis famous. Later that day, Elvis took him to his old high school (Humes High School) to see an old favorite teacher, a Mrs. Scrivener, and talks to her students.
Time and again, Adams details how Elvis talked to everyone, patiently answered their questions, called guys "Sir" and signed scads of autographs. He calls Elvis "the humblest, sincerest, greatest guy in showbiz" and avers that everyone shares that opinion, writing at one point, "Anyone who has talked to Elvis for two minutes think he's the greatest guy in the world. Why? Because he's for real."
At one point earlier in the book, Adams writes, "I'm the luckiest guy in the world because Elvis is my friend."
The book, Allyson noted, essentially is a longer version of a story her dad once wrote for TV World defending his friend against the infamous "Elvis the Pelvis" criticisms.
In the book, Adams assails those who blamed Elvis for increasing juvenile delinquency and those who called him a "degenerate hillbilly." He quotes a Baptist preacher from a Life magazine article as saying Elvis has "achieved a new low in spiritual degeneracy" -- and writes that the preacher should apologize.
"Elvis was a spiritual man, so this (criticism) hurt him very much," Allyson noted, adding that he was threatened with arrest at some concerts if he shook his hips.
But many others loved him. Adams saw the power of Elvis at the Tupelo homecoming show.
"When Elvis came up on that stage," he writes, "I thought someone had just dropped an atomic bomb. They cheered so loud I thought I was going to lose an eardrum. Someone told me the population of Tupelo was about 12,000 people; well, there were close to 50,000 people at (his) homecoming."
The book ends after the Tupelo show with Adams and Elvis flying back to Los Angeles -- "we were mobbed again at the airport," Adams writes. Hollywood "still looked the same" and Adams longingly wished "how I would rather be back in Memphis."
The book, Allyson said, is based on tape recordings her father made with Elvis that week in Memphis. He also carried around a typewriter. "Elvis would say, 'Yep, we're doing a book,'" when people asked about it, Allyson noted.
Not long after that week in Memphis and Tupelo, Elvis was inducted into the Army. In 1958, his mother Gladys died. Allyson said her father flew to Memphis and slept at a grieving Elvis' bedside because The King didn't want to be alone.
In 1959, when her dad got his most famous role in "The Rebel," both he and Elvis were at Paramount Studios, she noted.
That year, Adams married Carol Nugent; Allyson was born the next year.
She met Elvis at his Hollywood home in 1961 and remembers sitting on his lap and eating breakfast.
Not long after, her dad and Elvis drifted apart, not unlike many friends who have dual mobile careers do.
The book, she said, can be seen as "the last glimpse of innocence before the end of an era."
"It didn't stay that way," she said, "because it got too crazy" -- and ugly.
When her father died in 1968, Elvis sent a calling card to his funeral, signed "E.P." Elvis died at age 42 in his Graceland mansion on Aug. 16, 1977, also from a drug overdose.
She's glad she finally found the courage to open Daddy's box. For one thing, she had no idea her dad was so close to Elvis. It's also started to heal old wounds that have festered in the family for years.
At the end of her foreword, Allyson writes, "The Rebel and the King would both die young, but they managed to stir it up and fill life's cup before leaving us too soon. Enjoy the ride. It's how they would have wanted it."
Allyson Adams of Agoura Hills will talk about and sign copies of her late father Nick Adams' book about his friendship with Elvis Presley in the 1950s, titled "The Rebel & The King," from 3 to 5 p.m. on Sunday, Nov. 4 at Bank of Books in Point Dume Village, 29169 Heathercliff Road , Suite 109, Malibu (phone: 310-457-5699), and from 6:30 to 8 p.m. on Wednesday, Nov. 14 at the Agoura Hills Library, 29901 Ladyface Court (phone: 818-889-2278).
The book is available through Amazon.com. It and more information on it also is available (suggested price $19.95, not including shipping and handling) via www.therebelandtheking.com.
(c)2012 Ventura County Star (Camarillo, Calif.)
Distributed by MCT Information Services
REAL LIFE. REAL NEWS. REAL VOICES.
Help us tell more of the stories that matter from voices that too often remain unheard.
BEFORE YOU GO
PHOTO GALLERY
Elvis' Most Famous Haunts