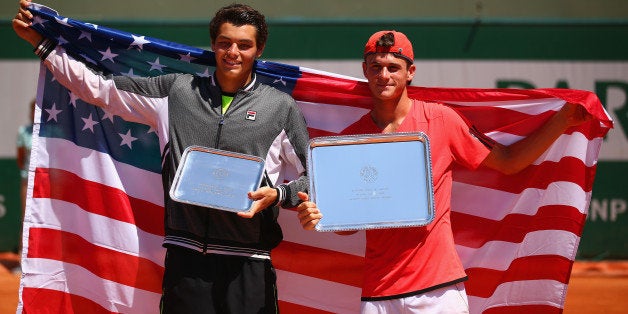 It has been said and well documented throughout French Open history that the Americans just don't like the red clay. After all the terre battue has hardly been fertile ground when it comes to U.S. players hoisting le' Coupe.
Since 2000, few Americans not named Williams or Bryan have seen their names engraved on these prized Grand Slam trophies. Those who have understand the rarity of their accomplishments.
While titles have been scarce amongst the pros, they have all but remained absent on the clay for the red, white and blue's junior set. Since 1989, only two Americans have donned a junior singles crown at Roland-Garros. The winner that year was 13-year-old Jennifer Capriati. It wasn't until 2011 -- 21 years later -- when Bjorn Fratangelo won the boys championship, the first since John McEnroe did it in 1977.
On Saturday, as most tennis fans focused on the completion of the Djokovic-Murray semifinal and the women's final (chalk up another title for Serena Williams), America's youth were busy storming the courts. Their goal -- not only to end a number of title droughts but also to show the world these kids are happy playing in the dirt.
The boys' final was a win-win for American tennis with both young men hailing from the states. A first at the French Open and making it the second all-American Junior Grand Slam final in the past 13 months. Wimbledon 2014 saw Noah Rubin defeat Stefan Kozlov for the title.
In fact, three of the four boys' semifinalists in the 2015 French Open and four of the right quarterfinalists were Americans. In the end, 13th-ranked Tommy Paul defeated top-ranked junior Taylor Henry Fritz, 7-6, 2-6, 6-2, to do what so few before him had done, raise the championship hardware.
Afterwards, these two friends proudly displayed the U.S. flag for all in the bullring to see. They had reason to celebrate; not only had the match made history, it had made a statement. "According to them, we're no good on clay but I think we've just shown that we're not doing too badly, right?" The newly crowned winner Paul stated and he was right. On this warm and sun-filled Saturday there were more junior Americans in Paris playing for titles than ever before and Tommy Paul wasn't done.
Less than two hours later, Paul teamed with fellow American William Blumberg to face the Spanish duo of Lopez San Martin and Munar. Although Paul and Blumberg lost in straight sets there was still much to celebrate.
"Everyone says that U.S. tennis is bad on clay. I would have to disagree," Paul said. "We are only getting better, I think."
Boys' singles runner-up, Fritz agreed, "I think people should be really excited. I think a couple of us are going to do really well."
In a sport full of so much global talent and in a country desperate for the next wave of great American champions, the play of several teenagers in Paris raises hope for the future of tennis. And the irony of it all -- it was achieved on the red clay of Roland-Garros -- a surface historically unfriendly to those from the states.