In small, intimate settings -- oftentimes in private homes throughout the Bay Area -- a diverse and growing group of remarkable women gather to connect, learn and grow. Each woman attending these salons is encouraged to bring with her a female friend or colleague whom she wants to introduce to the conversation. They leave their cellphones and tablets at home and simply arrive open to authentic connections and conversations. Those who come together are always a different mix of ages, ethnicities and backgrounds. The energy in the room is palpable.
Women Authentically Connecting and Bringing Other Women Forward

These are the women of Parlay House, founded a year and half ago in San Francisco by Anne Devereux-Mills, a New York transplant and advertising veteran.
I started Parlay House because even though I had achieved my career and family aspirations I sensed something was missing. I've felt passionately for a long time that women need bring other women forward in any way they can and it begins in our communities. This was the inspiration behind Parlay House.
Women pulling other women forward.
My first Parlay House experience almost wasn't. As a professor of Women's Leadership at the Hult International Business School , I already spend way too much time attending women-only events where I've been an outspoken critic. But I was told by a trusted friend that Parlay was different and worth the investment in time and energy. So I went, reluctantly. My first Parlay House experience didn't disappoint when Anne hosted her long-time friend Pauline Brown, Chairman of LVMH North America, at her home. How rare given Pauline's substantial portfolio of professional and personal pursuits, to have an audience with her, let alone an entire evening of frank personal exchanges and lessons learned. That event was followed by my second Parlay experience a few weeks later, which involved an evening of conversation with Victoria Tsai, founder of the groundbreaking local skincare line, TATCHA and Leslie Blodgett, creator and Executive Chairman of beauty powerhouse bareMinerals. To have two such accomplished women, at different points in their careers and lives, candidly sharing their personal journeys and challenges in such an intimate environment was truly remarkable. That evening Vicky shared her beauty philosophy which TATCHA embodies, "less is more and the wisdom of generations." Both sentiments of which speak to the core of Parlay's philosophy.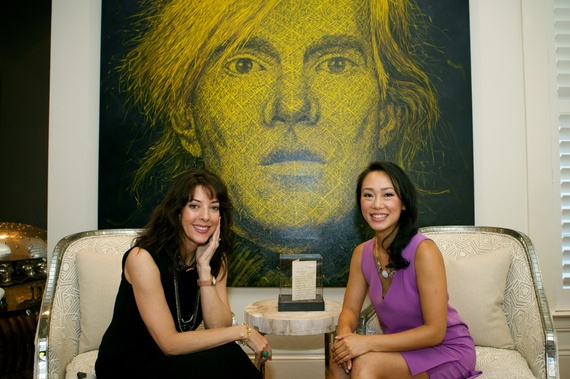 Leslie Blodgett and Victoria Tsai at Parlay House
When I asked Anne why the name Parlay House she shared the triple entendre meaning:
Parlay as in 'parlaying one thing into another'
Parlay as in French: "to speak"
and
Parlay as in a modern day parlor.
When I looked up various definitions of the term, I found one that I would add to Anne's list:
Parlay: 'to increase or otherwise transform into something of much greater value.'
This is the feeling one gets when attending Parlay House, that you are part of something much greater and with each new gathering you come away having learned something new and are inspired to share and engage others. Parlay even encourages and endorses key partner events like Revolution 2.0 in October. At this event, women leaders (and some supportive men!) will come together to discuss and initiate actions to promote increasing women's leadership globally. This event will benefit Open a Door Foundation which mentors young women from post-conflict-countries to pursue higher education in the U.S..
With well over 500 members and growing, Parlay House is truly transforming the way women come together, exchange ideas and instigate action. To echo Anne's sentiments when recently describing Parlay's purpose, "Women pulling other women forward...It's just so damn important."
To Learn More About Parlay House email Membership@parlayhouse.com
Related
Popular in the Community