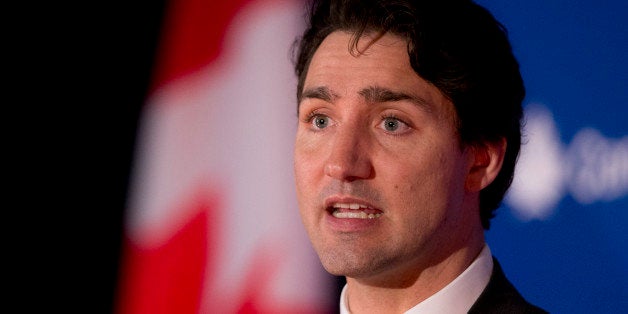 François Dufour, journalist, winner of the 2015 French-American Foundation Immigration Journalism Award.
The main priority - a humanitarian one - must be to save the refugees. In practice, this means avoiding three consequences of the current crisis: people drowning in the Mediterranean sea, the people-smuggling racket and makeshift camps like the 'Jungle' in the French city of Calais from popping up all over Europe.
There is one simple solution. Canada's Prime Minister Justin Trudeau has just applied it. He asked the UN refugee agency, the UNHCR, to identify 25,000 Syrian refugees. He then flew them over to Canada by plane (that's right, by plane). This took all of four months (that's right, four months). Recently, Trudeau committed to bringing over 47,000 additional refugees in 2016.
The official term for this solution is 'resettlement'. My country, France, already uses it: in 2014 and 2015, the French Office for the Protection of Refugees and Stateless Persons (OFPRA) resettled 1,500 refugees in France from Lebanon, Jordan and Egypt.
'Resettlement' is the good side of the deal Angela Merkel is trying to reach with Turkey. It involves identifying Syrian refugees in Turkey and bringing them into Europe. The bad side of her proposal is having to close the doors on asylum seekers in Greece which is fast becoming one big 'Jungle'. Doing this is both illegal and immoral. What's more, Turkey is not a 'safe' country according to OFPRA. Angela Merkel's idea to swap one lot of human beings for another is misguided.
The German chancellor must be given her due. In 2015, she solved the refugee crisis all on her own, as European solidarity vanished. Germany took in one million migrants. Last year, according to the BAMF (Germany's Federal Office for Migration and Refugees), 475 000 of them applied for asylum in the country. Out of which 282 000 were dealt with. Half of them (137 000) were successful. The remainder - 525 000 - will not apply. Either they know they don't stand a chance or they are heading to Scandinavia or the UK.
Among these one million migrants, how many are refugees? No one knows the answer yet. But Angela Merkel learned her lesson the hard way. Better to accept only real refugees the next time. Not 'fake' asylum seekers, bound to be rejected. Not economic migrants.
The next question arises : how do you send the fake refugees home? This is difficult in practice, maybe impossible. Yet, these people have a home to go back to, unlike genuine refugees whose countries no longer protect them.
It's high time to say 'welcome' to the refugees and 'stop' to the economic migrants. We have a legal obligation to save the refugees (countries including France, Germany, the United Kingdom, and Turkey signed the Geneva Convention). We also have a moral one (the 1938 Evian conference, during which the 'great' powers refused to help the Jews fleeing Hitler, still haunts us).
The solution must be to select - yes, select - the real refugees coming from countries which are considered 'unsafe' (like Syria, Afghanistan, Iraq...) once they are in the 'safe' countries (Lebanon, Jordan, Tunisia, Egypt, Djibouti...) and even Libya and Turkey. This job could be entrusted to the UNHCR or run by a European version of OFPRA in embassy buildings or European consulates. Sorting the refugees simply means registering them and dealing with their asylum application (checking their stories). It leads to giving ID papers and then visas to the refugees. And refusing entry to all the others. That's all.
The genuine refugees could then buy a plane ticket to Europe instead of lining the pockets of ruthless people-smugglers or ending up at the bottom of the sea.
Where in Europe would these refugees go? In a country of their choice, ideally, since many of them want to begin a new life, temporarily or forever. They want to be close to their families, friends and countrymen who are already in a European country. Another lead could be to introduce a sharing system for the European states. But is this realistic ?
How many real refugees would come? Ten million? Twenty million? Perhaps. This makes up 2% or 4% of Europe's total population. So why not get the United States, Japan or the Golf States on board? Let us not forget that in the long term, many refugees would prefer to go back to their own country, culture and comfort zone if possible.
I hear critics say this will open the floodgates.
It will not. On the contrary. My solution will put off illegal immigrants. Let's not allow economic migrants in (this is what Hollande and Sarkozy, or Obama and Trump are saying). We must tell them not to come. It is our right to do so. We are allowed to say 'We're sorry for you, but our priority is to give a country to those who do not have one, not to carry the woes of the world on our shoulders'.
Open the floodgates? Yes. Let's keep them wide open for legal migrants, to save the real refugees. It is our duty.
Last but not least note: it is more efficient to locate and stop the potential terrorists on the other side of the sea...
Calling all HuffPost superfans!
Sign up for membership to become a founding member and help shape HuffPost's next chapter