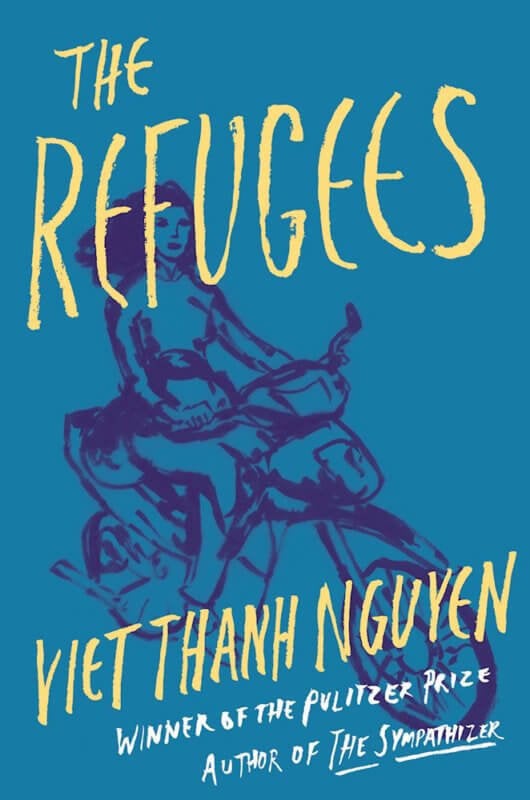 The Refugees, Viet Thanh Nguyen's fiction follow-up to his acclaimed debut novel, The Sympathizer, would be critically praised at any historical moment. But, as it happens, it arrived at this one: Just a couple short weeks after President Donald Trump signed an executive order that brought the U.S. refugee program to a screeching pause and indefinitely barred Syrian refugees from entering the country.
The collection, dedicated "For all refugees, everywhere," is a compilation of nine haunting stories that follow the lives of refugees and their children, reflecting on how they process the trauma they've suffered and cling to fingerholds in both the old world and the new. As the swell of coverage suggests, it's the perfect book to read at this historical moment in America, when a massive global refugee crisis is colliding with a government's resistance to accepting them into the country.
"We need to understand how refugees are different [from immigrants] so that we don't erase the specificity of their experience," Nguyen recently told BuzzFeed's Doree Shafrir. Instead of choosing to leave their homeland to pursue a different life, refugees have fled a home where it's no longer possible to live safely. Their home, as they remember it, probably doesn't really exist anymore. Simply staying, or even going back to visit, may not be viable options.
In The Refugees, characters are tormented by loved ones lost in the conflict that drove them to flee, sacrifices made to bring them to a safer place, and the distance of a homeland left under duress. The refugees are drawn with the kind of affectionate warmth that's frank about flaws but accepting of the whole.
Even the most nominally comfortable refugees in Nguyen's stories are nursing deep wounds. In the first story, a Vietnamese woman who fled with her family as a girl now makes a living ghostwriting for people having their 15 minutes of fame. She lives alone with her mother, but one day, someone unexpected arrives: her brother, who died 25 years ago during their escape. "You died too," her brother's ghost tells her. "You just don't know it." Wracked with guilt over her brother's death, she's become a husk, a vehicle for the stories of other people. Becoming refugees destroyed them both.
In "I'd Love You To Want Me," an aging professor in a slow decline from dementia begins to call his wife of many decades by another woman's name. Committed to his daily care, she bridles at the insult, and frets over who the other woman might have been. Her son Vinh sometimes checks on her; brought to America with his siblings at a very young age, he is utterly Americanized and alienating to her. But, she recalls, even on the tiny boat on which they escaped, she kept their hair neat and their faces clean. She knows how to keep up appearances in the face of the most catastrophic sufferings, or the most quotidian.
Nguyen's stories are carefully structured, but it's these psychological portraits that make them sing. The pacing of certain stories might be less than propulsive, or the climax a bit limp, but the people within them are crackling with life. The refugees are drawn with the kind of affectionate warmth that's frank about flaws but accepting of the whole. "The Other Man" is an engrossing character sketch of a young refugee who's taken in by a gay couple in San Francisco. In close third person, his visceral desires slip through, stifled beneath a mantle of courtesy and a conservative upbringing.
Other stories do combine sharply observed psychology with a forceful arc. In "The Transplant," a man with a gambling problem, a bad liver and a crumbling marriage, Arthur, gets a new chance to make good after receiving an organ donation from an anonymous donor. After learning the name of the donor, Men Vu, Arthur and his wife hunt down one of his sons, Louis, to thank him. A friendship forms; a grateful Arthur lets Louis warehouse knockoff luxury goods in their garage. When he learns that the man he believed was his savior's son may be no such thing, he slowly realizes that he's once again lost control of his own life. Stymied in a bid to turn in or evict the black-market mogul, he surveys his garage:
Louis had conquered every square foot of storage for his fountain pens with their plastic barrels, his sunglasses without ultraviolet protection, his watches that kept perfect time for a day, his designer jackets without linings, his pants with hems that unraveled easily, his discs of pirated movies filmed surreptitiously in theaters, his reproductions of Microsoft software so perfect as to come with the bugs infesting the genuine item, his pseudopills that might or might not help, might or might not harm.
With the self-reflection of memoir and the clear-eyed, impartial narration of a history, Nguyen takes readers deep inside his characters in a mere few pages. What he finds there is humanity at neither its worst nor its best, but simply the well-meaning, flawed manifestation we can easily recognize ourselves in.
It's easy to say that a book called The Refugees matters more than ever right now. It's also true. For some readers, the collection will tell stories familiar to them, stories they'd recognize from their own families. For others, it will be eye-opening. If Americans have been confronted with a need to break out of their bubbles and experience realities outside themselves, this collection offers that jolt to many readers who have been able to take for granted their American citizenship. These stories make it harder to imagine refugees as threatening, spectral figures advancing like predators on our borders.
The Refugees is also just good. Read it now, or read it later ― but read it.
In nine psychologically evocative short stories, Nguyen lays bare the trauma and emotional ambivalence that lie beneath sentimental or heroic tales of refugees.
What other reviewers think:
The New Yorker: "Nguyen's narrative style — restrained, spare, avoiding metaphor or the syntactical virtuosity on display in every paragraph of 'The Sympathizer' — is well suited for portraying tentative states. His characters are emotional convalescents, groping their way to an understanding of their woundedness."
The Washington Post: "This is an important and incisive book written by a major writer with firsthand knowledge of the human rights drama exploding on the international stage — and the talent to give us inroads toward understanding it."
Viet Thanh Nguyen is the author of several books, including the novel The Sympathizer, which won a number of awards including the Pulitzer Prize for Fiction. The Refugees is his first story collection. Born in Vietnam, Nguyen grew up in America after his family fled the Viet Cong. He now lives in Los Angeles and is a professor of English and American Studies and Ethnicity at the University of Southern California.
Readers drawn to immigrant stories, and those who hope to make sense of current events through fiction.
"Fame would strike someone, usually the kind that healthy-minded people would not wish upon themselves, such as being kidnapped and kept prisoner for years, suffering humiliation in a sex scandal, or surviving something typically fatal. These survivors needed someone to help write their memoirs, and their agents might eventually come across me. 'At least your name's not on anything,' my mother once said."
"What she wanted to say, but wouldn't, was that he should not be frightened. He was not going to die here. But he was frightened, more so than he had ever expected to be. Before Michiko and the children, he believed he would die in an airplane or behind the wheel of a very fast car, anything involving high velocity and a sudden, arresting stop. Now he knew he would probably die with panic pooling in his lungs, in a place where he was not supposed to be, on the wrong side of the world."
The Refugees
By Viet Thanh Nguyen
Grove Atlantic, $25.00
Published Feb. 7, 2017
The Bottom Line is a weekly review combining plot description and analysis with fun tidbits about the book.
Support HuffPost
The Stakes Have Never Been Higher
Related
Popular in the Community