My dad was a loyal Cadillac driver and consumer of the iconic and classic brand. I remember climbing into the soft, plush leather seats with plenty of room to sit back, relax and enjoy the ride. I especially liked the seat divider that would separate my younger brother Tommy and I from each other, on long rides to visit family or friends.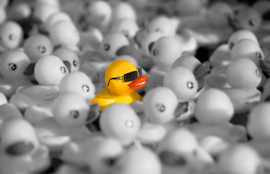 As I watched the Oscars recently, I was so drawn to Cadillac's new advertising campaign that takes a bold stance for those who approach their career and lives in innovative and sometimes disruptive ways. Not a common approach for an iconic brand and a 112-year-old car company that's built its reputation on luxury and comfort - not on doing things differently. Today, that's obviously changed.
Personally, I have to offer kudos to President of the Cadillac brand, Johan de Nysschen, for owning this reinvention and profiling the people who have defied the "norm" in their new Dare Greatly campaign. As his letter to supporters and critics alike stated, "Only those who are willing to accept risk, who have the courage to dare greatly, shape the future. . ." and "drive the world forward." Agreed! Not an entirely new concept given but one that is steeped in American history, however rarely discussed as being an exceptional or accepted position.
Once used as an adjective to describe high-end products - like Xerox was to copies, Kleenex to tissues, etc. Cadillac said luxury, high end, and evoked images of a primarily older male market (at least in my mind - I'm sure due to the fact my dad was a fan).
Not so today, if Melody Lee has anything to say about it. Lee is the Director of Brand and Reputation Strategy for Global Cadillac. Lee is a millennial who's being charged with regaining the Cadillac's brand reputation and moving it beyond that of just an automotive brand, but a brand "period."
Clearly, Cadillac's goal is to attract a new generation of consumers who resonate with the new branding strategy of daring to follow their passion like Steve Wozniak, and be who they truly are - like fashion designer Jason Wu. Wu credits the support of a mother who dared to allow her son the comfort in himself and tools necessary to follow his dream. This messaging got my attention and has made me look at the Cadillac brand in a new and positive way.
What does your "brand" say about you? Is it time you step out of your old comfort zone? Clients have called me a Reinvention Catalyst because one of my specialties is helping people redefine themselves and update their brand to stay relevant in today's fast paced, ever changing media outlets.
Until I saw the ad on the Oscars, it wasn't top of mind to take a Caddy for a test drive. I might now though. I dare you to as well.
While you're taking off on new ventures, test drive my free Reinvention Road Map and let me be your guide.
Calling all HuffPost superfans!
Sign up for membership to become a founding member and help shape HuffPost's next chapter