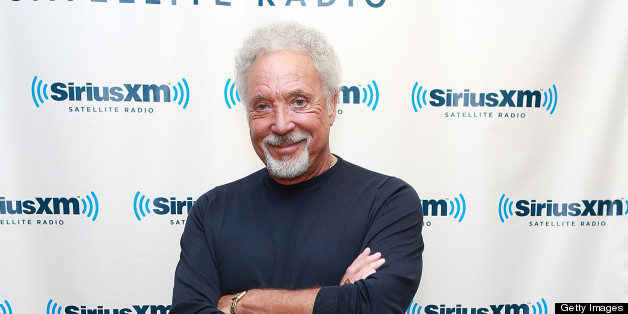 It is unusual indeed for a singer to reinvent himself after a decades-long career and, when he does, to find acceptance. Case in point: Sir Tom Jones.
I must post a disclaimer up front. Not in the employ of Jones or his management, I am the owner/moderator of TomJonesInternational.com, the world's largest Tom Jones fan website. I have deep knowledge of the singer, his music and of his fans. I know his hits, some of the misses and some obscure stuff (like the outstanding studio recording of Matador, a musical about El Cordobés that is filled with great music and lots of drama).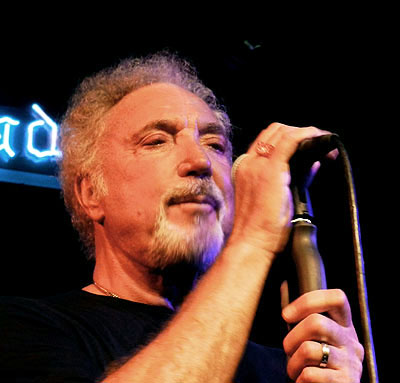 In 2010, at the age of 70, Jones teamed with highly respected producer Ethan Johns to record different music than he'd ever done before. At the time, he told countless interviewers that, although he's sold over 100 million albums, he was finally recording the music he has loved since he was a child.
Thus, his 2010 Praise and Blame and Spirit In The Room, released in the U.K. last year and last month in the U.S., are mostly American gospel, blues, R&B and spirituals. The Praise and Blame release was accompanied by a lot of publicity urging fans to give the new music a listen and, by the way, please stop throwing undergarments at the singer. As he was then in his first season as a coach on the U.K. version of The Voice, there was hope that the show's younger viewers would also try the music. The album charted for a couple of weeks, then disappeared.
August 2010 marked the last time Jones played Las Vegas, ending a 42-year streak in that city. He gave various (strange) reasons for this. Last year he said in a radio interview that "singers don't play Las Vegas any more." In an interview last week he said, "I stopped playing Vegas shows... because when you play there, it has to be the hits every night. That's all they want, and you're never breaking new ground."
Now, of course, there are solid arguments against such reasoning. Lots of singers -- of every genre and every vintage -- play Las Vegas. When last in the city, Jones added songs from his 2010 album to his show. They were very well received. He is an icon in the city and is missed. But that's a whole different topic. His absence from Las Vegas and the rest of the USA has not gone unnoticed. In fact, there's a Facebook page called "Tom Jones: Please Come Back To North America."
Spirit In The Room finally found a U.S. distributor in Rounder Records, the label that is synonymous with indie music and carries such classics as Woody Guthrie, Willie Nelson, Rush, Greg Allman, folklorist Alan Lomax's collected music, Alison Krauss and Raffi. It's a wonderful, legendary label that works to keep music that may be out of vogue available to all. Adding Jones to that catalog adds even more to this label that already has great depth and breadth and, apparently -- judging from some articles in print -- it also adds credibility to Jones' work among a certain segment of the music-loving public.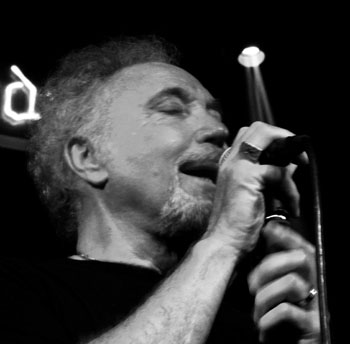 Two years after he appeared at the New Orleans Jazz & Heritage Festival in 2011, a short tour of the U.S. was announced by Jones' management. The publicity said he would sing songs from his last two albums. The website for the Troubadour in L.A., where he was to play two dates, trumpeted, "It's Delilah's night off!"
That news was greeted with mixed emotions. On my website, a fan named Joe said, "I want to go to a Tom concert and have a good time. I don't want to go and think about my own, or Tom's, mortality... We now have a Tom who is trying to distance himself, musically and promotionally, from the figure that attracted so many of us and cut across all demographics. In doing so, Tom is distancing himself from the very fans who sustained him."
Lloyd said, "I will not shell out a bunch of money to hear Praise & Blame and Spirit In The Room... that's not what I want to hear. I'm afraid the old Tom is gone forever. I hope I'm wrong."
My friend Roxanne, a long-time fan told me flatly, "I'll go just to see him, but I hate the music."
Jones began the very brief tour when he played the legendary Troubadour in West Hollywood on May 11 and 12. The following Friday was a show at Philadelphia's Theatre of Living Arts and, on May 18, one at the Bowery Ballroom in Manhattan. All of the shows sold out within minutes and fans gathered at them from around the country. The only one of his hits he sang was Green Green Grass of Home.
The MSN reviewer said of The Troubadour show, "Inside Tom Jones is a great soul singer; it just took him 70 years to come out." Fans of his, of course, knew that the "great soul singer" was there and was, in fact, out for a long time. His shows had, for years, included the music of Howlin' Wolf, Bill Withers, and lots of others. The problem was convincing other people -- some critics and non-fans -- to realize it.
Tom Jones has always had a special relationship with his fans. As a fan himself -- of such as Jerry Lee Lewis, Chuck Berry, Elvis and other vintage rockers -- he understands fans and how important they are to sustaining a career. At these four U.S. shows, the fans were won over.
At the Troubadour, the crowd greeted Jones's 22-song set with wild enthusiasm. There were no undergarments thrown onstage and, even if the audience reaction was somewhat inappropriate -- some of the women there squealed as if he were singing Sex Bomb during his performance of Tower of Song, the beautiful Leonard Cohen song laden with gravitas -- most were content just hearing him sing in person again.
Judi, a fan who owns Singer Saved Me, a website devoted to Jones, wrote me after the first Troub show, saying,"I was excited to finally hear Tom Jones play songs from his most recent CDs. So excited that I was willing to stand for three hours just to get close to the stage at the Troubadour, and then stand two hours during the show. Only a Tom Jones performance could give me enough adrenaline to stand that long.

"He was trim and fit, and sang fast and furiously, barely stopping between songs during the two-hour show. It kept the audience revved up the whole night. I thought the Saturday night audience was very positive and accepting of all of his song choices -- no catcalls for the oldies. Everyone was on board to hear what Jones wanted to sing. If he can't sing what he wants to sing now, at this time in his life, when can he?
"Older men and women mingled with younger men and women and we all listened to Jones belt out some of the songs with his big full voice, and at other times reigning it in with the control of a master. "
I, for one, found that to be the best Tom Jones concert I ever saw and, trust me, I'm embarrassed to note that I've seen more than 100. It was not only beautifully performed but anyone watching knew that Jones really cherished the opportunity to sing this music. His love of it, his love of the words and emotions expressed in the music was palpable.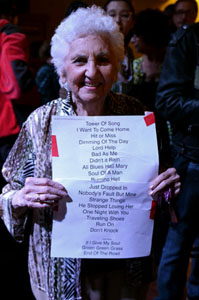 For these shows, he was accompanied only by a four-piece band from Nashville -- Marco Edward Giovino (musical director/drums), Paul James Ossola (bass)m Douglas John Lancio (guitar) and Robert Andrew Clores (keyboards). It was the first time there weren't at least eight musicians and three backup singers. Stripped down and raw, it was a master musician at his best.
I am pleased to say I was not alone. Even Roxanne reported after the Philly and New York shows that she loved what she saw and 83-year-old Mary Pascale (posing happily at right with a set list from the Bowery Ballroom), said, "I've been following Tom since 1971 and I've seen hundreds and hundreds of shows. This was the best I've ever seen. I was in heaven just listening. I didn't miss the hits at all."
Tom Jones tribute artist Steve McCoy -- of whom Jones says, "He does me better than I do" -- is excited about this music. Although his bread and butter is Jones' hits, he says, "I'm so happy to see Tom go back to the music he loves. I can see myself performing it in tribute to him."
In Philadelphia on May 16, Jones did a 47-minute set for WXPN's annual NonCommvention, the gathering of people from the nation's National Public Radio stations at the World Cafe. You can watch that concert -- that showcases the latest Tom Jones music -- here:

Now, Tom Jones is back in the U.K., undoubtedly preparing for The Voice's live shows. But, his brief visit to U.S. venues last week gives me hope that this kind of music will open a door for him as he celebrates his 50th year in entertainment in 2014.
A couple of years ago, I asked someone closely connected with the Rock & Roll Hall of Fame if he thought Jones might get in. "No," he said, "they look at him as just a pop singer."
Now, perhaps, "they" will change their minds and see Tom Jones for the massive talent and range he has brought to music.
Photos of Tom Jones at performing at The Troubadour on May 11, 2013 by the author. Photo of Mary Pascale by PSquared Photography, courtesy of BrooklynVegan.
REAL LIFE. REAL NEWS. REAL VOICES.
Help us tell more of the stories that matter from voices that too often remain unheard.